Found September 13, 2012 on The Daily Stache:
PLAYERS:
John Lannan
,
Matt Harvey
,
Jayson Werth
,
Bryce Harper
,
Ryan Zimmerman
,
David Wright
,
Terry Collins
,
Ike Davis
,
Ian Desmond
,
Jon Rauch
,
Daniel Murphy
,
Lucas Duda
,
Christian Garcia
,
Kelly Shoppach
,
Jon Niese
TEAMS:
New York Mets
,
Washington Nationals
Stop me if you've heard this one before: The Mets starter was outstanding, the bullpen was strong and the offense didn't do a thing. The Mets lost their sixth straight game on Wednesday night, dropping the series finale with the Washington Nationals, 2-0, and were swept for the second straight series. They're now 13 games under .500 for the first time this season and the offense is mostly to blame. New York managed eight hits, but couldn't push a single run across the plate against John Lannan and a combination of five Washington relievers. The offensive ineptitude wasted a great performance from starter Matt Harvey, who pitched five-plus innings and allowed just one run on five hits. The rookie struck out 10, his second double-digit strikeout game of the season, and walked only three. Harvey started the game outstanding, striking out the side on just 14 pitches. He whiffed Jayson Werth swinging at a slider, froze Bryce Harper with another slider and blew Ryan Zimmerman away with a fastball. But the Mets couldn't capitalize on a chance to give him an early lead and stranded David Wright at second in the bottom of the first. Leaving runners on was a theme of the night for the Mets. They stranded nine total, including six in scoring position. Harvey mowed through the second, allowing just one hit and striking out two more. He whiffed another hitter in the third, his sixth strikeout over the first three innings, and worked around a walk to get out of the inning. But one mistake was Harvey's undoing. Leading off the fourth inning for the Nats, Zimmerman launched a 1-0 fastball deep into the bleachers in left to give the Nats a 1-0 lead. The righthander bounced back to get through the fourth and then struck out the side again in the fifth after allowing a leadoff single to Steve Lombardozzi. Harvey scuffled in the sixth, sandwiching a single around two walks to load the bases with nobody out. With the starter's pitch count over 100, Terry Collins went to reliever Rob Carson and the rookie lefty played the role of Houdini, inducing three straight popups to escape unscathed. The Mets' last best opportunity to take the lead was the bottom half of the sixth when they loaded the bases with two outs. But Ike Davis flew out to center to end the inning. Washington tacked on an insurance run on an eighth inning homer by Ian Desmond off Jon Rauch and though they put the tying runs on in the ninth, New York failed to finish the comeback and Daniel Murphy flew out to end the game. Game Ball: Matt Harvey remains one of the few bright spots in an otherwise disappointing second half of the season for the Mets. The rookie righthander took the loss to move to 3-5 on the season, but also lowered his ERA to 2.92 and pushed his strikeout total to 63 in 52.1 innings. Turning Point: The sixth inning was really a golden opportunity put to waste. Carson stranding the bases loaded finally gave the Mets some positive momentum and David Wright carried it over with his second hit of the night in the bottom half. Wright then stole his second base of the night to move into scoring position and a Lucas Duda walk put the go-ahead run on. Davey Johnson went to his bullpen for Christian Garcia to replace Lannan, but Garcia plunked Kelly Shoppach to load the bases. That brought up Davis as a pinch hitter with the sacks packed, but Ike lifted a 2-2 changeup to center and Harper tracked it down to end the threat. Next Up: The most miserable homestand of the season is complete and the Mets get a day off on Thursday to regroup before heading off to Milwaukee to start a three-game weekend set with the Brewers on Friday night. Jon Niese (10-9, 3.47 ERA, 1.16 WHIP, 140 K) will go for the Mets in the series opener looking to stop the skid. He'll be opposed by Brewers rookie Mike Fiers (9-7, 3.05 ERA, 1.18 WHIP, 111 K). First pitch is scheduled for 8:10 p.m. and the game can be seen on SNY or heard, as always, on WFAN 660 AM.
Original Story:
http://dailystache.net/archives/3569?...
THE BACKYARD
BEST OF MAXIM
RELATED ARTICLES
Lets have some fun today. After reading something Jim Callis said in his Prospect Chat on Baseball America yesterday, I was inspired to bring out my crystal ball and predict when we'll see some of the Mets top prospect's. But first take a look at this: Wow, that's a pretty optimistic view, and one that could certainly be construed as rushing one's number one prospect....
Hi Mets fans! We have a very special show in store for you tonight at 6:00 PM as we bring you an Extended Edition of Metsmerized Radio. Join our host Matt Falkenbury of the Daily Stache as he welcomes not just one special guest, but two of them in what's bound to be our best show ever! Steven Matz, New York Mets Mets 2009 top draft pick Steve Matz has agreed to come onto our...
  The New York Mets and the Savannah Sand Gnats today jointly announced they have renewed their Player Development Contract for two more years. The renewal will keep Savannah as a Mets' affiliate through the 2014 season. During the Mets affiliation, the Sand Gnats have enjoyed some of their most successful seasons in franchise history. The Sand Gnats were the South Atlantic League...
The Mets have lost five straight and dropped seven of their last eight games. The club has lost a season-high six games in a row for the third time this season and is 3-7 in its last 10 games. They are at a season high of 12 games under .500 for the season and in danger of being swept on this homestand if they don't salvage tonight's game. Since the All Star Break, the Mets...
Retired New York Mets star (and current Mets broadcaster) Keith Hernandez is considering shaving off his trademark mustache, which in 2007 was named the top sports mustache of all-time (by the American Mustache Institute - apparently there is such a thing). The thought of Hernandez shaving his famous mustache has thrown New Yorkers into a tizzy, which is best reflected in a...
Tuesday, September 11, 2012 • 7:10 PM Citi Field • Flushing, NY RHP Jordan Zimmermann (10-8, 2.99) vs. RHP R.A. Dickey (18-4, 2.64) Starting Lineup Ruben Tejada – SS Daniel Murphy – 2B David Wright – 3B Ike Davis – 1B Mike Baxter – RF Jason Bay – LF Andres Torres – CF Josh Thole – C R.A. Dickey – RHP R.A. Dickey remains one of the more exciting aspects of...
It hard to think that after the stunning exit from the 2006 NLCS, the consecutive collapses that followed, the mediocre baseball since, and the gut check that was the departure of Jose Reyes, that things could actually get worse for our beloved Mets.  With the team poised to close out its worst campaign in at least four years, the organization isn't exactly entering the offseason...
It may take the software a minute to load when you first click on the page. Please be patient. If you're having trouble getting in, try using Firefox instead of Internet Explorer. Enter your comments in the text box above where it says "Powered by Quick Chat" and the various emoticons. Right above that text box is a small rectangle where you type in your name for the chat...
If you haven't heard, Keith Hernandez, a New York Mets legend-turned respected and admired analyst on team telecasts, recently said he has been considering shaving off his trademark mustache, saying that he just might show up for the final game of the season with what would be a disconcerting absence of the ever-present soup-strainer upon [...]
The Mets went into their minor league system and pulled a giant rabbit out of their hat with Matt Harvey.  *terrible Jimmy Stewart impression*  Mr. Potter, I knew a Harvey once.    Back in 1955, see, and Danny Kaye asked me to sneak this guy named Harvey out of his bedroom at 2 AM.  Nice fella, that Harvey.  He told me a story that involved Ethel Merman and ping pong balls...
Angel Pagan is the #3 ranked free agent outfielder this offseason. Could any of you have ever imagined this? Me doing a post gathering data from Fangraphs and even using WAR to illustrate the point of this post? Who says you can't teach an old dog a new trick… Anyway, I'm still trying to wrap my brain around all these wholesale changes that are apparently coming this offseason...
I usually miss a night of blogging due to logistics, vacation, beer, things like that. But I'll admit that I didn't blog about Tuesday night's game yesterday because it felt silly to wail about how horrible a baseball team while the country marked the passing of the darkest date in its history, and in New York City's history. Seemed silly. But I've said it before...
MLB News

Delivered to your inbox

You'll also receive Yardbarker's daily Top 10, featuring the best sports stories from around the web. Customize your newsletter to get articles on your favorite sports and teams. And the best part? It's free!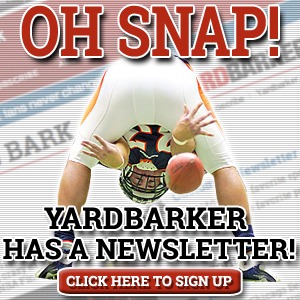 Latest Rumors
Best of Yardbarker

Today's Best Stuff

For Bloggers

Join the Yardbarker Network for more promotion, traffic, and money.

Company Info

Help

What is Yardbarker?

Yardbarker is the largest network of sports blogs and pro athlete blogs on the web. This site is the hub of the Yardbarker Network, where our editors and algorithms curate the best sports content from our network and beyond.