Found June 13, 2013 on Diamond Hoggers:
I remember the day when bobblehead days at stadiums were so sacred that people were camping out like a day in advance to land Ichiro's first bobblehead and my dumbass showed up at 10 AM in Cincinnati for a 7:35 PM start time (that will clue the die hards that it was at Old Riverfront Stadium) just to land Adam Dunn's first bobblehead. The Reds beat the Padres 9-0 that night, and I harassed the living ******* out of Bubba Trammel from my upper deck seat during batting practice. The things children do in boredom. It kind of cheapified the whole thing for me when I found out the first 20,000 fans got the Dunn bobblehead that day – I was a rookie to the experience and thought it would be some type of exclusive thing and there wouldn't be enough and I would have a rare artifact on my hands in the form of a baseball collectible. And when I got in the stadium there were Dunn bobbleheads laying in the aisle ways, people were taking four and five home somehow. My car broke down that night on...
Original Story:
http://diamondhoggers.com/2013/06/14/...
THE BACKYARD
BEST OF MAXIM
RELATED ARTICLES
Bryace Harper recently bought his girlfriend a little black dress for a date. The dress, accompanied with flowers, was posted on twitter by his girlfriend Kayla Varner. looks like I have a hot date tonight with @bharper3407 #surprisesurprise #newoutfit #lovehim Harper has not appeared in a game since May 26th. He will travel with the Nationals when they go to Philadelphia on Monday...
Regular readers may have noticed that the Sportress has few qualms about showcasing some of the more attractive women who permeate the sports world, no matter how tangentially they may do so. With that in mind — and as a nod to the classic Demetri Martin bit — I'd say it is only fair to [...]The post Here's Bryce Harper modeling Under Armour underwear because…ladies (pic...
Since he hit the scene last season, Washington Nationals wunderkind Bryce Harper has been immortalized in almost every way imaginable.  He's been made into a Fathead, a lawn gnome and whatever the heck this is. Now...there's this.  And as you can imagine...the outfielder has never looked so good! What...no eye black? The lovely lass under that body paint...
Everybody loves when MLB teams hold bobblehead giveaways. On Sunday, the Washington Nationals will host the Colorado Rockies for an afternoon ballgame on Father's Day. The first 15,000 fans through the gate at Nationals Park will be the lucky recipients of the above bobblehead version of the team's dynamic and young superstar, Bryce Harper. Above [...]The post Behold, memorabilia...
Seven years after being named Playboy Playmate of the Month, Stephanie Larimore, Miss June 2006, is still red hot. Prio…
You know how you can tell when you've reached baller status? When you're buying your lady a dress to wear for an individual date. Bryce Harper's girlfriend, Kayla Varner, tweeted the above tri-pane photo on Friday. Varner said in her tweet that Harper surprised her with flowers and a dress for a hot date. Pretty [...]
When Bryce Harper smashed into the wall at Dodger Stadium weeks ago, Nationals fans held their breath. They waited to see if he'd be all right, but those hopes were dashed when he landed on the DL. Things seemed even more bleak today when an airport photo shows Bryce Harper in a knee immobilizer! But fans in Washington can sigh in relief as Bryce himself tweeted... All...
Cameron Crowe wrote about them.  Pacman Jones makes them reign.  And Kraft sells them in packages of 8, 16, and 24.  Yet, Adam Dunn still can't manage to hit them.  I'm speaking of singles, of course. Adam Dunn is a great power hitter.  No one denies that.  He has eight seasons of 35+ home runs and is on pace to do that again this year.  But something Adam Dunn is not...
Having finally run into an outstanding stretch at the plate, Adam Dunn probably would have preferred playing the last couple of days. The slugger hopes to keep swinging a hot bat and lead the well-rested Chicago White Sox to their fourth win in five games Friday night at Minute Maid Park when Chris Sale takes the mound against the Houston Astros. Behind Dunn and a resurgent offense...
The Giants` rotation might not be as dominant as usual, but the team is still confident in its chances for October. Our beat man also checks in on Brandon McCarthy, Bryce Harper, Gerrit Cole, with scouts, and weighs in on Kirk Gibson vs. Mark McGwire.
We highlighted the pitfalls of the White Sox lineup yesterday, most notably Adam Dunn and his lack of hitting singles.  We never knew later on that night just about everything we pointed out would come true.  Ask Chris Sale about it. Chris Sale is a really good pitcher.  The 6'6" hard-throwing lefty out of Gulf Coast College (you remember that school, right?) was 17-9 last...
"Riddle me this," wrote editor Dave Cameron to me some time ago, "what happens when an unstoppable force meets an immovable object?"  OK, that's not exactly how it went down.  What he actually did was to present me with the challenge of research, with the goal being to develop a model that would forecast the expected odds of an outcome of each match-up between a specific...
MLB News

Delivered to your inbox

You'll also receive Yardbarker's daily Top 10, featuring the best sports stories from around the web. Customize your newsletter to get articles on your favorite sports and teams. And the best part? It's free!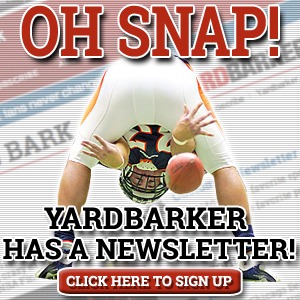 Latest Rumors
Best of Yardbarker

Today's Best Stuff

For Bloggers

Join the Yardbarker Network for more promotion, traffic, and money.

Company Info

Help

What is Yardbarker?

Yardbarker is the largest network of sports blogs and pro athlete blogs on the web. This site is the hub of the Yardbarker Network, where our editors and algorithms curate the best sports content from our network and beyond.