Found May 20, 2012 on The Daily Stache:
Injuries to Mike Pelfrey(above) and Miguel Batista have opened the door for Jeremy Hefner to show what he has got.
After a season ending injury to Mike Pelfrey and some early bullpen woes, the Mets reached down to AAA and recalled Jeremy Hefner. Hefner was placed on waivers twice this offseason, and was eventually picked up by the Mets.
Hefner was brought in to be insurance for the starting rotation, and he has done everything asked of him thus far. Hefner's first outing was against the Giants where he pitched 3 shutout innings in relief. Yesterday after Miguel Batista left the game with a back injury, Hefner gave up 2 runs in 5 innings. Despite pitching well, Hefner earned the loss on Saturday.
If Miguel Batista has to go on the disabled list, Hefner will get a shot to pitch in the starting rotation. Hefner has 2.72 ERA through 46 innings in AAA as a starter this year. Hefner has never been a high level prospect, but his on field results have been fairly decent. While his minor league numbers are good, I see Hefner as nothing more than a stopgap until prospects like Matt Harvey and Jeurys Famila are ready to pitch at the MLB level.
Hefner has been known to mix in four solid offerings, but his fastball velocity is average to below average coming from the right side. Hefner pitched to an ERA of 4.98 last year at AAA Tuscon. He is not a strikeout pitcher, and he has shown decent control in his Minor League career.
After watching video, several live starts, and his outings with the Mets, I believe that Hefner's lack of velocity will eventually catch up to him and Major League hitters will adjust to him. He sort reminds me of Dillon Gee, who survived on merely smoke and mirrors for a while. Eventually Gee was caught on to and adjusted to as we are seeing this year.
Overall Hefner isn't a terrible option at the moment to replace Miguel Batista as of right now. Who knows what lies in the future for him. Eventually I think he will join the likes of Pat Misch and Chris Schwinden, AAA players who struggle to find there niche in the Majors.
Players like Misch, Schwinden and Hefner find success at the AAA level because the hitters they face are generally not used to facing pitchers who throw as many different pitches as those mentioned above. Unlike their minor league counter parts, Major League hitters adjust to pitchers like this rapidly.
I am rooting for Hefner to find success with the Mets, but I think it is unlikely that he is a contributor beyond this season. As always I'd like to hear your thoughts and ideas. You can leave a comment or send me a tweet, @tysim19.
Original Story:
http://dailystache.net/archives/1287
THE BACKYARD
BEST OF MAXIM
RELATED ARTICLES
The Mets organization plans to call up RHP Jeremy Hefner prior to tonight's ballgame at Toronto reports Adam Rubin of ESPNNewYork.com. Though no formal announcement has been officially made, Adam Rubin cites Manny Acosta as the most logical candidate to get the boot, whose ERA leaped to 10.53 after yet another unsightly outing from the 31-year old righty. Hefner was called up...
The New York Mets recalled right-hander Jeremy Hefner from Class AAA Buffalo before Saturday's game with the Toronto Blue Jays. Hefner, who has a 2.72 ERA in seven starts for Buffalo, will pitch in long relief for the Mets, according to MLB.com. He is needed after the Mets were routed 14-5 by the Blue Jays on Friday. Infielder Jordany Valdespin was sent back down to Buffalo...
It looks like the Mets will be making another bull pen change this week as it is rumored that Jeremy Hefner will be promoted. If he is promoted, he is most likely going to replace Manny Acosta. Acosta has been a head scratcher with the Mets. At first, he was great. Then he started off last year as a frustration. At the tale end of last year, he was unhittable. This year, he has been...
The Mets announced that they have placed RHP Miguel Batista on the disabled list after he strained a muscle in his lower back during yesterday's start against the Blue Jays. Chris Schwinden was recalled from Triple-A Buffalo and will replace Batista on the 25-man roster, but expect Jeremy Hefner to take Batista's turn in the rotation on Thursday, according to manager Terry...
Batista pitched 2 scoreless innings before leaving the game Miguel Batusta started the game but left after two quick innings. Jeremy Hefner camewin and pitched decently, but he did allow two runs. The real issue with today's game was the Mets could not get anything going against Jays starter Brandon Morrow. Morrow was excellent today, but the Mets lineup was hurting with David...
New York Mets starting pitcher Miguel Batista left Saturday's game against the host Toronto Blue Jays after two innings with an injury and was replaced by right-hander Jeremy Hefner, according to MLB.com. Hefner was called up by the Mets from Class AAA Buffalo earlier in the day. Batista retired the side in order in the first inning and pitched around a leadoff double and...
The New York Mets were defeated by the Toronto Blue Jays on Saturday afternoon, 2-0: The Mets have now lost four of their last six games falling to 3 1/2 games behind the Division leading Atlanta Braves: ANOTHER ONE BITES THE DUST: Miguel Batista started for the Mets, but was removed in the bottom of the third innings with lower-back discomfort. Batista suffered the injury delivering...
Mets right-hander Miguel Batista left Saturday's start against the Blue Jays after just two innings because of a sore lower back, putting further strain on New York's bullpen. Batista warmed up to start the third but had to be replaced by right-hander Jeremy Hefner, who was recalled from Triple-A Buffalo before the game. Batista, 41, complained of groin and hamstring pain...
The New York Mets placed right-hander Miguel Batista on the 15-day disabled list Sunday and recalled right-hander Chris Schwinden from Triple-A Buffalo. Batista left Saturday's start at Toronto after two innings with a minor muscle pull in his lower back. Batista warmed up to start the third, but had to be replaced by right-hander Jeremy Hefner. After Hefner pitched five innings...
Right now the starting pitching options are limited as the Mets look to fill the void left by Mike Pelfrey. Who would have thought we would miss Mike Pelfrey so much? Anyway, things don't look great right now as Miguel Batista is on the DL, and Jeremy Hefner leaves you little to get excited about. But it appears things will drastically change in the coming weeks as some arms are...
The Mets pitching staff went through another change today as Miguel Batista was placed on the 15 day DL. The Mets have activated Chris Schwinden from the Taxi Squad to take his place on the roster. Schwinden has been a much different pitcher in the minors than the majors. In the minors this season he is 3-2 over 7 games and 39.0 innings of work with an ERA of 2.54. In the majors...
The Mets have had terrible luck in the White North of Canada against the Blue Jays. Luckily with David Wright back, they were able to put some runs on the board. After two short starts from Jon Niese and Miguel Batista, we were able to find a starter that could at least reach the seventh inning. Dillon Gee had a nice start that was exactly what the Mets needed. Allowing three runs...
Mets News

Delivered to your inbox

You'll also receive Yardbarker's daily Top 10, featuring the best sports stories from around the web. Customize your newsletter to get articles on your favorite sports and teams. And the best part? It's free!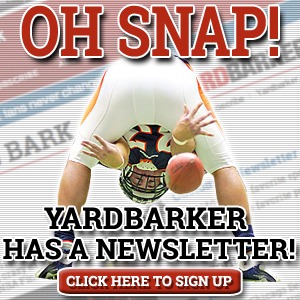 Latest Rumors
Best of Yardbarker

Today's Best Stuff

For Bloggers

Join the Yardbarker Network for more promotion, traffic, and money.

Company Info

Help

What is Yardbarker?

Yardbarker is the largest network of sports blogs and pro athlete blogs on the web. This site is the hub of the Yardbarker Network, where our editors and algorithms curate the best sports content from our network and beyond.