Found August 03, 2013 on Fox Sports North:
MINNEAPOLIS -- In a one-run game -- especially one that lasts 13 innings -- every play can make a difference. When Twins catcher Joe Mauer threw out Houston's Brandon Barnes at second base in the top of the seventh inning Friday night, it may not have seemed like a game-changing play at the time. Minnesota trailed 2-0 at that point and still had plenty of work to do to get back into the game. As it turned out, though, the Twins sent the game to extras before winning in the 13th inning. Had Barnes instead been on second base with nobody out, there's no telling what that run might have meant for the Astros. "That might be the one run that wins us the game," said Terry Steinbach, the Twins' bench coach and former catcher. "If we can throw a guy out in the second inning and all of a sudden it's the ninth inning and we win by one, maybe it was that runner that we threw out that saved that game." Last season, Mauer threw out just 14 percent of potential base stealers, easily the lowest rate of his career. Not all of it had to do with Mauer, however. While a strong and accurate throw to the base is important, the timing of the pitcher on the mound and his ability to get the ball to home plate quickly may be equally as essential. That was often a problem for Twins pitchers last year, who took far too long to deliver the ball to the plate. That left Mauer with little chance at gunning down runners, even with a strong and precise throw. "Our staff talked about it and has been doing a great job this year paying attention to those guys," Mauer said. "I think the attempts are probably way down, which is an indicator of that. I think it all starts with the pitcher, and we've got to do our job behind the plate and the middle infielders have to do their job, too." Throwing out runners is really a three-man job, and the middle infielders often go overlooked in this play. But the middle infield duo of shortstop Pedro Florimon and second baseman Brian Dozier have done their part this year in reacting to the play and being in prime position to receive the throw from Mauer. Now that the Twins have emphasized the importance of the pitchers firing to home quicker when there's a runner on base, Mauer's numbers have improved. Entering Saturday's game, he has thrown out 16 potential base stealers out of 33 attempts. That rate of 48 percent of runners thrown out is tops among all qualified American League catchers. It also is the second-highest percentage of Mauer's career; he nabbed 53 percent of base runners (24 of 45) back in 2006. "I think Joe feels a lot better this year. He's stronger under his legs," Steinbach said. "I think throwing guys out, specifically from the catcher's standpoint, starts with the legs. You want to have quick feet. He's always had a good arm and a pretty quick release. I think last year with the ailments that he had, he wasn't able to utilize that. This year he's back healthy. You can see the quick feet. You see him being quick to second." Steinbach, in his first year on manager Ron Gardenhire's staff, has worked with Mauer and the other catchers throughout the season on the mechanics of throwing to second base. But Steinbach has also helped the catchers communicate with the pitchers on making sure they keep base runners in check. Part of that may be the pitcher mixing up his timing on the mound. On one pitch, the pitcher may hold the ball longer than usual; the next pitch, he may snap a throw over to first base as soon as he comes set on the mound. During games, Steinbach is relaying these signs to Mauer, but he's also seen the catchers and pitchers start to do these things on their own. "It's been really nice to have Terry here every day," Mauer said. "We did a lot of work down in spring training with him in past years, but to have him here every day (keeps) everybody accountable, which is good. Just top to bottom, we've all done a better job of that." Mauer, a three-time batting champion and six-time All-Star, is often lauded for his offense. But he takes just as much pride in the defensive part of the game -- blocking balls in the dirt, calling pitches, and, of course, throwing out base runners. After a down year in 2012, Mauer is once again showing he has one of baseball's best arms behind the plate. "There's some pretty good arms in the league," Gardenhire said. "Guys can throw a little bit, and Joe's one of them. If they give him a chance he'll throw them out." Follow Tyler Mason on Twitter
Original Story:
http://www.foxsportsnorth.com/mlb/min...
THE BACKYARD
BEST OF MAXIM
RELATED ARTICLES
MINNEAPOLIS -- Brian Dozier celebrated Friday's 13-inning walk-off win with a postgame Gatorade shower on the field. Saturday's ending was a bit more subdued, but Dozier was still very much a key to the Twins' 6-4 win over the Astros. One night after Dozier had three hits -- including the game-winner -- he helped propel Minnesota with two more big hits. The first came...
MINNEAPOLIS -- Outfielder Oswaldo Arcia was in the Twins' lineup Friday, one day after he was recalled from Triple-A Rochester. Arcia was batting fifth and playing left field for Friday's series opener against the Houston Astros at Target Field. He was promoted from Rochester after the Twins optioned pitcher Scott Diamond and outfielder Aaron Hicks following Thursday'...
MINNEAPOLIS -- During a weekend in which Minnesota's starting pitching faltered, its bullpen stepped up big once again. That was the case in Sunday's 3-2 win over visiting Houston, as the Twins' relievers combined for four scoreless innings to help Minnesota earn a three-game sweep of the Astros. Starting pitcher Mike Pelfrey lasted just five innings, meaning it was...
During the madness of the July 31st non-waiver trade deadline, we heard rumbling that the Minnesota Twins could still try to move Josh Willingham.  In fact, there were teams interested in a trade while he was still on the DL, but nothing came of those rumors.  That does not mean Willingham won't be traded.  The Twins can still trade him if he clears waivers.  First, he&...
The Minnesota Twins haven't been able to dig their way out of some early holes, thanks to their struggling rotation. That could change when they send one of their hottest pitchers to the mound. Samuel Deduno looks to win a career-best fourth straight start and end the Twins' four-game losing streak Friday night when he takes on rookie Jarred Cosart and the visiting Houston...
MINNEAPOLIS -- Andrew Albers will be the next young Twins player to make his major league debut. Minnesota will recall Albers, a left-handed pitcher, from Triple-A Rochester on Saturday. In 22 starts with the Red Wings this year, Albers was 11-5 with a 2.86 ERA and 116 strikeouts in 132 13 innings. He'll take Scott Diamond's spot in the Twins' rotation after Diamond...
Things got crazy in the Twins dugout around the 10th inning Friday as their struggling offense matched up with Houston's. The Twins were running out of bench players so pitchers began putting their cleats on and reporting for extra duty. ''Panic mode" second baseman Brian Dozier said. ''Pitchers love that stuff. They think they can hit." As it turned out they just...
Brian Dozier's third hit of the game scored Clete Thomas in the 13th inning to lift the Minnesota Twins to a 4-3 victory over the Houston Astros on Friday night. Right-handed pitcher Kevin Correia pinch-hit in the 13th to sacrifice Thomas to second base. Dozier followed by punching a single to right field for his second RBI of the game to snap Minnesota's four-game losing...
The Minnesota Twins haven't been able to dig their way out of some early holes, thanks to their struggling rotation. That could change when they send one of their hottest pitchers to the mound. Samuel Deduno looks to win a career-best fourth straight start and end the Twins' four-game losing streak Friday night when he takes on rookie Jarred Cosart and the visiting Houston...
Count Minnesota Twins starter Kevin Correia among those impressed by what the Kansas City Royals have been doing. Correia and Jeremy Guthrie turned in a tight duel last week and will meet again Monday night in the opener of a three-game set in Kansas City. The Royals (56-52) have won 11 of 12 and trail Cleveland by 4 1/2 games for the AL's second wild-card spot. The Twins...
MLB News

Delivered to your inbox

You'll also receive Yardbarker's daily Top 10, featuring the best sports stories from around the web. Customize your newsletter to get articles on your favorite sports and teams. And the best part? It's free!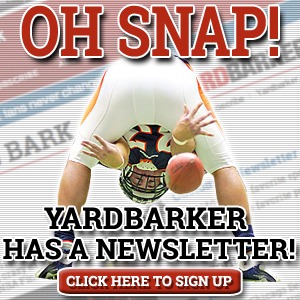 Latest Rumors
The Backyard

Today's Best Stuff

For Bloggers

Join the Yardbarker Network for more promotion, traffic, and money.

Company Info

Help

What is Yardbarker?

Yardbarker is the largest network of sports blogs and pro athlete blogs on the web. This site is the hub of the Yardbarker Network, where our editors and algorithms curate the best sports content from our network and beyond.