Found February 20, 2012 on We Should Be GM's:
KK Deal:2 years $7.5M to a 6th starter/bullpen longman. I'm confused, but that's exactly what Amaro doled out for Kyle Kendrick. KK was set to make $3.585 this season, and under the new contract his 2012 salary is yet to be announced. I like KK and think he has value, but there's a point when salary outweighs usefulness. However, with Cole Hamels and Joe Blanton both becoming free agents after the season, having KK's salary already set for the 2013 season could be a positive. Of course, maybe the Phillies plan is for Kendrick to step into the 5th spot in the rotation this season, as will be discussed in the next section of this post...Blanton-Abreu-Burnett Swap:Buster "Rhymes" Olney reports that prior the AJ Burnett + money to the Pirates for 2 prospects deal went down that the Phillies were aggressively pursuing a 3-team swap. The trade would have sent Joe Blanton to the Angels for Bobby Abreu, then Abreu to the Yankees for Burnett. It's a shame...
Original Story:
http://pabaseball.blogspot.com/2012/0...
THE BACKYARD
BEST OF MAXIM
RELATED ARTICLES
Philadelphia right-hander Kyle Kendrick agreed to a two-year, $7.5 million contract with the Phillies on Sunday. Kendrick, 27, went 8-6 with a 3.22 ERA in 34 games for the Phillies last year. He made 15 starts, as Philadelphia won the National League East division title. He is now under contract through 2013, and the deal includes performance and award bonuses. Kendrick was at...
Philadelphia right-hander Kyle Kendrick agreed to a two-year, $7.5 million contract with the Phillies on Sunday.
The Pirates are hoping that right-hander A.J. Burnett's veteran knowledge will be able to benefit the rest of the pitching staff.
After several days of reports and speculation of a deal, the Pittsburgh Pirates and New York Yankees finally agreed on a trade that will send starting pitcher A.J. Burnett to Pittsburgh in exchange for relief pitcher Diego Moreno and outfielder Exicardo Cayones.  The Yankees also agreed to pay all but $13 million dollars of Burnett's $31.1 million dollar salary remaining...
BRADENTON, Fla. — No more excuses for A.J. Burnett and no more Yankee thoughts. Burnett the Pirate took some blame for his failures with the Yankees yesterday at Pirate City, but also said he may have let too many people in pinstripes mess with his mechanics. "Without getting too far...
In this article by Richard Griffin of the Toronto Star, Griffin makes the ludicrous assertation that MLB commissioner Bud Selig should have considered using his "best interests in baseball" clause to void the trade of AJ Burnett from the New York Yankees to the Pittsburgh Pirates. My immediate answer? "Um....why exactly?" Griffin's major argument is essentially...
LOS ANGELES (CBS) - When the Los Angeles Angels acquired Albert Pujols, it set off a chain reaction throughout Orange County and put everyone on the team on notice that the direction was changing a little. However, it also meant that some players were going to be left out. With Pujols taking over at first base, Mark Trumbo moving to third base, Albert Callaspo platooning with him...
After much anticipation, the trade that sent A.J. Burnett from the Yankees to the Pirates was finally completed on Sunday. Burnett had a tumultuous three seasons in the Bronx, with a 4.79 ERA and 4.5 walks/hit batters per nine over 584 regular-season innings. His signature pitch is an 83 mph spike-curveball with exceptional movement. (Harry Pavlidis mentioned it here a few weeks...
The New York Yankees are shedding pounds and payroll as they enter the 2012 MLB season. Having traded away A.J. Burnett and not having gone out and overspent on free agency this past offseason, New York was determined to shed some numbers from their payroll. That much was a given, according to everyone involved in the Yankees' organization. But what was not as certain...
Joining host Karen Vankat on the Warning Track is Michael Cohen of the Open Mike show. The Yankees were busy over the last week trading inconsistent AJ Burnett to the Pirates, signing Raul Ibanez as a lefty DH/outfielder and Oh No Mo! Mariano Rivera has fun with the media "hinting" at retirement. Dan Fuerstein of Triple Coverage calls in with his thoughts. The Mets are happy...
Rod Barajas is a naturally cheery fellow. Nevertheless, the new Pirates catcher's smile was especially wide Saturday, as he contemplated an imminent reunion with the newest Pirate -- right-hander A.J. Burnett.
BRADENTON — In order to make room for right-hander A.J. Burnett on the 40-man roster, the Pirates placed infielder Gustavo Nunez on the 60-day disabled list with a right ankle injury. Nunez, 24, was selected from the Detroit Tigers in the Rule-5 draft in December by the Pirates. During the 2011 season, Nunez hit .276 with 13 doubles, seven triples, five home runs, 26 RBI and 18...
MLB News

Delivered to your inbox

You'll also receive Yardbarker's daily Top 10, featuring the best sports stories from around the web. Customize your newsletter to get articles on your favorite sports and teams. And the best part? It's free!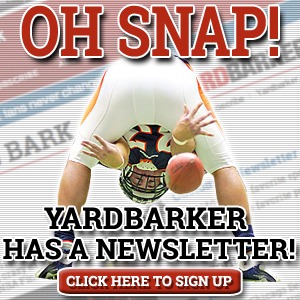 Latest Rumors
Best of Yardbarker

Today's Best Stuff

For Bloggers

Join the Yardbarker Network for more promotion, traffic, and money.

Company Info

Help

What is Yardbarker?

Yardbarker is the largest network of sports blogs and pro athlete blogs on the web. This site is the hub of the Yardbarker Network, where our editors and algorithms curate the best sports content from our network and beyond.