Found September 10, 2012 on Philliedelphia:
Following last night's doubleheader sweep, the Phillies sit just six games behind in the NL Wild Card race. Entering tonight's game, they are tied with the Brewers in the standings, both sporting 69-71 records. If the Phillies can get a jump on the Marlins tonight, they could be as far as 5 games out of the Wild Card standings. With 22 games left in the season, there's no reason to give up yet. Kyle Kendrick (8-10, 3.96 ERA) will take on lefty Wade LeBlanc (2-3, 2.72 ERA) in tonight's series opener. Kyle Kendrick's last start didn't go exactly as planned. Headed into Tuesday's matchup against the Reds, Kendrick had won four straight decisions as well as posting a 1.23 ERA in as many starts. It was just one of those games where a single run made the difference. Kendrick tossed five scoreless innings before surrendering a two-run shot to Jay Bruce. Kendrick finished the game with six innings, allowing two earned runs on six hits while walking one and strik...
Original Story:
http://www.philliedelphia.com/phillie...
THE BACKYARD
BEST OF MAXIM
RELATED ARTICLES
KK was great again (AP). Behind Kyle Kendrick and Dom Brown, the Phillies inched closer to the Cardinals in the Wild Card standings with a 3-1 win over the Marlins. KENDRICK GOES NO-NO FOR FIVE -Kendrick did not give up a hit until the sixth inning, after Rob Brantly singled a sharp liner to center field. Two pitches prior to that base hit, Kendrick appeared to have Brantly struck...
Kyle Kendrick, for varying reasons has been persona non grata in Philadelphia for quite some time. After getting off to a solid major league start in 2007, Kendrick was bounced to the minors in 2009. In 2010 he competed for a job in the Phillies starting rotation, only to be thrown into the bullpen. Same for 2011, aside from some spot starts here and there. All the while Kendrick...
Is it safe to call Kyle Kendrick an Ace yet? Because he's sure as hell pitching like one. The surging Phils are riding on a lot of energy right now after a clean sweep of the Rockies, and they were looking to carry that over into this Marlins series at home. On the Kyle Kendrick front, there isn't much to report here other than a no-hitter through five innings. You know...
With Kyle Kendrick continuing a run from nowhere and the Cardinals and (heh heh) Braves not exactly showing exceptional strength at the close, I'm left with this small little moment of madness: the Phillies are a game under .500 at 70-71, and 5.5 games out of the wild card. Despite being 17 games back in the division. They have won five in a row, 8 of their last 10, and they...
Kyle Kendrick of the Philadelphia Phillies is the 4-slot option.  How does the five for the Yankees match up with the locals?  The Apocalyptic Horsemen Stats are in my recent coverage linked below. TAL'S HANDY STATS   WELCOME, NEWCOMERS: I am alternating a game-day 2012 ERA For The NL East and a 2012 ERA For The MLB 5. See link section below. In each publication, the number...
Photo Courtesy of Corey Shaw AT&T sponsored a "Win at Home" contest for Phillies fans last season.  The top prize was to be a redesign of a family room and a barbecue with a Phillies player visit.  This visit was from Kyle Kendrick.  The winner was excited:  Fanning herself and repeatedly telling her friends how amazing it was to have Kendrick in her house,...
Kyle Kendrick gave up one run in seven innings of two-hit pitching in a 3-1 win over the Florida Marlins. Kendrick got his eight strikeout of the evening when he struck out John Carlos Stanton with bases loaded in the sixth. Phillies got their runs in the bottom of the 5th, when Ty Wiggington walked on a full count, then Domonic Brown homered to right. Michael Martinez scored on...
Kyle Kendrick struck out a career-high eight over seven strong innings to lead the surging Philadelphia Phillies to their fifth straight win, 3-1 over the Miami Marlins on Monday night. Staked to a 3-0 lead, Kendrick (9-10) took a no-hitter into the sixth before Rob Brantly's leadoff single. The right-hander escaped a bases-loaded jam when he struck out Giancarlo Stanton on...
Kyle Kendrick is the 4-slot hurler for the Philadelphia Phillies, if they reach the NLDS.  That stated, have you realized what's going on yet?  Remember, the poll for Masked September is here, if you haven't voted yet. TAL'S HANDY CAPS   WELCOME, NEWCOMERS: I will publish after every battle that is not washed out.  I will have many summer-long highlights of puzzle pieces...
Final: Marlins 1, Phillies 3. WP: Kyle Kendrick (9-10, 3.83 ERA) LP: Wade LeBlanc (2-4, 2.95 ERA) SV: Antonio Bastardo (1) Things finally got underway offensively tonight in the bottom of the fifth inning, after a Ty Wigginton walk.  Domonic Brown blasted his second home run of the season to deep right field for the first scoring play of the game.  Later in the inning Michael...
MLB News

Delivered to your inbox

You'll also receive Yardbarker's daily Top 10, featuring the best sports stories from around the web. Customize your newsletter to get articles on your favorite sports and teams. And the best part? It's free!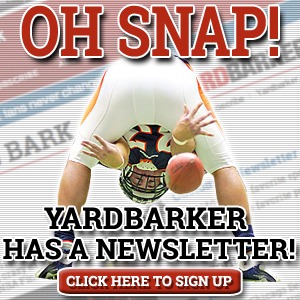 Latest Rumors
Best of Yardbarker

Today's Best Stuff

For Bloggers

Join the Yardbarker Network for more promotion, traffic, and money.

Company Info

Help

What is Yardbarker?

Yardbarker is the largest network of sports blogs and pro athlete blogs on the web. This site is the hub of the Yardbarker Network, where our editors and algorithms curate the best sports content from our network and beyond.