Found April 01, 2013 on MLB Buzz:
  In the past five days, teams have made nearly $600 million worth of commitments in contract extensions, including shortstop Elvis Andrus' pending deal with the Rangers.   Don't expect the trend to end.   The Dodgers remain in discussions with left-hander Clayton Kershaw, according to major-league sources. The Indians continue to talk to second baseman Jason Kipnis and outfielder Michael Brantley, though a Kipnis deal is considered unlikely, sources say.   The flurry of recent extensions is partly attributable to the calendar - players and teams often use Opening Day as a deadline for contract negotiations. But a number of clubs are seeking to lock up additional players, reflecting the game's rising revenues, sources say.   Starting in 2014, the amount of money that teams receive from baseball's national television contracts will increase from about $25 million per season to about $52 million. Some teams also are drawing significantly increased revenue from their local television deals.
Original Story:
http://www.yardbarker.com/blog/mlbbuz...
THE BACKYARD
BEST OF MAXIM
RELATED ARTICLES
Over the weekend, news broke of huge extensions being signed by Justin Verlander and Buster Posey. The two former MVPs got paid, handsomely. Add one more key player getting a lengthy extension to that list, as news has now broke of shortstop Elvis Andrus and the Texas Rangers agreeing to an 8-year, $120 million dollar extension. This new extension start after the 2014 season, which...
The Dodgers beat the rival Giants on Opening Day at home to begin 2013, but it wasn't so much the win that was surprising as how they did it. Leading off the bottom of the eighth inning of a 0-0 tie game, Clayton Kershaw was left in to hit, and he justified the decision, not with his arm, but with his bat. That was his first career homer, and it made people lose their minds. ...
The light distortion not withstanding, the new hi-def scoreboards were amazing. "Remember when." It is a common phrase we've all used before. Sometimes, you say it to recall the good old days at work before you got a new boss whose job seems to be making your life miserable. Or you could be a Kansas City Royals fans recalling when the word "playoffs" was part of the vocabulary...
Clayton Kershaw is the best pitcher in major league baseball not named Justin Verlander.  He is also five years younger and is currently playing for the new biggest spenders in baseball, the LA Dodgers.  I don't have to spout off Kershaw's stats and accomplishments at such a young age.  If you're reading this blog you probably know that Kershaw is one of the league's...
Image courtesy zimbio.com Clayton Kershaw threw a complete game shutout, scattered 4 hits, struck out 7, and didn't walk a batter. Oh, by the way, he hit a go ahead home run in the 8th to break open the scoring for the Dodgers against the defending World Series Champions. Kershaw was efficient, throwing only 94 pitches, and dominating all at the same time. He throws a low to mid...
by John Viril—When I read that the Texas Rangers committed $131 million over the next 10 years to 24-year-old SS Elvis Andrus, I could not help compare this deal to the current contract the Royals have with their own Alcides Escobar. Royals GM Dayton Moore got a screaming bargain. The Royals control 26-year-old Escobar for the next five seasons (3 under contract with two club options...
Clayton Kershaw launched his first career home run to break a scoreless tie in the eighth inning, then finished off a four-hitter Monday that led the Los Angeles Dodgers over the San Francisco Giants 4-0 on opening day. Kershaw became the first pitcher to throw a shutout and hit a home run in an opener since Bob Lemon for Cleveland in 1953, STATS said. Kershaw struck out seven...
Sure, they've got an ace and a good second baseman in Ian Kinsler on their roster, but I'm pretty sure Tyson Chandler, Aaron Hernandez and Clay Matthews would have a hard time hitting a curve ball. Then again, pretty sure Kershaw wouldn't last three Mississippi's in the pocket with Matthews lining up on the other side of the field. From the press release… CytoSport™,...
Clayton Kershaw provided the fireworks for the Dodgers on Opening Day. Tonight, the new-look Indians and new-look Blue Jays will face off, with R.A. Dickey`s return to the AL.
Right about here would be where I wax poetic about Opening Day finally arriving. I'd probably say something about the smell of freshly cut grass, quote Ted Williams, wave an American flag around, and call it a day. Instead I guess I should talk about what just transpired at Dodger Stadium. (AP Photo/Jae C. Hong) In case anyone hasn't been watching baseball the last three or so...
In light of Elvis Andrus' contract extension, I'll take a look at the contract of Alcides Escobar.
The Tigers award their ace an extension that will pay him more than any other pitcher (at least until Clayton Kershaw`s next contract). Was it wise?
MLB News

Delivered to your inbox

You'll also receive Yardbarker's daily Top 10, featuring the best sports stories from around the web. Customize your newsletter to get articles on your favorite sports and teams. And the best part? It's free!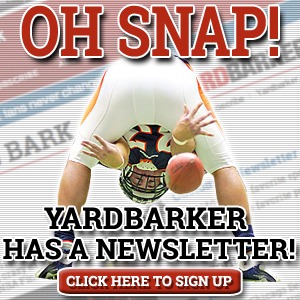 Latest Rumors
Best of Yardbarker

Today's Best Stuff

For Bloggers

Join the Yardbarker Network for more promotion, traffic, and money.

Company Info

Help

What is Yardbarker?

Yardbarker is the largest network of sports blogs and pro athlete blogs on the web. This site is the hub of the Yardbarker Network, where our editors and algorithms curate the best sports content from our network and beyond.