Found May 04, 2012 on PRO Rumors:
The all-time saves leader, Mariano Rivera, suffered a torn ACL yesterday while shagging fly balls at Kauffman Stadium in Kansas City and according to Bryan Hoch of MLB.com it is still unknown if he'll ever pitch again. "At this point, I don't know," Rivera said, repeating softly (via Hoch), "At this point, I don't know. I have to face this first." According to Hoch, Rivera will be evaluated by the Yankees' physicians in New York, but "they're not expecting a miracle," so his season is likely over. The future Hall of Famer also acknowledged that his career could be over. "If I had to do it over again, I would do it over again," he said. "No hesitation. There's reasons why it happens. You have to take it the way it is and fight through it. Now we just have to fight." Rivera, 42, is the all-time saves leader with 608 and probably will go down as the best reliever baseball has ever seen. His career record is 76-58 with a stellar 2.21 ERA, 0.5 HR/9, 2.0 BB/9 and 8.3 SO/9 in 1,219.2 innings. He ranks 26th all-time in SO/9 (8.3), second all-time in WHIP (0.99), fifth all-time in SO/BB (4.04), first all-time in ERA+ (ERA adjusted for park effects) with 206. The closest one in that department is Pedro Martinez with 154. Rivera's postseason numbers are also incredible, 42 saves, 0.70 ERA, 0.1 HR/9, 1.3 BB/9 and 7.0 SO/9 in 141.0 innings and five World Series rings. "The Sandman," for his walk-up song (Enter Sandman by Metallica), is one of the most beloved players in the majors. Even though he's the greatest reliever to ever walk the earth, at least in my opinion, he doesn't act like one, he's a humble person and a relentless hard worker. Sometimes when we read about players like Babe Ruth, Lou Gehrig, Cy Young, just to name a few, we wish we could've seen them play. Everybody sees them as the greatest players the game has ever seen, but we tend to forget those who play in our era. Sometimes we don't realize how lucky we are to have seen a guy like Rivera pitch. I feel extremely lucky to have lived in the Rivera, Derek Jeter, Cal Ripken Jr., etc. era and I'm sure I will tell my kids stories about these great players that helped make baseball the greatest game in the entire world. I really hope we could see Rivera pitch at least one more year, he deserves to retire after entering a game with the song "Enter Sandman" blasting through Yankees Stadium's speakers and achieving another 1-2-3 inning save. Image by Keith Allison under the Creative Commons License Agreement.
Original Story:
http://www.prorumors.com/2012/05/rumo...
THE BACKYARD
BEST OF MAXIM
RELATED ARTICLES
Mariano Rivera was carted off the field with an apparent knee injury during batting practice before Thursday's game between the Yankees and Royals in Kansas City, according to news reports. Rivera, baseball's career saves leader, apparently injured himself shagging fly balls in the outfield, but was smiling as he was carted off, according to a report by The (N.J.) Star-Ledger...
The Greatest Mariano "Mo" Rivera is the best closer in Major League Baseball history and is arguably the best pitcher in New York Yankees history. His legacy is filled with clutch performances. If there were a baseball definition of "reliability," "Mo's" face would lay next to the word. For the past 18 years, there has been on rock of the Yankees pitching staff. That...
Yankees closer Mariano Rivera emphatically stated Friday that a torn ACL in his right knee will not spell the end of his Hall of Fame career. "I'm coming back. Write it down in big letters. I'm not going out like this," Rivera told reporters Friday in Kansas City. The 42-year-old all-time saves leader hinted before the season that 2012 would be his final campaign...
Mariano Rivera tore his ACL when he fell while chasing a fly ball during batting practice prior to the Yankees-Royals game on Thursday. When we learned about the severity of the season-ending injury, LBS writer Steve DelVecchio speculated that it could also be career-ending. After all, consider that Rivera, 42, cryptically hinted in February that this would be his last season. On...
KANSAS CITY You're joking, right? This wasn't in the script. The script says Mariano Rivera walks away when he's good and ready, and not a minute sooner. And he doesn't walk, either. He sprints like a jackrabbit in spring and leaps straight into the arms of his teammates, who collectively hoist him onto their shoulders one last time. He's waving his cap in the...
From this point forward, perhaps shagging fly balls in the outfield before a game should only be mandatory for pitchers who are under the age of 42. Maybe it isn't exactly mandatory, but tracking down balls is something some of the Yankees players like to do to warm up and stay in shape. Yankees fans are now crossing their fingers the injury Mariano Rivera suffered while taking...
Yankees closer Mariano Rivera was examined Monday by three doctors at two hospitals as he determines where he will have knee surgery. New York general manager Brian Cashman said Rivera was seen by team physician Dr. Christopher Ahmad at New York Presbyterian Hospital and by Dr. Russell Warren, a knee specialist at the Hospital for Special Surgery. Rivera's agent, Fernando Cuza...
Mariano Rivera tore his ACL last night in warmups trying to shag a fly ball.  The question on everyone's mind is should he retire?  This has to be a sign right?  I mean he has shagged balls his whole career and he goes down with a torn ACL in his 17th season.  The man is 42 years old and his team finally has a chance to be knocked out of the playoffs after it seems like 20...
Mariano Rivera isn't done just yet. The Yankees closer tore his ACL shagging fly balls in the outfield before Thursday night's game in Kansas City, but he has vowed to return to the big leagues. He's not letting this injury end his career. "I'm coming back," River told reporters in New York. "Write it down in big letters. I'm not going out like...
Reasons why Mariano Rivera will pitch again
This was not a great week to be a closer for a handful of Major League Baseball teams. Between injuries and demotions, many teams are scrambling to find solutions to teh back end of their bullpens. The most devastating news to any closer came to Mariano Rivera of the New York Yankees, who suffered a season ending ACL injury shagging fly balls. It was extremely sad to...
Jamie Moyer's pre-game ritual is a little more extreme than shagging fly balls. But just like in the case of Mariano Rivera, the end result was tragic
Yankees News

Delivered to your inbox

You'll also receive Yardbarker's daily Top 10, featuring the best sports stories from around the web. Customize your newsletter to get articles on your favorite sports and teams. And the best part? It's free!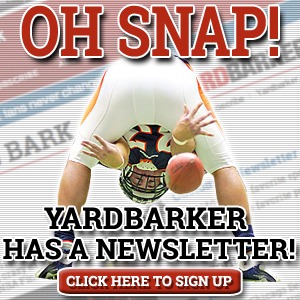 Latest Rumors
Best of Yardbarker

Today's Best Stuff

For Bloggers

Join the Yardbarker Network for more promotion, traffic, and money.

Company Info

Help

What is Yardbarker?

Yardbarker is the largest network of sports blogs and pro athlete blogs on the web. This site is the hub of the Yardbarker Network, where our editors and algorithms curate the best sports content from our network and beyond.