Posted April 04, 2013 on AP on Fox
PLAYERS:
Mariano Rivera
,
Andy Pettitte
,
Brett Gardner
,
Francisco Cervelli
,
Derek Jeter
,
Alex Rodriguez
,
Mark Teixeira
,
Curtis Granderson
,
Lyle Overbay
,
Ryan Dempster
,
Dustin Pedroia
,
Jonny Gomes
,
Will Middlebrooks
,
Jackie Bradley
,
Yogi Berra
,
Mickey Mantle
,
Hiroki Kuroda
,
Eduardo Nunez
,
Shane Victorino
,
David Ross
,
Clayton Mortensen
,
Joe Girardi
,
Robinson Cano
,
Kevin Youkilis
,
Ichiro Suzuki
,
Ivan Nova
,
Doug Fister
TEAMS:
New York Yankees
,
Boston Red Sox
,
Detroit Tigers
Andy Pettitte pitched the Yankees to their first win of the season and Mariano Rivera made a successful return to the mound in New York's 4-2 victory over the Boston Red Sox on Thursday night. Brett Gardner and Francisco Cervelli homered for the Yankees, providing some unexpected power to a depleted lineup missing the ''sore four'' -- Derek Jeter, Alex Rodriguez, Mark Teixeira and Curtis Granderson. All those All-Stars are on the disabled list, and without them New York dropped its first two games at home to the rival Red Sox. Gardner and Cervelli each hit a solo shot, the first homer for both since they went back-to-back off Baltimore's Tommy Hunter on Sept. 6, 2011. Neither player spent much time on the active big league roster last season. Lyle Overbay had a two-run single off Ryan Dempster (0-1), who struck out eight in his Boston debut but needed 101 pitches to get through five innings. The two-time All-Star signed a $26.5 million, two-year contract i...
Original Story:
http://msn.foxsports.com/mlb/story/ne...
THE BACKYARD
BEST OF MAXIM
RELATED ARTICLES
After a devastating knee injury last May, Mariano Rivera vowed to return for another season. He has followed through on the promise. In the final game of the season opening series against the Boston Red Sox, Mariano Rivera saved the Yankees first win of the year. It was his first save in what will be the final year of his career. He entered to his iconic "Enter Sandman" intro...
It is certifiably insane to claim the Yankees needed to win last night's game. Yep. Lunacy. Booga-booga. We know better. Any blogger or writer who says it was a "must" victory - send 'em down to Columbus! That said, holy crap, did Andy Pettitte save our butts or what?Someday, when the Hall of Fame voters look back on Pettitte's career, I hope they remember...
Pettitte notched the first win of the season with eight strong. Boston Red Sox 2 — New York Yankees 4   Andy Pettitte kept the Yankees from being swept in today's 4-2 win over the Boston Red Sox.   With two losses to start the season, the Yankees turned to Andy Pettitte to get the first win of the season. In eight innings, the 40-year-old Pettitte allowed just one run on eight...
There is something special about watching homegrown talent succeed. That's why, even though the first win of the season is always sweet, this one, with its distinct Yankee farm flavor, was definitely one to savor. From Andy Pettitte starting the ballgame to Mariano Rivera closing it out and everything in between, the Yankee farm system showed up, defensively and offensively...
The walls were starting to close in on the Yankees after the first two games of the season. An 0-3 start would not have doomed their season, but combined with all the injuries the club has sustained the feeling of a lost season in the making would only have grown stronger. It would be easy to say that last night Andy Pettitte and Mariano Rivera turned back the clock. It would also...
For a long time now, you've heard the outcries. The Yankees are too old, they need to get younger. While some of this may be true, who secured the first win of the season last night? Who pitched deep into the game to preserve the bullpen? Who came in to close the door? Andy and Mo. In an uncertain season, only two things are for certain. Pettitte and Rivera will always give you...
After opening the season with two losses to the Red Sox, the Yankees won their first game of the season the "old" fashioned way. Two long-time Yankees locked down the win as Andy Pettitte threw eight fantastic innings leading to Mariano Rivera's first save of the year. If the Yankees want to pick up wins this weekend in Detroit, they will have to rely on their young pitchers...
Former steroid user and now 40-year old pitcher who is somehow magically still good Andy Pettitte led the Yankees to their first win of the year, a 4-2 defeat of the Sox at Yankee Stadium.  Pettitte went eight strong, scattering eight hits and giving up just one earned run before handing things over to Mariano Rivera, who had a rocky first appearance since his knee injury last...
After Andy Pettitte retired and came back last year, you knew he would have only done it if he thought he had a little something left in the tank. And while the Boston Red Sox didn't get a chance to see him last year, they did get to see him last night. And boy oh boy, did he look like the Pettitte of old in the Yankees 4-2 win over the Red Sox. He did allow eight hits...
Tossing eight innings of one-run ball, borderline Hall of Fame southpaw Andy Pettitte led New York to a 4-2 victory over the Boston Red Sox on Thursday at Yankee Stadium. Thanks to the 40-year-old Pettitte (1-0, 1.13 ERA), a three-time All-Star who has captured five crowns in pinstripes, the Yankees (1-3) finally triumphed for the first time in 2013. Considering New York's everyday...
It was a farewell of sorts in New York yesterday, when Andy Pettitte made the start for the Yankees in what is more than likely is last ever Opening Week start. Pettitte was spectacular in the Yankees'4-2 win over the Red Sox, allowing one run on eight hits over eight innings. Mariano Rivera made his first appearance in nearly a year and picked up his first save of his final...
photo credit: bleacherreport.com The analysts, experts, baseball fans, and maybe science itself don't think the Yankees will be good this year. With the massacre of injuries and both an April starting lineup and starting rotation, with an average age of about only 33 years old (you'd think it would be higher, I know) and a couple of old guys, one would say the 27-time-Champion...
MLB News

Delivered to your inbox

You'll also receive Yardbarker's daily Top 10, featuring the best sports stories from around the web. Customize your newsletter to get articles on your favorite sports and teams. And the best part? It's free!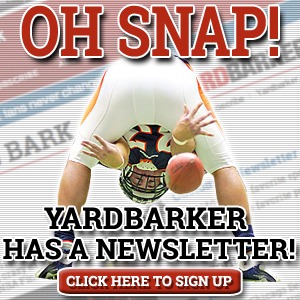 Latest Rumors
Best of Yardbarker

Today's Best Stuff

For Bloggers

Join the Yardbarker Network for more promotion, traffic, and money.

Company Info

Help

What is Yardbarker?

Yardbarker is the largest network of sports blogs and pro athlete blogs on the web. This site is the hub of the Yardbarker Network, where our editors and algorithms curate the best sports content from our network and beyond.