Found April 28, 2012 on NorthWest Sports Beat:
Michael Saunders Propels Ms Into Big Win The Headline: hot off a sweep of the Tigers in Detroit, the Seattle Mariners bring the fire into Toronto to win this 10-inning thriller.
Seattle Mariners 9, Toronto Blue Jays 5
When: 7:07 ET, Friday, April 27, 2012
Where: Rogers Centre, Toronto
Temperature: 68 degrees
Umpires: Home — Greg Gibson, 1B — Manny Gonzalez, 2B — Victor Carapazza, 3B — Gerry Davis
Attendance: 24,303
Love 'em 1. Michael Saunders Here is a kid who fell out of prospect status and is now making a name for himself. Michael Saunders stole the show tonight, going 2-4 with 3 runs scored and 5 RBI. Those two hits came in the 9th and 10th inning, each a home run. His bomb in the 9th locked up the tie, with his 10th inning grand salami representing the go ahead runs. Saunders is now hitting .254 on the season, with 3 home runs, 11 RBI and 3 stolen bases. 2. Flashing Some Power The best way to win against the Jays is to beat them at their own game, and Seattle certainly did that tonight. The Mariners launched three home runs in tonight's game. Two of them were the aformentioned bombs by Michael Saunders. The third came in the 7th off of the bat of the RBI machine Jesus Montero. On top of the home runs, Dustin Ackley and Casper Wells each had doubles. 3. The Win Despite the back-and-forth affair, the longer this game went on the more it seemed out of the Mariners hands. But, they did something they haven't done for a lot of the season and blew up in the late innings. Seattle put up 8 runs after the 6th inning, and managed to guarantee the win in extras. Michael Saunders launched an extra innings Grand Slam to win it (Photo by Abelimages/Getty Images) Hate 'em 1. Eric Wedge Eric Wedge had a string of questionable calls tonight, and each one put the game at risk. As has been the case all season, when Wedge called for a hitter to be intentionally walked it seemed very questionable. The bullpen management was rough to watch. Six different relievers were used tonight, with only two pitching full innings. Wedge turned to Brandon League in the 9th, despite it representing back-to-back games pitched and it wasn't even a save situation. 2. Tom Wilhelmsen In his last four games, Tom Wilhelmsen has seen his ERA raise from 0.90 to 3.14. The Mariners setup man has given up 9 hits in that time. Things were especially tough tonight, as his 2 earned runs in the 8th gave Toronto their window back into this game. 3. Rough Night for Fundamentals The Mariners captured a solid win tonight, but that doesn't mean they played a great game. Starter Blake Beavan suffered from a high pitch count — only getting through 5.2 innings — while the bullpen was up-and-down all night. On the diamond, the Mariners stole none — with one player caught stealing — and had two errors. They also saw 10-men left on base tonight. Here's the BOXSCORE | and Our Managing Editor "Q" has his RECAP NoteBook Tonight's Grand Slam by Michael Saunders is the first of his career. Listen to the audio of Michael Saunders' grand slam in the 10th. Mariners radio man Rick Rizzs let out a ""Get out the rye bread and mustard, Grandma, it is grand salami time!"" CLICK HERE TO CHECK OUT THE MARINERS BLOG IN OUR CLUBHOUSE TODAY AT NWSB! © Jonathan Irwin for North West Sports Beat, 2012. | Permalink | No comment | Follow NWSB on Twitter or join US on Facebook for real-time updates OR... | Share This on Twitter | Share NWSportsBeat.com on Facebook Post tags: boxscore, Game 1, Game One, Love Em Hate Em, Mariners post game, Mariners vs. Blue Jays, Matchup, MLB, MLB recap, Recap, Rogers Centre, Seattle Mariners, Seattle Mariners blogs, Seattle vs. Toronto, Stats, Toronto, Toronto Blue Jays
Original Story:
http://www.nwsportsbeat.com/mariners/...
THE BACKYARD
BEST OF MAXIM
RELATED ARTICLES
The Seattle Mariners got some bad news Friday about center field, specifically center fielder Franklin Gutierrez. Not only is the veteran coming back slowly from a right pectoral injury, but he has developed a case of plantar fasciitis. On the other side of the coin, Gutierrez's replacement, Michael Saunders, is giving the club plenty of reasons to breathe easily. ...
Michael Saunders hit two home runs, including a grand slam in the 10th inning, and the Seattle Mariners rallied to beat the Toronto Blue Jays 9-5 on Friday night, extending their winning streak to a season-high four games. Saunders started a two-run rally in the ninth with a shot to center, then hit the tiebreaking homer to right off Luis Perez (2-1) in the 10th for his third homer...
Who feels lucky? The number 21 has a reputation for being lucky.  21 is the result of the symbolic number of excellence, 3 and number of perfection 7 getting it on… That is multiplying. With the number 21 backing you up you can: Beat the house in black jack Buy a drink anywhere in North America Purchase a hand gun Enter any fine gambling establishment With the obvious fortune...
We're hearing this morning from Eric Wedge that Seattle Mariners left hander bullpen guy George Sherrill will have surgery on elbow in early May and is "more than likely" done for the season.Per Geoff Baker of the Seattletimes Mariners manager Eric Wedge said this morning that "there's a lot going on" in the elbow and the timeframe for any recovery won...
Last week, Alex Liddi was a reserve infielder for the Seattle Mariners and the answer to a trivia question, as the first player born and raised in Italy to play in the major leagues. Now, he's much more than that. He's establishing himself as an everyday player. He's stirring interest in the game among his countrymen. And he's becoming the new face of European baseball...
The Seattle Mariners were coming off a bad week, having finished up a nine-game stand by dropping five of their last six games including getting swept for the first time this season. It looked liked bad news was going to keep coming as the Mariners headed to the first place team in the A.L. Central, the Detroit Tigers. However, the Mariners responded by following up being swept by...
Chone Figgins hit a tiebreaking double with two outs in the seventh inning, and the Seattle Mariners completed a three-game sweep of the Detroit Tigers with a 5-4 victory Thursday. Justin Smoke hit a three-run homer and Miguel Olivo also connected for the Mariners. Figgins was 3 for 4 with a run and a stolen base to help Seattle reach the .500 mark at 10-10. Miguel Cabrera hit...
Toronto Blue Jays starter Dustin McGowan has experienced shoulder pain while rehabilitating a foot injury and will be shut down for two weeks. Blue Jays manager John Farrell said Thursday that the 30-year-old right-hander experienced some soreness in his shoulder during long tossing. McGowan underwent an MRI and has consulted with orthopedist Dr. James Andrews. Farrell said the...
DETROIT (AP) -- Chone Figgins hit a tiebreaking double with two outs in the seventh inning, and the Seattle Mariners completed a three-game sweep of the Detroit Tigers with a 5-4 victory Thursday. Justin Smoke hit a three-run homer and Miguel Olivo also connected for the Mariners. Figgins was 3 for 4 with a run and a stolen base to help Seattle reach the .500 mark at 10-10. Miguel...
Brandon Morrow pitched six innings, Edwin Encarnacion hit a grand slam and the Toronto Blue Jays beat the Seattle Mariners 7-0 on Saturday, snapping a four-game losing streak. Morrow (2-1) won his second straight start and improved to 3-0 with a 1.89 ERA in three starts against the team that drafted him fifth overall in 2006. The right-hander allowed five hits, walked none and...
The Seattle Mariners came into Toronto red-hot, coming off a sweep of the Tigers in Detroit. The Blue Jays were cold, having ended a seven-game road trip by losing three straight to Baltimore. Fortunes can switch quickly. Seattle rallied to win Friday night in extra innings, but the Mariners lost the last two games of the series to the Blue Jays being outscored 14-2. The losses sent...
MLB News

Delivered to your inbox

You'll also receive Yardbarker's daily Top 10, featuring the best sports stories from around the web. Customize your newsletter to get articles on your favorite sports and teams. And the best part? It's free!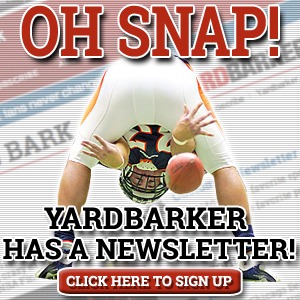 Latest Rumors
Best of Yardbarker

Today's Best Stuff

For Bloggers

Join the Yardbarker Network for more promotion, traffic, and money.

Company Info

Help

What is Yardbarker?

Yardbarker is the largest network of sports blogs and pro athlete blogs on the web. This site is the hub of the Yardbarker Network, where our editors and algorithms curate the best sports content from our network and beyond.