Found March 30, 2012 on Long Island Met Fan:
Throughout spring training, I have heard interviews and read many articles about Jason Bay and his approach to hitting. Every Mets fan, let alone baseball fan knows of Bay's woes. For someone who was a solid power hitter before joining the Mets, with the Mets he has been more of a power outage.This spring Bay is trying to simplify his approach, and get back to his hitting basics - the basics that
Original Story:
http://longislandmetfan.blogspot.com/...
THE BACKYARD
BEST OF MAXIM
RELATED ARTICLES
The Mets are flying Jason Bay to New York to undergo an emergency operation at the Hospital for Special Surgeries. Ever since Jason signed with the Mets 2 seasons ago, everyone has wondered, "What's wrong with this guy?" The All Star-turned-albatross has mystified baseball experts and fans alike with his hideous decline in production. No one questions his work ethic or...
If you trust Adam Rubin of ESPN New York and his sources, then the Mets Opening Day roster picture is quickly coming into focus. Rubin says that as long as Byrdak doesn't somehow recover from knee surgery in time to make the roster, the Mets will start out with Daniel Herrera as the lefty specialist in the bullpen. Although it has been reported before that Herrera was not an option...
Confirming what was speculated earlier, the Mets have officially announced that they have optioned 2B/SS Jordanny Valdespin to the minor leagues along with OF Adam Loewen. LHP Garrett Olson, C Lucas May, C Rob Johnson and OF Matt den Dekker. All are expected to start the season with Triple-A Buffalo. Of the group, only Valdespin spent time with the Bisons last season. The...
According to David Lennon of Newsday, Terry Collins starter Mike Pelfrey into his office on the morning of March 19th and delivered a not-so-subtle message that his his place on this team was in danger. "This front office isn't like the one you've had in years past. This kind of stuff isn't good. They want answers." This happened the day after Pelfrey allowed eight runs...
Yes, I know it was only one game after so many bad ones, but it was encouraging to watch Mike Pelfrey last night against Houston. One run on three hits in 6.1 innings. I'll take that every time. PELFREY: Tired of seeing this perplexed look. By his own admission, Pelfrey said this could be a make-or-break season for him. If he has another one like last year, he could see the Mets...
With opening day less than a week away, it's time to weigh in with a brand new edition of "3 Up & 3 Down". Here's what I'm looking forward to in 2012, the 50th anniversary season of New York Mets Baseball! 3 Up: The Return of Johan Santana:One word comes to mind when I think of Johan Santana; warrior. Who could forget Santana's performance against the Marlins a few...
Full Name: Cory Vaughn Born: 05/01/1989 Birthplace: Carmichael, CA College: San Diego St. Height: 6′ 3″ Weight: 225 Bats: R Throws: R Drafted by the Philadelphia Phillies in the 43rd round of the 2007 MLB June Amateur Draft and the New York Mets in the 4th round of the 2010 MLB June Amateur Draft.  The son of former Major Leaguer, Greg Vaughn. I remember watching Greg Vaughn...
Photo by Michael BaronAccording to Andy Martino of the Daily News Mike Pelfrey was discussed as a candidate to lose his roster spot. In five spring training games Pelfrey has pitched to an 8.59 ERA and that's including the last start which may have saved his job despite being against a AAAA line-up. I'm at the point with Pelfrey that I no longer trust him and just want to...
The Mets should give Dickey a Wakefield style deal where it can just be extended every year forever.Do it @MetsGM! — Craig Glaser (@sabometrics) March 30, 2012 This  is an interesting idea by Craig Glaser aka @sabometrics on Twitter. There are reports the Mets are thinking about exercising R.A. Dickey's 2013 option worth $5 million dollars. In 2005, Tim Wakefield signed a perpetual...
Dave Cameron laid out the methodology behind the rankings last Friday. Remember that the grading scale for each category is 20-80, with 50 representing league average. 2012 Organizational Rankings #30 – Baltimore #29 – Houston #28 – Oakland #27 – Pittsburgh #26 – San Diego #25 – Minnesota #24 – Chicago White Sox #23 – Seattle #22 – Kansas City #21 – Cleveland...
Watching Wednesday's 3-2 loss to the Nationals reminded me of what's going to ultimately take this team down. It isn't going to be like past years where the starting pitching got us bludgeoned to death (the rotation will be fine outside of Pelfrey's fifth start), or the lack of hitting asphyxiated us (and I gotta say that Lucas Duda is growing on me). Nope, this defense...
Mets News

Delivered to your inbox

You'll also receive Yardbarker's daily Top 10, featuring the best sports stories from around the web. Customize your newsletter to get articles on your favorite sports and teams. And the best part? It's free!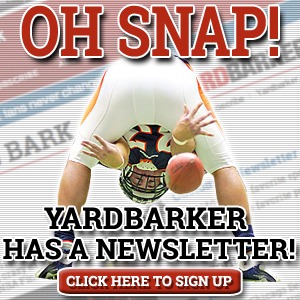 Latest Rumors
Best of Yardbarker

Today's Best Stuff

For Bloggers

Join the Yardbarker Network for more promotion, traffic, and money.

Company Info

Help

What is Yardbarker?

Yardbarker is the largest network of sports blogs and pro athlete blogs on the web. This site is the hub of the Yardbarker Network, where our editors and algorithms curate the best sports content from our network and beyond.