Found February 04, 2012 on Mets360.com:
The big news surrounding the Mets has been the announcement that SNY is going to purchase a bunch of the shares that the Wilpons are offering in the team as a way to raise money. Some see this as nothing more than rearranging deck chairs on the Titanic. But is there anything wrong about taking money from a profitable venture and using it to support a struggling one in your financial empire? It seems that fans are so eager to get rid of the Wilpons that any news is interpreted exclusively through that viewpoint. If they hire a firm to advise on their balance sheet, it must mean they are going to declare bankruptcy. If Commissioner Selig decides he's healthy enough to remain in his job, it's not because he doesn't want to walk away from a $20 million gig, it's because he's helping out his buddy Fred so that a new commissioner doesn't come in and demand the $25 million loan be repaid immediately. If one of Sterling's successful businesses invests in the Mets, it means they are doi...
Original Story:
http://feedproxy.google.com/~r/Mets36...
THE BACKYARD
BEST OF MAXIM
RELATED ARTICLES
Jon Heyman reported yesterday that he was told a competing exec. believed Andres Torres is nothing more then a 5th outfielder.The Mets actions may be confirming that belief, first going after Cody Ross and now monitoring the left handed outfield market.  Ankiel and Fokudome could platoon with Torres but Damon might be the perfect fit.   Damon would be able to hit at the top of...
With the New York Mets celebrating their 50th Anniversary in 2012, I'll probably end up doing 4-5 1962 Editions of my "Mets Eye Candy" feature. Do you know the story about Hall of Fame writer Leonard Koppett during that 1962 season? While burning the midnight oil at his desk in the newsroom of the NY Post, his phone rang at two in the in morning. "I understand the Mets scored...
Big game today.  A NY team is involved.  in about 14 hours we will know if there is another trophy for a NY team.  After that though we turn the focus to PSL and what the Mets can provide entertainment wise for the next 6-7 months.   To tell you the truth besides the lackluster off season for our team the drama that surrounds it with the cash strapped Wilpons has grown very...
We're big Jon Stewart fans here at The Legend. Actually, let me not speak for the rest of the editorial staff. I am a big Jon Stewart fan. And Stewart  shares as least one thing with Cecilio's Scribe. He's a fan of the New York Mets. So, we're both sorry bastards in that regard. Fortunately for Stewart, he has a national platform to playfully and brilliantly poke fun at...
You can find a lot of stuff on YouTube but I found out this morning you cannot find Glenn Close singing the National Anthem. I want to write about "The Star Spangled Banner" today and this, I thought, was a good way to do this on a Mets-themed blog. Close has sung the anthem at Mets games more than once and the best thing about her rendition is that she sings it quickly. I...
With Spring Training right around the corner it's time to start to get into the baseball spirit. Even though it appears we are not going to be contending for a title this season, there is still plenty to be excited about.  There is always the outside chance that we make it interesting and contend for the second wild card spot.  For that to potentially happen things need to...
Last night the much awaited hair cutting ceremony of former Mets SS Jose Reyes took place. I can't describe how much it pains me to scribble "former."As anyone with a pulse knows, I have been sick to my stomach since it was obvious the Mets had absolutely zero interest in re-signing Reyes, let alone his eventual signing with the dreaded Marlins. I also firmly believe...
The Do's and Don'ts of the New York Mets in your 2012 Fantasy League.
Whenever there is a discussion about General Manager's talents with regards to a rebuilding team, it often seems like the amateur draft is a measuring stick used, and it's used improperly. Perhaps it is because the General Manager is seen as the face of the franchise in terms of decisions to be made, but in reality, the General Manager has little to do with the amateur draft...
The latest episode of the Mets360 podcast is available and the guest is Mike Silva. You can listen at http://www.blogtalkradio.com/mets360/2012/02/02/mets360-with-mike-silva Mike and I covered a wide range of topics including: his work as a columnist thoughts on Jon Heyman the BBWAA the Wilpons' finances Johan Santana Daniel Murphy and Mike's history with the Mets ...
MLB News

Delivered to your inbox

You'll also receive Yardbarker's daily Top 10, featuring the best sports stories from around the web. Customize your newsletter to get articles on your favorite sports and teams. And the best part? It's free!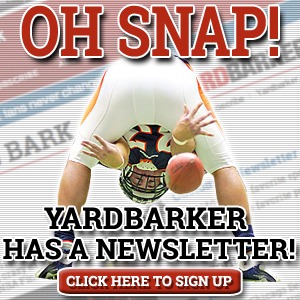 Latest Rumors
Best of Yardbarker

Today's Best Stuff

For Bloggers

Join the Yardbarker Network for more promotion, traffic, and money.

Company Info

Help

What is Yardbarker?

Yardbarker is the largest network of sports blogs and pro athlete blogs on the web. This site is the hub of the Yardbarker Network, where our editors and algorithms curate the best sports content from our network and beyond.