Found August 19, 2012 on MetsZilla:
For New York Mets fans, Mike Baxter will always be remembered for his remarkable catch in the seventh inning of Johan Santana historic night — the first no-hitter in franchise history.  When it seemed all but certain that Yadier Molina's long drive would end Santana's chance at history, Baxter reached out and snagged the long fly, crashing hard into the left-field wall in the process.  Slow to his feet, the 27-year-old exited the game and after x-rays revealed a dislocated collarbone and several bruised ribs, his spectacular play earned him a six-week stay on the disabled list.  Prior to his trip to the DL, Baxter was hitting .322 with a .392 on-base percentage and .444 as a pinch hitter; a role in which he thrived in before his injury. In 18 pinch-hit at-bats, Baxter had eight hits, five doubles and six runs batted in.  And following a three-hit performance versus Toronto on May 20th, manager Terry Collins was determined to get his bat in the lineup.
"His at-bats, it's speaking for itself," Collins said, according to Adam Rubin of ESPN New York. "You've got a red-hot bat like his, you've got to get him in there."
His strong play earned him starts in seven of his next nine games, including his final four-in-a-row. In the best stretch of his career, it all came to end when he went crashing into the lef-field wall at Citi field, yet, the Queens native said he wouldn't change a thing, according to Jeff Bradley of the Star-Ledger. The life-long Mets fan was just happy to be a part of Mets history, saying:
"It was a great night and I'm really happy that I was able to be a part of such a great night for Johan. He's such a good teammate and such a leader in the clubhouse. To have a part in a night that he'll never forget and something historic for him, it's an honor. …Yeah, I saw it (the replay) a few times. I didn't put it on loop or anything. Actually, I don't mind watching it. Injuries happen. They're part of the game, and I'm happy I made the play. I wouldn't change it."
While he will always be known for making one of the most important plays in Mets history, the fan favorite may be playing himself into a roster spot in 2013. Something I find myself rooting hard for. Though he struggled to find his groove upon his return — going just 1-for-12 with his only hit coming as a pinch hitter in the tenth inning of the clubs 8-7 victory over the Giants — he has since shaken off the rust.  During the Mets 2-0 victory over the Washington Nationals on Saturday night, the 27-year-old extended his career best hitting streak to seven games collecting nine hits in 25 at-bats (.360), while improving his on-base percentage to .410 in the process.
Baxter has definitely proven to be a valuable asset over his 102, 2012 at-bats. Even though this is an extremely small sample size, I can't help but be a believer in the Queens native. Maybe it's the catch and what it meant in Mets history. Or, the fact he is from Queens and grew up rooting for the Mets. But, whatever it is, I am extremely curious to see how he finishes out his 2012 campaign, hoping it is strong enough to earn him a spot on the 2013 roster.  While I am not sure what Baxter's future with the club will be, his name — and his remarkable play — will always be associated with that special night on June 1st.
"A fly ball deep left-field. Back goes Baxter, back on the track. He makes the catch! What a play."
~ Gary Cohen, SNY
Original Story:
http://www.metszilla.com/2012/08/19/m...
THE BACKYARD
BEST OF MAXIM
RELATED ARTICLES
I'm not sure where rock bottom is for New York Mets starter Johan Santana, but after becoming the first pitcher in team history to allow six or more runs in five consecutive starts, I'm sure this is close.  Last night Johan was rocked by the Nationals and after the game his pitching coach Dan Warthen, when posed with the question of shutting down the former ace for the remainder...
Michael Morse connects for a grand slam against the Mets' Johan Santana. Mets just can't keep any sort of winning streak going. Santana gets hit with two homeruns as Kelly Shoppach hits one of his own as Mets lose 6-4 to first place Nats. Johan Santana is still plundering. Santana did go perfect through the first three innings with nine up and nine down. However, the fourth inning...
The Mets start a 3 game set against the Nationals tonight. Johan Santana who didn't make it out of the 2nd inning last weekend gets the start. Johan who just back from his stint on the DL will have to prove that he can still get it done. Love the guy and I am hoping he isnt injured and is able to get back a little of his mo jo because he really look defeated after last weeks shalacking which
A long season has saddled Johan Santana with back pain, ankle discomfort and other maladies that he considers normal wear-and-tear for a starting pitcher. But examine them in the context of Santana's road back from left shoulder surgery, not to mention his importance to the team, and it becomes obvious why the New York Mets are considering shutting him down for the season. ...
This milestone had never been accomplished by a New York Mets pitcher before, but it did not come with stunned gratitude by a fan base desperately waiting to see it finally occur. Instead, Johan Santana's season offered some cruel symmetry Friday night, when the first Met to throw a no-hitter back on June 1 earned a much more ignominious place in team history. He allowed...
JOHAN SANTANA: Looks to rebound from one of his worst career starts. Starting Lineup Ruben Tejada – SS Andres Torres – CF David Wright – 3B Scott Hairston – RF Daniel Murphy – 1B Ronny Cedeno – 2B Jason Bay – LF Kelly Shoppach – C Johan Santana – LHP The Mets won a game yesterday! Today they try to make it two games in a row as they open up a series in DC with...
The New York Mets will listen to any offers from teams who are interesting in acquiring Johan Santana over the next week and a half, as well as during the upcoming offseason. Santana, who earlier this season became the first Mets pitcher in franchise history to throw a no-hitter for the team, is signed through next season. And while the Mets could easily be talked into...
Michael Morse hit a grand slam, Bryce Harper also homered and the Washington Nationals became the latest team to tag a struggling Johan Santana in their 6-4 victory over the New York Mets on Friday night. Ross Detwiler tossed six solid innings and the Nationals sent Santana to his fifth loss in the last five starts. Handed a 2-0 lead, the two-time Cy Young Award winner was perfect...
The Mets won a game yesterday! Today they try to make it two games in a row as they open up a series in DC with Johan Santana taking Ross Detwiler. Johan will be making his second start since returning from the DL, and it can really only go up from here. On the season he is 6-8 with a 4.58 ERA and in his last start allowing 8 ER over 1.1 innings. In one start against the Nationals...
If one of the last resorts of 2012 for the New York Mets is to play spoiler for the top half of the NL East, it would be nice to see the Washington Nationals go down in flames down the stretch. The Mets have three games to be obnoxious at the home stadium of the National League's best.  Coming off a night where it was all about young star-in-the-making Matt Harvey, it will be...
By SBRForum.com The Mets may have spared their blushes a little bit by winning their final game in Cincinnati, but now they have to head to the nation's capital to play one of baseball's hottest teams in the Washington Nationals. What was a great start to the season for New Yorkhas quickly turned into another forgettable campaign. The Mets currently sit at 56-62 on the season...
MLB News

Delivered to your inbox

You'll also receive Yardbarker's daily Top 10, featuring the best sports stories from around the web. Customize your newsletter to get articles on your favorite sports and teams. And the best part? It's free!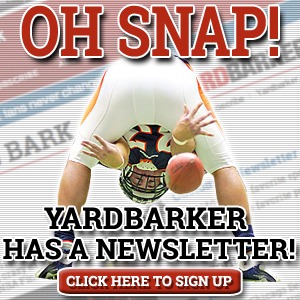 Latest Rumors
Best of Yardbarker

Today's Best Stuff

For Bloggers

Join the Yardbarker Network for more promotion, traffic, and money.

Company Info

Help

What is Yardbarker?

Yardbarker is the largest network of sports blogs and pro athlete blogs on the web. This site is the hub of the Yardbarker Network, where our editors and algorithms curate the best sports content from our network and beyond.