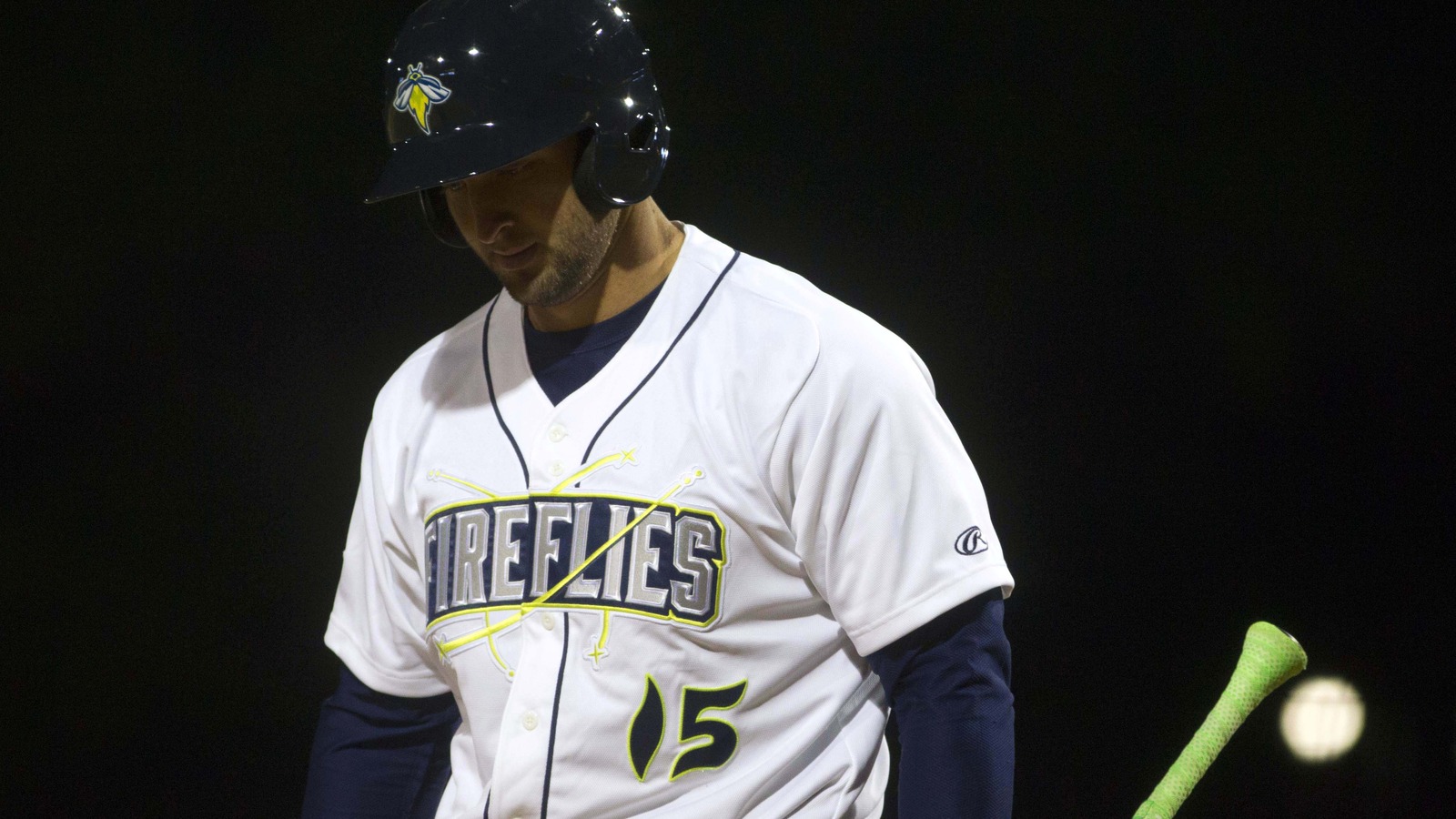 Columbia Fireflies outfielder Tim Tebow (15) reacts after a strikeout during the sixth inning against the Augusta GreenJackets at Spirit Communications Park.
Joshua S. Kelly-USA TODAY Sports
There has been a lot of positive press about Tim Tebow's recent progress in the low minors. But one MLB scout says it's time to pump the breaks before anointing the 29-year-old Tebow a major league-level prospect.
Tebow, currently playing with the New York Mets' Low Class-A affiliate Columbia Fireflies, has slashed .227/.309/.336 with two home runs in 25 games. But he also has struck out 34 times in 110 at-bats.
The major league scout, who requested anonymity, provided a scouting report to Baseball America this week. As noted by CBS Sports' Mike Axisa, the scout did have some positive things to say about Tebow — "shows some bat speed," "has slightly above-average raw power," "has unbelievable makeup" — the overall assessment isn't favorable to Tebow's major-league prospects.
The summary from the scouting report follows.
I believe Tebow is an organizational player. I do not think he is a major leaguer. But if he progresses like he has at low Class A and continues to hit at other levels, then if not this September, it will be next September—if the Mets are out of playoff contention—that he will (receive a callup), just as a marketing, public relations thing.

But if you are looking at him, without looking at those things, he is a mid-level organizational player. I would not recommend him to our club because we try to scout to build a championship club. He does not check those boxes for me.
There's obviously nothing wrong with Tebow turning out to be a "mid-level organizational player," especially given the late start to his professional baseball career. But it certainly doesn't match up when juxtaposed with the excessive hype afforded Tebow since his much ballyhooed workout last August.
As alluded to by the unnamed scout, Tebow's marketability, even as a minor-league player, is without a doubt a huge bonus for the Mets. It shouldn't come as any surprise if the team continues to hype Tebow's progress in light of his popularity.
But as a realistic candidate to make it to the big leagues one day? That shouldn't be expected, at least according to this scout.
MORE FROM YARDBARKER
Mets News

Delivered to your inbox

You'll also receive Yardbarker's daily Top 10, featuring the best sports stories from around the web. Customize your newsletter to get articles on your favorite sports and teams. And the best part? It's free!