Found December 06, 2012 on Mets Merized Online:
Pete asks: Now that David Wright will be our third baseman until 2020, what is the future of third base prospect Wilmer Flores? Do you think he'll be moved to the outfield, or will he be traded? Sean Kenny replies: First – Wilmer Flores and outfield should not be mentioned in the same sentence unless it is at the end of the statement "Wilmer Flores with a hard hit into". Flores does not possess the foot speed to even foresee being anything but a below average fielder, which would require his bat be that much more potent and powerful. Second, Flores could be traded but I don't see a world where the Mets cannot find a place for Flores' bat. He has taken reps at every infield position, and that can add to his value. Many hypothetical scenarios have been thrown around, making Wilmer a super-utility guy for 400+ AB a season, making him the full-time second baseman (despite lack of experience and slow feet), or platooning him with Ike Davis at first base. Flores is all speculation at the...
Original Story:
http://metsmerizedonline.com/2012/12/...
THE BACKYARD
BEST OF MAXIM
RELATED ARTICLES
Ike Davis needs to pull it all together for an entire season. Let's assume for a moment – and this isn't much of a reach – the Mets don't do anything for the remainder of the winter. How then, can the Mets be competitive if another assumption that R.A. Dickey won't be back? A lot of things must happen, beginning with David Wright regaining his power stroke. If he does...
Updated Post 11:00 AM Ken Davidoff sums it all up like this: As we leave R.A. Dickey's hometown, let's rank his list of admirers, from big fans down to skeptics. 1. R.A. Dickey 2. The New York Mets 3. The 29 other Major League Baseball teams. That's where things appeared to stand as the Mets and the rest of baseball packed up their laptops, slide projectors and blazers and...
New York Yankees beat writer Sweeny Murti of WFAN is reporting on some of the Mets buzz he is hearing at the Winter Meetings in Nashville. The Mets are asking for too much, one GM said here, in regard to R.A. Dickey and trade possibilities, the Mets are targeting the top prospect in nearly every organization they speak with. The Royals don't appear eager to trade Wil Myers for...
Updated Post 1:00 PM Jeff Wilpon told reporters today that R.A. Dickey and the Mets are still far apart on the overall value of a possible contract extension, and it's possible they could go into next season with no new agreement. Dickey later told ESPN.com that he is hopeful a new deal can be worked out, but he understands that Sandy Alderson is paid to make the Mets better...
Does the $138 million dollar Wright contract change your opinion on the Mets financial situation? Is it a sign that things are better than what is being reported? Ed Leyro – Things might be better, but until I see the Mets sign a big-time free agent instead of giving their money to players who were already here, I will have a modicum of doubt. XtreemIcon - No, that remains unchanged...
Mets Merized Online is rolling out our Metsmerized Hall of Fame. We will be enshrining one player each week until our five founding members are all unveiled. So far, we've selected Tom Seaver in week one, Keith Hernandez in week two, and Jerry Koosman in week three. After our five Founding Members are selected, we will ask you, our readers, to cast your ballot for who should...
If GM Sandy Alderson spent as much energy trying to sign R. A. Dickey as he has trying to trade him, the contract would be done by now. Alderson told reporters in Nashville he's seeking a "difference maker," for Dickey, which means a power-hitting outfielder, preferably from the right side. A difference maker, by definition, would mean a proven commodity, as Alderson said he's...
1977 TOPPS CLOTH STICKER DAVE KINGMAN Dave Kingman is as much 1977 to me as Rumours, Rocky, the Ramones, and R2-D2. He brought to the mid '70s Mets something that they had rarely seen before. The franchise– weaned on essential ineptitude, and brought to maturity by the finesse of a well-pitched game– now had at its disposal raw, dumb power. And it felt good. Kingman led the...
The Seattle Mariners and free-agent outfielder Jason Bay have agreed to a one-year deal worth more than $1 million, according to sources. Bay and the New York Mets ended their unproductive relationship after three disappointing seasons when they agreed on Nov. 7 to terminate the outfielder's contract with one guaranteed season remaining. After signing a $66 million, four-year...
Valdespin tweeted that picture via his twitter handle. He tends to post weird pictures of himself on his Facebook account and twitter account. But this is just going WAY too far… A Miami Marlins hat? Jordany, come on… I want to root for you, but you just make stupid decisions, and you're immature.
According to John Harper of the Daily News, the Texas Rangers would trade top hitting prospect Mike Olt for R.A. Dickey, but only if they first lose out on free-agent Zack Greinke AND are unable to trade for James Shields who is their top preference if they have to make a swap. Meanwhile the Royals and Blue Jays are not that interested in Dickey and and prefer the Mets young...
The Seattle Mariners have signed outfielder Jason Bay, Andy Martino of the New York Daily News reports. The deal is for around $1mm, Greg Johns of MLB.com adds. Bay still had one year left on his four-year $66mm deal he signed with the Mets. The parties however agreed to part ways which allowed Bay to sign with his home town Mariners. During his time in New York, he not only battled...
Mets News

Delivered to your inbox

You'll also receive Yardbarker's daily Top 10, featuring the best sports stories from around the web. Customize your newsletter to get articles on your favorite sports and teams. And the best part? It's free!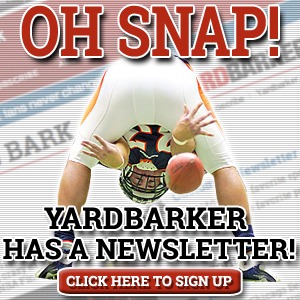 Latest Rumors
Best of Yardbarker

Today's Best Stuff

For Bloggers

Join the Yardbarker Network for more promotion, traffic, and money.

Company Info

Help

What is Yardbarker?

Yardbarker is the largest network of sports blogs and pro athlete blogs on the web. This site is the hub of the Yardbarker Network, where our editors and algorithms curate the best sports content from our network and beyond.