Found March 09, 2013 on The Flagrant Fan:
Josh Johnson faced a split squad Braves team in Florida yesterday. But he still had to face the two Upton brothers and Heyward. The results were about as impressive as you could ask for. He pitched three and two-thirds innings and yielded no hits and no walks and struck out five. He has yet to walk a batter this spring and his strikeout to walk ratio is eight to zero. Yes, it is spring and it doesn't count. But, dang, that is impressive. Brandon Morrow has a five to one strikeout to walk ratio this spring. If these two stay healthy, the Toronto Blue Jays could have one of the best one-two punches in baseball. The knock on Josh Johnson for all these years is that he could not stay healthy. And indeed, four of his eight seasons have included him missing significant time. But, boy, when he has been healthy, he has been impressive. Well...that is until 2012. Suddenly, he looked quite ordinary despite staying healthy all of 2012. But his season was not quite as bad as the 8-14 recor...
Original Story:
http://passion4baseball.blogspot.com/...
THE BACKYARD
BEST OF MAXIM
RELATED ARTICLES
The Toronto Blue Jays will be without Brett Lawrie for a few weeks this spring.  Perhaps more importantly, Team Canada will be without him for the entire World Baseball Classic.  Lawrie felt a tightness in his side during a prep game for the WBC and has since been shut down for 2-3 weeks. According to Gregor Chisholm of MLB.com, Lawrie strained his left rib cage.  He will...
It's going to be interesting to see how Canadians react to the Toronto Blue Jays' best player criticizing the national team. Last night, during a World Baseball Classic first round game between Canada and Mexico, a bench clearing brawl broke out after Mexican pitcher Arnold Leon beaned Canadian hitter Rene Tosoni after the previous hitter bunted for a hit with a six-run lead...
Luca Panerati is slated to start for Team Italy Saturday night against Team USA, in a game that could eliminate the Americans from the World Baseball Classic. A brief bio: Panerati was born in Grossetto, Italy. He pitched in the Cincinnati farm system from 2008 until 2011, when he was released. The 23-year-old left-hander spent last season in his homeland, pitching for Bologna of...
Jose Bautista had only three hits in his first eight exhibition games for the Toronto Blue Jays. On Saturday, he looked more like his normal star self. Bautista hit a two-run homer, doubled and scored twice for the Blue Jays in a 4-2 victory over the Detroit Tigers. In the first inning, Bautista drove a cut fastball by Doug Fister over the left-field wall for a two-run homer, his...
Mark DeRosa is waiting for a call back from Mark Teixeira, his friend and former teammate with the Texas Rangers. DeRosa, now with the Toronto Blue Jays, says a wrist injury "wrecked" his career - and he wants to issue a warning to Teixeira, the New York Yankees' first baseman. "Don't come back until it's right or you'll never be right again,&quot...
Many big-name pitchers found reason to say no to the World Baseball Classic. R.A. Dickey was an automatic yes. The knuckleball master, winner of the NL Cy Young Award with the New York Mets last season now plying his unorthodox trade with Toronto, made it known before anyone asked him that he wished to play. Now he will start for the United States in its WBC opener Friday night...
Heading into the 2013 season, there are a lot of players across the league that for whatever reason, have a lot to prove. They may have had a breakout 2012 that people are doubting is a barometer of their true talent level, they may have dealt with injuries in 2012 and people are wondering if he can bounce back, or they might have just had a bad year and there are questions about...
COME ONE, COME ANYBODY
After an offseason that saw the team trading away its big names and firing its manager, the Marlins are resorting to giveaways in an attempt to lure fans this season.
Andy Martino of the Daily News, asks a thought-provoking question in his column this morning: Would you have rather traded Jonathon Niese, instead of R.A. Dickey, to Toronto for Travis d'Arnaud and Noah Syndergaard? Turns out that the Mets had that choice according to  Martino. While Niese faced Team Venezuela Wednesday in Port St. Lucie, two people with direct knowledge of last...
Team USA has a lineup full of MVPs and All-Stars, and sent out the reigning NL Cy Young winner for its opening game of the World Baseball Classic. All those hitters couldn't do much of anything against Mexico's string of pitchers and the Cy Young winner fell flat. Now the Americans have to win or they could be headed home after the opening round for the first time at the...
Approximately 44,000 screaming Mexicans packed Chase field as the United States took on team Mexico in round one of the 2013 World Baseball Classic. All the star power (with the exception of Adrian Gonzalez and Sergio Romo) was on the American side, but the fans and final score went to Mexico.  US starter R.A. Dickey struggled early, especially when trying to throw his knuckleball...
Blue Jays News

Delivered to your inbox

You'll also receive Yardbarker's daily Top 10, featuring the best sports stories from around the web. Customize your newsletter to get articles on your favorite sports and teams. And the best part? It's free!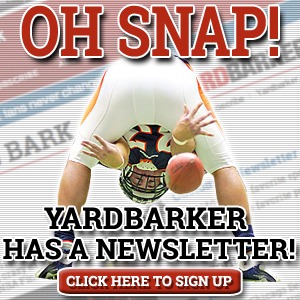 Latest Rumors
Best of Yardbarker

Today's Best Stuff

For Bloggers

Join the Yardbarker Network for more promotion, traffic, and money.

Company Info

Help

What is Yardbarker?

Yardbarker is the largest network of sports blogs and pro athlete blogs on the web. This site is the hub of the Yardbarker Network, where our editors and algorithms curate the best sports content from our network and beyond.