Found January 12, 2013 on ChadMoriyama.com:
The Dodgers have talked about moving Dee Gordon off shortstop and into the outfield, according to Dylan Hernandez. The Dodgers have talked about moving the fleet-footed Gordon to the outfield but appear inclined to keep him at shortstop for now. Gordon figures to start the season at triple-A Albuquerque. "I hate to give up on him at short," Mattingly said. Dylan sort of snuck that tid-bit in there, but it's interesting information because teams who were rumored to be interested in trading him had the same idea. At the time, while analyzing those deals, I briefly touched on why I thought moving him would be a bad idea: I'm not seeing the upside in moving him to the outfield. The potential for him to be an MLB regular contributor came with the value of him playing shortstop, where his bat could be decidedly below average but he could still have value. In center or, even worse, left or right, he would basically be relegated to the upside of a poor man's Juan Pierre. Say what you want about Pierre, but Gordon's talent with the bat isn't anywhere close to Pierre's right now, and I'm not sure it'll ever get there. The general point still stands now. In recent memory, the only player I can think of that made the same transition that Dee is attempting is B.J. Upton, and while he perhaps hasn't lived up to the lofty expectations some had for him, he's absolutely been a consistent 3-4 WAR player. They both share the traits of being toolsy, error-prone shortstops, so the move seems to make some sense for Dee defensively. Of course, the difference is that B.J. has a 107 wRC+ in his MLB career, whereas the last time Dee has topped 97 wRC+ in the minors was back in 2009 at A-ball. Hence, I have a general skepticism about this outfield move unless Dee's bat can improve significantly. Rather than unrealistically projecting a 125-175 point jump in OPS, perhaps a better goal would be to look at at a Juan Pierre-esque performance offensively, right? Well, if that's the case, then Dee has the tall task of needing to become an elite center fielder. In order to be a league-average regular (~2.0 WAR), he would have to be about a +10 defender in center, and that's assuming a bounceback offensively to an OPS around .630 or so. The problem with that goal is only two or three players are at that level in center field, so it's a long-shot since he's already 25, and learning a new position isn't as simple as being fast and athletic. While it's conceivable that Dee could start hitting significantly better or excel defensively in center (or some combination of the two), adding even more moving parts to his already multi-faceted struggles hardly seems like a viable solution to his woes. After all, B.J. moved off short to mask a deficiency in one part of his game, while Dee has to fix basically everything. As such, the best bet for the Dodgers figures to hope that he hits like Juan Pierre at short and learns to use his defensive tools to become around average. It may be a long-shot at this point, but it's still a better shot than he would have roaming the outfield.
Original Story:
http://feedproxy.google.com/~r/ChadMo...
THE BACKYARD
BEST OF MAXIM
RELATED ARTICLES
MLB.com: The Dodgers are making extensive upgrades to Dodger Stadium, and I have to say that it all sounds awesome. The most obvious upgrade — and the one senior vice president of planning and development Janet Marie Smith mentioned first — is the replacement of the scoreboards located above the right- and left-field pavilions with larger, 1080 high-definition LED boards, as...
The Dodgers are reportedly considering moving Dee Gordon to the outfield, something that makes little sense. Shortstop is the least-important offensive position in the game. Gordon's offense is substandard and would only be worse (presumably) as a center fielder. Gordon's career .260/.299/315 line leaves plenty to be desired. If he could get on base even 32 or 33...
Adrian Gonzalez – "I bleed Dodger blue" Even while in San Diego, it always seemed like Adrian Gonzalez would not be happy.  Small market, big park, no national love.  One of the greatest hitters in Padres history always seemed as though he was just playing his days out in San Diego.  Loved by the fan base and the Mexican community, a combination of his desire to pursue...
Just one for me in the Matt Kemp department. Way back in 2010 I pulled this beaut from my first box of Allen & Ginter.It's still one of my favorite cards. So, I ask you, how many hits of your favorite player have you personally pulled?
Legendary Dodgers broadcaster Vin Scully will be honored Saturday night when baseball scouts honor him with the Bud Selig Executive Leadership Award at the Hyatt Regency Century Plaza where the Professional Baseball Scouts Foundation is hosting their annual Spirit of the Game gala. Because we have seen a steady increase of statistical analysis and sabermetrics, some scouting positions...
The Los Angeles Dodgers' roster isn't the only thing getting a multi-million-dollar makeover under new ownership. Fifty-one-year-old Dodger Stadium is undergoing an offseason renovation that will include new video boards over the left and right field pavilions (returning to the old-style hexagonal look), wider concourses, improved cell phone and wifi reception, a new home...
MLB News

Delivered to your inbox

You'll also receive Yardbarker's daily Top 10, featuring the best sports stories from around the web. Customize your newsletter to get articles on your favorite sports and teams. And the best part? It's free!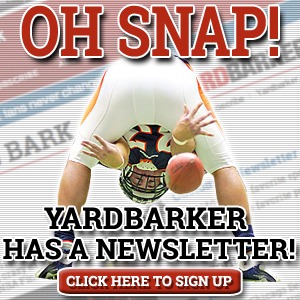 Latest Rumors
Best of Yardbarker

Today's Best Stuff

For Bloggers

Join the Yardbarker Network for more promotion, traffic, and money.

Company Info

Help

What is Yardbarker?

Yardbarker is the largest network of sports blogs and pro athlete blogs on the web. This site is the hub of the Yardbarker Network, where our editors and algorithms curate the best sports content from our network and beyond.