Found November 16, 2012 on IT IS HIGH, IT IS FAR, IT IS caught:
The Midtown buzz today is the Yankee Broadway play which supposedly will open next year. (Hey, they did one for Billy Joel; why not Billy Martin?) But it's hush-hush, just like Brian Cashman's plans for right field. Nobody knows, and nobody's talking.That means: SPECULATION TIME!So here are the best bets for titles of the Broadway musical about the icons of Yankeehood.Fiddler on the Ruth How to Succeed in Boston Without Really TryingKiss Me, KaiHello, Joba!La Cash aux FolliesThe Book of MunsonBye Bye BruneyThe Sound of MurcerGrandy, Get Your GunLittle Shop of ErrorsJeter Christ SuperstarLes SwisherablesThe Full Torre The Best Little Wheelhouse in TeixeiraA Funny Thing Happened on the Way to the Fourth GameMan of La Mantle
Original Story:
http://johnsterling.blogspot.com/2012...
THE BACKYARD
BEST OF MAXIM
RELATED ARTICLES
While the New York Yankees saw free agent outfielder Torii Hunter, who signed with the Detroit Tigers yesterday, as a good fit, their focus at this point is on re-signing right-handers Hiroki Kuroda and Mariano Rivera, reports Erik Boland of Newsday. Yankees,while seeing Hunter as good fit, never made offer.Haven't offered any pos players on market as yet.Focus right now...
It had been assumed that Hiroki Kuroda would either re-sign with the New York Yankees or return to Japan. That may not be the case. According to ESPN Los Angeles the pitcher has informed his friends that he would prefer to pitch in Southern California. This would enable him to be closer to his two daughters, who are attending elementary school. This news would seemingly make the...
There are a couple of things that New Yorkers have come to count on at Yankee Stadium every Opening Day — the sight of what MLB's fattest payroll looks like and Derek Jeter filling the gap at shortstop.  This might be the first spring that the team has neither. While general manager Brian Cashman breaks down the Yankees' payroll so it is under the luxury tax limit,...
The top minor league affiliate of the New York Yankees is looking to northeastern Pennsylvania's history for its new identity. After spending all of last season as the Scranton/Wilkes-Barre Yankees, the club renamed itself the RailRiders on Wednesday in a nod to the region's railroading history. The new logo features a porcupine mascot in navy and gold with maroon lettering...
The new logo for the Scranton/Wilkes-Barre RailRiders (Photo: MiLB.com) One of the first changes made by new ownership of the of New York Yankees' Triple-A affiliate was to announce their intention to change their name from the Scranton/Wilkes-Barre Yankees and allow the fans to select the new name in an online poll. As a result, the Scranton/Wilkes-Barre Yankees are no more. At...
New York Yankees prospect Mark Montgomery discusses the details of his Arizona Fall League experience.
My entry:For starters, zombie Bowie Kuhn claws his way up from the grave - (He's dead, right?) - and steals Bud Selig's hairpiece, holding it for ransom unless Selig nullifies the deal. Peter Gammons throws himself off the street side of the Green Monster, bounces three times, and goes through Bill Buckner's legs, and at the funeral, the shamed Redsocks announce they...
Ichiro Suzuki told Japanese baseball officials on Monday he has decided not to take part in next year's World Baseball Classic. ''I appreciate being asked to play for Japan again at the WBC,'' Suzuki said. ''But after the second tournament in 2009 I never considered playing in the third event. My feelings have not changed to this day, and it's where...
I've been holding back on making comments because - well, golly, everybody - we're all still smarting from the blowout fanny-punting we took in the playoffs. And then I got those pictures of Judge Judy in a bikini in my head, and darn it all, something needs to be said.We lost to Detroit because of all the free victories the Tigers gave their fans all season - they bribed...
Ryota Igarashi has signed a three-year deal with the Soft Bank Hawks of Japan's Central League. Igarashi, 33, struggled during his brief time at the major league level. Igarashi spent two years with the New York Mets before becoming a free agent and signing with the Pittsburgh Pirates. He never appeared in a major league game for the Pirates and was traded to Toronto following...
Japanese home run king Sadaharu Oh, a special adviser to the national team, says he accepts that Japan may have to defend its title at next year's World Baseball Classic without star outfielder Ichiro Suzuki. Suzuki, who was instrumental in helping Japan win the WBC in 2006 and 2009, is reportedly considering sitting out the 2013 event, joining fellow Japanese major leaguers...
When I first heard of the deal made by the Blues Jays, I became a bit unruly.  Needless to say, a bender followed from which I am now emerging.I realize now we should all be happy.The guys the Blue Jays got for nothing are much too young to be Yankees.  I mean, we didn't sign Torri Hunter because he was only going to be 37, right?In addition, and this is the real story; Miami...
Yankees News

Delivered to your inbox

You'll also receive Yardbarker's daily Top 10, featuring the best sports stories from around the web. Customize your newsletter to get articles on your favorite sports and teams. And the best part? It's free!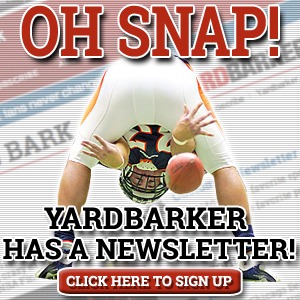 Latest Rumors
Best of Yardbarker

Today's Best Stuff

For Bloggers

Join the Yardbarker Network for more promotion, traffic, and money.

Company Info

Help

What is Yardbarker?

Yardbarker is the largest network of sports blogs and pro athlete blogs on the web. This site is the hub of the Yardbarker Network, where our editors and algorithms curate the best sports content from our network and beyond.