Found June 26, 2012 on The Nats Blog:
Edwin Jackson
's major league career has been irregular to say the least.  Since his debut in 2003 at the young age of 19, he has played for seven teams in his first ten seasons.  In addition, he has spent his past two seasons with three different teams.  Last year he even helped lead the
St. Louis Cardinals
to the their eleventh World Championship before being released back into the free agent pool once again. Not many expected Jackson to end up with the Nationals come the beginning of 2012 especially after their blockbuster trade for
Gio Gonzalez
, but on February 2, everyone was surprised.  The Nationals inked Jackson to a one-year deal and solidified his spot behind the likes of ace
Stephen Strasburg
,
Jordan Zimmermann
, and the aforementioned Gonzalez. What truly astounded everyone though, was the money behind the contract.  For a single year, Jackson, a pitcher who had a career ERA significantly above four and a .500 win percentage, was guaranteed a full $11 million.  $6 million more than the next highest paid pitcher John Lannan, $9 million more than Jordan Zimmermann, and over $7 million more than the newest addition Gio Gonzalez.  Instantly after the signing, the front office justified their decision though by announcing that they believed they could fix the flaws that they saw in the past.  More importantly, mastermind
Steve McCatty
was on the job and so far he hasn't disappointed. Jackson has surpassed all expectations and is currently having the best season of his career.  As the fourth starter in the rotation, he has an ERA of 2.91 with a team leading 1.036 WHIP.  He has also eaten tons of innings with efficient pitching, like everyone hoped, and is the only pitcher in the staff with a complete game this season.  This June specifically, he has been outstanding.  In four starts, he has a .186 batting average against with a 2.30 ERA and a .750 win average. With one more start to go this month against the struggling Rockies and Alex White, it looks like he may improve these stats even more. If Jackson keeps this production up, he certainly will be worth the money that he is being paid, but I wouldn't expect him to stay with Washington in the future.  With contract extensions for Strasburg and Zimmermann coming up, Jackson will most likely be moving on to his eighth team.  Hopefully, for us though, Jackson will see the postseason for the second consecutive year.
Original Story:
http://www.thenatsblog.com/2012-artic...
THE BACKYARD
BEST OF MAXIM
RELATED ARTICLES
To date, these 2012 Washington Nationals have been a resilient bunch, surviving DL stints by key contributors like Drew Storen, Mike Morse, Ryan Zimmerman, Wilson Ramos, and Jayson Werth. But now that Xavier Nady has been placed on the DL with a mysterious wrist injury, it's unclear how the team will respond. Here's Davey: "I put him in the same boat with Zim. They...
It's no secret that the Washington Nationals' starting pitching rotation is really, really good. But this weekend when Edwin Jackson's ERA dipped below the three mark, something truly incredible happened: the Nationals became the only team whose qualified starters all sport sub-three ERAs. Thirteen major league teams can't say that they have even one qualified starting pitcher...
Maybe the Nationals won't be losing Ryan Zimmerman again after all. Earlier in the weekend, manager Davey Johnson said the Nationals might have to give the third baseman another cortisone shot for his inflamed right shoulder and possibly a spot on the disabled list once more. But Sunday, Zimmerman said that might not take place. The third baseman got a cortisone shot before...
With the incredible Washington Nationals starting pitching staff this season, many have completely forgotten about John Lannan toiling down in Triple-A Syracuse. A few doubleheaders are coming up in the next couple months for the Nats, so it's probably about time to remember that he's there. Lannan struggled through most of the season in Syracuse, posting a 4.66 ERA and a 1...
A lonely napkin attached itself to Danny Espinosa's leg in the third inning Tuesday night with the Nationals up 1-0. #RallyNapkin quickly became a thing on Twitter; of course, a @RallyNapkin account appeared. And MASN's F.P. Santangelo got behind the meme on air. And by the end of the sixth inning, the Nats had piled up an unprecedented 12 runs. Thank you, Rally Napkin...
Ratings for the Olympic Trials hit a twelve-year high on NBC Monday. In other news, Nationals ratings are up double-digits in Washington, D.C., and Saturday's Nationwide Series race increased as well. Olympic Trials Earns Highest Rating Since 2000: Coverage of the swimming U.S. Olympic Trials earned a 4.4 rating and 6.9 million viewers on NBC Monday night, up 267% in ratings and...
This turned out to be the Washington Nationals pitching podcast for the most part. We spent quite a lot of time talking about Ross Detwiler and Chien-Ming Wang, but even more time talking about the bullpen, including Tyler Clippard, Drew Storen, Sean Burnett, and Cole Kimball. We also hit the trade deadline a few weeks early.
Jordan Zimmermann pitched seven strong innings, Ryan Zimmerman and Tyler Moore both homered for the second straight game and the Washington Nationals beat the Colorado Rockies 11-5 on Wednesday night. Moore finished with three hits, Ian Desmond also went deep and Bryce Harper had two hits for the Nationals, who had another big outburst at the plate. Washington scored nine runs once...
Will the Nats Make a Move at the deadline?   Talk about possible additions to the Nationals roster will start to dominate talk radio and water coolers throughout the region over the next month as the non-waiver trade deadline approaches on July 31st. The pitching staff and bullpen are all but set as they continue to post unbelievable numbers.  Tom Boswell wrote a great column...
Believe it or not, most of our writers didn't enter the world sporting an @baseballprospectus.com address; with a few exceptions, they started out somewhere else. In an effort to up your reading pleasure while tipping our caps to some of the most illuminating work being done elsewhere on the internet, we'll be yielding the stage once a week to the best and brightest baseball...
Every time since May 20 that Stephen Strasburg has taken the ball, he's won a game for the NL East-leading Washington Nationals. Colorado Rockies manager Jim Tracy hasn't had any starter win a game in three weeks. Making his first appearance against the Rockies, Strasburg will try to become the first Nationals pitcher to win seven consecutive starts Monday night at Coors...
Denver, CO – Jeff Francis threw only 66 pitches through 5 innings to out duel the Washington Nationals ace Stephen Strasburg. Francis did not get the win but stepped up to limit the Nationals to 2 runs and only 5 hits. Francis baffled Washington's phenom Bryce Harper, striking him out twice on a wicked tailing … Continue reading »
MLB News

Delivered to your inbox

You'll also receive Yardbarker's daily Top 10, featuring the best sports stories from around the web. Customize your newsletter to get articles on your favorite sports and teams. And the best part? It's free!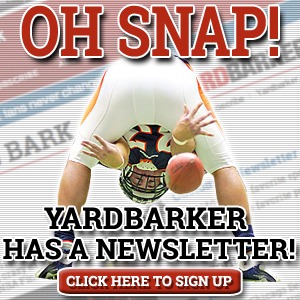 Latest Rumors
Best of Yardbarker

Today's Best Stuff

For Bloggers

Join the Yardbarker Network for more promotion, traffic, and money.

Company Info

Help

What is Yardbarker?

Yardbarker is the largest network of sports blogs and pro athlete blogs on the web. This site is the hub of the Yardbarker Network, where our editors and algorithms curate the best sports content from our network and beyond.