Found August 17, 2012 on The Nats Blog:
PLAYERS:
Wilson Ramos
,
Ian Desmond
,
Terry Collins
,
Jeremy Hefner
,
Johan Santana
,
Chris Young
,
Matt Harvey
,
RA Dickey
,
Ross Detwiler
,
Ruben Tejada
,
Mike Baxter
,
Jon Rauch
,
Daniel Murphy
,
Josh Edgin
,
Edwin Jackson
,
Jon Niese
,
Gio Gonzalez
TEAMS:
New York Mets
,
Washington Nationals
,
Atlanta Braves
,
Cincinnati Reds
Coming home from one of their most stunning road trips of the season, the Washington Nationals (73-45) return to D.C. this weekend to face the New York Mets (56-62). The Nats only lost two of 10 games on their preceding road trip, which gave them not only the best away record in the majors (41-23), it put their road record ahead of all other teams' home records. During this series with the stumbling Mets, the Nats will look to add to their also impressive record with home field advantage (32-22). The Nationals will kick off a stretch of 11 games against National League East opponents with this series against the Mets, and they have an opportunity to pull even farther away from the Mets and the Atlanta Braves who are in third and second place at four and 17 games behind, respectively. The Nationals will receive an exciting piece of news and a powerful tool for winning as they head into this NL East stretch: for the first time this season, their lineup will be healthy enough to resemble what it was envisioned to be on Opening Day. If you take Wilson Ramos out of the equation because he is out for the season, the lineup the Nationals expect to put together on Friday with the activation of Ian Desmond from the DL will be as whole as it will be all season. The Nats have yet to show Major League Baseball what they are capable of with a full card, and prohibiting any more injuries (knock on wood), they will be an even stronger force than they already are - a force that the Mets will receive the task of testing out first. The Mets and the Nats are 9-3 this year against each other and 4-2 at Nationals Park. Quite differently than the Nationals, who are 12-4 in August, the Mets are 6-8 so far this month after avoiding a sweep by the NL Central first place Cincinnati Reds in a 8-4 win Thursday night.
Slumping Starters
The Mets' starting pitching has greatly impacted their lack of wins recently. At the end of June, I wrote a post highlighting the top five pitching rotations in the Major Leagues. The Mets made number five on that list, but in recent days their starters have been much less dominant, falling to eighth in the rankings by ERA. For the month of August their starting ERA is 4.37, while for June it was an MLB best 2.48. In an effort to find a way to boost the strength of his starting five, manager Terry Collins has decided to make them the starting six. With a six man rotation, adding Jeremy Hefner to the mix, Johan Santana and Chris Young will both get extra rest to reduce stress on their shoulders after undergoing surgery last year. The Mets are also dealing with a shutdown situation, although not quite of Strasburgian proportions; rookie Matt Harvey has a team-imposed inning limit so the six man rotation will allow him to pitch deeper into the season. The one catch to the change: Collins has designed the rotation in such a way that the consistently dominant R.A. Dickey will still pitch on a five day schedule in his quest for 20 wins. According to MLB.com, Collins thinks the new schedule will make the Mets better as a team, so they can hopefully serve as a problem team for clubs seeking pennants, even if they won't get one themselves. "We think this is really going to give us the best chance to compete at the level we want to compete," Collins said. "We're going to play some teams that are going to be playing for something very, very special, so we want to make sure we're running the best guys out there."
Not The Same Johan
The Johan Santana that Major League Baseball has seen in his last four starts is certainly not the same Johan Santana that pitched a no-hitter earlier in the season. Through his last four outings he has a 17.36 ERA, a batting average against of .485 and an opposing slugging percentage of .824. Before July rolled around, he was cruising, maintaining a 2.76 ERA through his first 16 starts of the season with a .207 batting average against and a .345 opposing slugging percentage. Santana was put on the DL on July 21 with a right ankle sprain, in hopes that the physical and mental break would help him return to his former dominance. So far, though, the trip to the DL didn't work as the Mets had hoped; Santana gave up eight earned runs in one and one third innings in his first start back. The Mets will continue to hope for the revival of their celebrated pitcher, as he takes the hill in the series opener against the Nationals opposing Ross Detwiler. Current Nationals are batting a collective .307 off Santana.
Worth Noting
The Mets pitching isn't the only thing they have been struggling with recently; as of Wednesday the team was batting just .213 with runners in scoring position through their previous 10 games.
Who's hot?
Ruben Tejada (SS) .326 AVG, .370 OBP, .395 SLG, 3 RBI (last 10 games) Mike Baxter (OF) .259 AVG, .474 OBP, .259 SLG (last 10 games)
Jon Rauch (RP) 1.13 ERA, 2 H, 1 BB, 1 ER, 1 SV, 3 HLD, 8.0 IP (last 10 games)
Who's not?
Daniel Murphy (2B) .231 AVG, .268 OBP, .333 SLG (last 10 games) Josh Edgin (RP) 13.50 ERA, .250 BAA, .625 SLG, 4.0 IP (last five games)
Probable Starters
Ross Detwiler (6-5, 3.18 ERA) vs. Johan Santana (6-8, 4.58 ERA) Edwin Jackson (7-7, 3.74 ERA) vs. Jon Niese (9-6, 3.67 ERA) Gio Gonzalez (15-6, 3.29 ERA) vs. Jeremy Hefner (2-4, 4.76 ERA)
Original Story:
http://www.thenatsblog.com/2012-artic...
THE BACKYARD
BEST OF MAXIM
RELATED ARTICLES
I'm not sure where rock bottom is for New York Mets starter Johan Santana, but after becoming the first pitcher in team history to allow six or more runs in five consecutive starts, I'm sure this is close.  Last night Johan was rocked by the Nationals and after the game his pitching coach Dan Warthen, when posed with the question of shutting down the former ace for the remainder...
Michael Morse connects for a grand slam against the Mets' Johan Santana. Mets just can't keep any sort of winning streak going. Santana gets hit with two homeruns as Kelly Shoppach hits one of his own as Mets lose 6-4 to first place Nats. Johan Santana is still plundering. Santana did go perfect through the first three innings with nine up and nine down. However, the fourth inning...
The Mets start a 3 game set against the Nationals tonight. Johan Santana who didn't make it out of the 2nd inning last weekend gets the start. Johan who just back from his stint on the DL will have to prove that he can still get it done. Love the guy and I am hoping he isnt injured and is able to get back a little of his mo jo because he really look defeated after last weeks shalacking which
This milestone had never been accomplished by a New York Mets pitcher before, but it did not come with stunned gratitude by a fan base desperately waiting to see it finally occur. Instead, Johan Santana's season offered some cruel symmetry Friday night, when the first Met to throw a no-hitter back on June 1 earned a much more ignominious place in team history. He allowed...
JOHAN SANTANA: Looks to rebound from one of his worst career starts. Starting Lineup Ruben Tejada – SS Andres Torres – CF David Wright – 3B Scott Hairston – RF Daniel Murphy – 1B Ronny Cedeno – 2B Jason Bay – LF Kelly Shoppach – C Johan Santana – LHP The Mets won a game yesterday! Today they try to make it two games in a row as they open up a series in DC with...
Michael Morse hit a grand slam, Bryce Harper also homered and the Washington Nationals became the latest team to tag a struggling Johan Santana in their 6-4 victory over the New York Mets on Friday night. Ross Detwiler tossed six solid innings and the Nationals sent Santana to his fifth loss in the last five starts. Handed a 2-0 lead, the two-time Cy Young Award winner was perfect...
The Mets won a game yesterday! Today they try to make it two games in a row as they open up a series in DC with Johan Santana taking Ross Detwiler. Johan will be making his second start since returning from the DL, and it can really only go up from here. On the season he is 6-8 with a 4.58 ERA and in his last start allowing 8 ER over 1.1 innings. In one start against the Nationals...
If one of the last resorts of 2012 for the New York Mets is to play spoiler for the top half of the NL East, it would be nice to see the Washington Nationals go down in flames down the stretch. The Mets have three games to be obnoxious at the home stadium of the National League's best.  Coming off a night where it was all about young star-in-the-making Matt Harvey, it will be...
WHY, WHY, WHY? Once again, the Mets jump out to an early lead and are unable to hold it. Once again, Johan Santana struggled, giving up six runs over five innings. And once again, I sit at my kitchen table scratching my head, wondering exactly what the problem is.In the top of the first, the Mets did something they have done all year: score with two outs. After a David Wright single...
By SBRForum.com The Mets may have spared their blushes a little bit by winning their final game in Cincinnati, but now they have to head to the nation's capital to play one of baseball's hottest teams in the Washington Nationals. What was a great start to the season for New Yorkhas quickly turned into another forgettable campaign. The Mets currently sit at 56-62 on the season...
MLB News

Delivered to your inbox

You'll also receive Yardbarker's daily Top 10, featuring the best sports stories from around the web. Customize your newsletter to get articles on your favorite sports and teams. And the best part? It's free!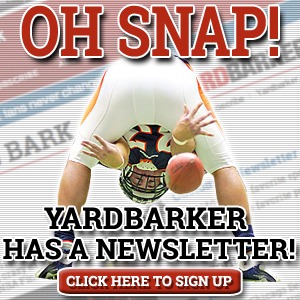 Latest Rumors
Best of Yardbarker

Today's Best Stuff

For Bloggers

Join the Yardbarker Network for more promotion, traffic, and money.

Company Info

Help

What is Yardbarker?

Yardbarker is the largest network of sports blogs and pro athlete blogs on the web. This site is the hub of the Yardbarker Network, where our editors and algorithms curate the best sports content from our network and beyond.