Found November 12, 2011 on Matthew Cerrone's Mets Blog:
"At 28, however, [Jose Reyes] is young enough to be a centerpiece when the young pitching finally makes its presence felt. And that's the dilemma for the people running the Mets. … Alderson and his lieutenants do have a plan for the future. But if Reyes leaves, they should just admit that 2012 isn't part of it. Otherwise their fans have a right to ask if this is New York or Kansas City." ~ John Harper, Daily News I buy into that, but the thing is, I still don't know how their situation for next season changes if they manage to retain Reyes. I do think the Mets would be more entertaining and would probably win some more games in 2012 if they could keep Reyes and he could stay healthy all year. Reyes is certainly the primary layer of complexity in their path this winter, but regardless of his situation with the team, Sandy still needs to improve the pitching staff (top to bottom), he still has to hope Johan Santana and Ike Davis are and remain healthy, and he still has to hope Jaso...
Original Story:
http://feedproxy.google.com/~r/metsbl...
THE BACKYARD
BEST OF MAXIM
RELATED ARTICLES
For starters, our post title is a question, not a statement, because it all depends on which report you believe.  One thing is for sure; just when you thought a football-filled Sunday afternoon would yield a break in the ever turning Jose Reyes rumor mill, conflicting reports as to whether or not the free agent shortstop has agreed to a deal with the Miami Marlins have it churning...
Reporters often say, "According to multiple/various sources, blah blah blah." Usually, they actually have sources. But, sometimes they do not, and sometimes they might have one or two sources. It's really not a big deal to report speculation or something you've heard from a source. But, it's really NOT OKAY to break news that you contradict minutes later. Today, Dino Costa...
As Jorge Sedano, a contributor for the Miami Herald, first reported via Twitter that a team source told him that Jose Reyes to the Miami Marlins is "almost a done deal." The news quickly gained steam and Ken Rosenthal of FOX Sports, then reported that the Marlins have made significant offers to both Jose Reyes, Mark Buehrle and Albert Pujols. Yesterday, team owner Jeffrey...
Last night, Jorge Sedano said a team source told him Jose Reyes-to-the-Marlins is 'almost a done deal.' Sedano is a sports radio talk show host in Miami, contributor to the Miami Herald and reporter for the local CBS affiliate. Matthew Cerrone (posted on Nov. 11, 2011, at 8:57 am): I've talked to people familiar with this and it sounds to me like, yes, Jose and the...
Hanley Ramirez would have no problem welcoming Jose Reyes to South Beach. With that being said, Ramirez stopped short of saying that he would welcome a position switch should the free agent shortstop sign with the soon-to-be Miami Marlins. "I'm the shortstop right now and I consider myself a shortstop," Ramirez told the Miami Herald. The Marlins, who have openly...
The Marlins have already changed their logo, team name, and got a new stadium.  Now they are trying to get a new look to the team.  They are reportedly close to a deal with former New York Mets short stop Jose Reyes and starting talks with the most coveted free agent Albert Pujols. The Marlins met with Reyes on Wednesday and Jorge Sedano of 790 AM the ticket in Miami tweeted...
According to Juan C. Rodriguez of the South Florida Sun Sentinel, Marlins owner Jeffrey Loria confirmed the Miami Marlins have offered Jose Reyes, Mark Buehrle, and Albert Pujols contracts, adding: "We're looking at everyone and we want to make this team as special as we can. We would be foolish not to entertain the possibilities of some of these players. It's one of those...
How can it get worse for the Mets? The Phillies have won five consecutive NL East titles. The Braves have finished with a better record than the Mets in the past two years pretty easily with a lot of young talent. The Washington Nationals are filled with a lot of young superstars, and are ready to spend when the time is right to make a NL East title push. Lastly, the Marlins have...
The Marlins have reportedly offered contracts to Jose Reyes, Albert Pujols, and Mark Buehrle and they have expressed interest in Ryan Madison. Are they the 2005 Mets? Going into 2005, the Mets brought in a new manager to bring a new sense of energy into the franchise (and a new GM to spur this, which is probably the largest reason for why the Marlins are not the Mets) in Willie...
In an offseason where they introduced new head coach Ozzie Guillen already, the Florida Marlins are trying to make a big splash in free agency by courting Jose Reyes, Mark Buehrle and now Albert Pujols.The odds of the Marlins landing all three of the high profile free agents are highly unlikely and even their chances of landing two of the three seem too good to be true, There is...
In the second part of this weeks Around The League series, Eric Simon from Amazin' Avenue answers a set of questions regarding the New York Mets, their impressive pitching prospects and the future of Jose Reyes. You can read Part I of the interview here. TNB: With Zack Wheeler, Jenrry Mejia, Matt Harvey, and Jeurys Familia developing fast in the minors, and Jon Niese and...
Mets News

Delivered to your inbox

You'll also receive Yardbarker's daily Top 10, featuring the best sports stories from around the web. Customize your newsletter to get articles on your favorite sports and teams. And the best part? It's free!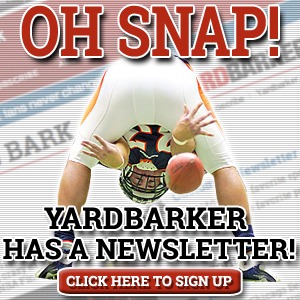 Latest Rumors
The Backyard

Today's Best Stuff

For Bloggers

Join the Yardbarker Network for more promotion, traffic, and money.

Company Info

Help

What is Yardbarker?

Yardbarker is the largest network of sports blogs and pro athlete blogs on the web. This site is the hub of the Yardbarker Network, where our editors and algorithms curate the best sports content from our network and beyond.