Found May 01, 2013 on isportsweb.com:
There are only a few elite aces in the majors like Cliff Lee of the Philadelphia Phillies. What other divisional hurlers are in that group? TAL'S HANDY STATS WELCOME, NEWCOMERS: I will publish the 2013 ERA for both the NL East and the MLB 5 periodically. The number of games played by the Phillies is in the headline at the end. If you're interested in checking out something different, my storyline articles–by design–represent a baseball man's thinking, the view from the dugout and the GM's box. Please go to my author archives or the Phillies page for my most recent coverage. Scroll down to Tal's Handy Links at the bottom. Thank you. Check out:  Philadelphia Phillies storyline: The core plus one more The new summer schedule will allow me to publish the best 3 storylines each week, but there will be an updated calendar included with each feature:  These posts involve commentary, polls and stats for the upcoming 7 days. Post time is 5 to 9 pm for the days listed below. May 2 to May 8 A wild-card feature will be published at times. Any schedule changes and holdups will be posted at Tal's Handy Caps on Facebook. BASEBALL FIX SCHEDULEFORMATTIMEFRAMEPUBLISHING StorylineNitecap InsightThur. & Mon.2-3 Times per Week Story-pollSuds or StudsSun.Once a Week MLB 5 at Game 30 NL East at Game 34Tal's Handy Stats (ERA)Sat. May 8 Twice a Week   Zimmermann Dials up a 4-seam Fastball during the 1st at Home on April 26 against the Reds.     Top Performance: Jordan Zimmermann       Reasoning for the Stats: These numbers are a glimpse over the pitching coach's shoulder, because they warn of difficulty ahead. The rule of thumb is that the bullpen load should be no more than 33.3%, which is a 6-complete average per start. That is why going a distance into the game is 6.1 frames or more, which is 70.4%. The added detail of 1 out per contest is 54 innings over the long summer's course. This also shows the studs that give the relievers a well deserved night off, but there is a rust factor due to lack of back-end chances. Note:  All old ERA tables are automatically updated.   Top Performances: This table includes the stats through 4/30 with daily updates. There were no top performers on missing days. APR - DAYHURLER#CLUB INN.HR - ERSO 23 - Tues.Julio Teheran 5ATL7.081 - 13 24 - Wed.Stephen Strasburg 1WAS7.053 - 37 25 - Thur.Gio Gonzalez 2WAS8.011 - 17 26 - Fri. Jordan Zimmermann 3WAS9.010 - 04 27 - Sat.Alex Sanabia 5MIA6.263 - 34 28 - Sun.Jon Niese 1NYM6.253 - 13 30 - Tues.Kevin Slowey 2MIA8.041 - 18   Keys: ABRVS.DEFINITION ABRVS.DEFINITION Conv.Converted Start of 6.1 Innings or moreLastLast Conversion ArmsNumber Achieving 6.1 Innings or more#1 to 5 Slot on their Team ESEmergency StartUpdateStatus Change IRInjury ReplacementCSCall-Up Start   Starting & Relief Pitching: This table includes the stats through 4/30. CLUBSP INNSP ERSP ERASP PERRP PERRP INNRP ERRP ERA Phillies164.0804.3969.7%30.3%71.1374.67 Nationals160.2643.5967.2%32.8%78.1374.25 Braves155.1643.7167.2%32.8%76.0172.01 Mets139.0553.5661.1%38.9%88.1484.89 Marlins151.1694.1061.5%38.5%94.2434.09   Total Pitching & Starts of 6.1 Innings or more: This table includes the stats through 4/30. CLUBINNERERAARMSCONVGMSPER Phillies235.11174.475112740.7% Nationals239.01013.804082729.6% Braves231.10813.155082630.8% Mets227.11034.084082532.0% Marlins246.01124.103032711.1%   The Horsemen: This table includes the stats through 4/30 with daily updates. ACEW - LERAINN+CONVCG - SOBADINNERBB - IBBSO Total5 - 74.797.08 of 171 - 06105.15635 - 095 Hamels1 - 34.787.02 of 060 - 02037.22017 - 034 Lee2 - 13.037.04 of 050 - 01035.21205 - 030 Halladay2 - 36.757.02 of 061 - 03032.02413 - 031   Starters with Outings of 6.1 Innings or more: Top listing for a same-day tie is best last performance. This table includes the stats through 4/30 with daily updates. The entries button opens additional listings. NO.CLUB - #HURLERCONV.LASTUPDATE 01NYM - 2Matt Harvey04 of 064/19 01PHL - 2Cliff Lee04 of 054/25 03WAS - 3Jordan Zimmermann03 of 054/26 03ATL - 1Tim Hudson03 of 064/30 05ATL - 3Paul Maholm02 of 054/14 05ATL - 2Kris Medlen02 of 054/16 05WAS - 5Ross Detwiler02 of 054/17 05PHL - 3Roy Halladay02 of 064/19 05PHL - 1Cole Hamels02 of 064/23 05WAS - 1Stephen Strasburg02 of 064/24Skip a Turn? 05PHL - 4Kyle Kendrick02 of 054/26 05NYM - 1Jon Niese02 of 064/28 05ATL - 4Mike Minor02 of 054/28 05MIA - 2Kevin Slowey02 of 064/30 05NYM - 5Jeremy Hefner02 of 054/30 16NYM - 3Dillon Gee01 of 054/04 16PHL - 5John Lannan01 of 034/06DL'ed 4/18 16ATL - 5Julio Teheran01 of 054/23 16WAS - 2Gio Gonzalez01 of 064/25 16MIA - 5Alex Sanabia01 of 05 IR4/27 16MIA - 1Ricky Nolasco01 of 064/28   Phillies e-mail notification: Email Notifications   LINK-UP BELOW: A link for Phillies e-mail notification is provided above and below. Any holdups that may occur will be posted at Tal's Handy Caps on Facebook. Check out  my last storyline (The Brightest Stars) and my last poll (The Hot Corner) on the Phillies page or my author archives, where there is an excerpt photo. Thank you, to all who bookmarked my page. TAL'S HANDY LINKS Email Notifications TAL'S HANDY CAPS on Facebook  Philadelphia Phillies storyline: The core plus one more (The Brightest Stars) Philadelphia Phillies story-poll: Suds or studs, the youngster (The Hot Corner) Philadelphia Phillies: 2013 ERA for the MLB 5 at game 24 Phillies Tal Venada (Author Archives)
Original Story:
http://feedproxy.google.com/~r/isport...
THE BACKYARD
BEST OF MAXIM
RELATED ARTICLES
If the Philadelphia Phillies fall out of contention in the National League East as the summer approaches, left-handed starting pitcher Cliff Lee could find himself as a prime trade target of teams with playoff aspirations. Beyond Lee, Jim Salisbury of CSN Philly notes that the Phillies could also make veterans including Jonathan Papelbon, Jimmy Rollins, Chase Utley, Ryan Howard...
Photo: Philliedelphia/Lindsey Crew Yesterday was completely disgusting. Losing 14-2 just about explains itself. The Phillies' pitching got creamed and their offense was unable to come remotely close. The Indians are hot right now. They've scored 33 runs in their last three games and desimated Roy Halladay last night. Tonight the...
Philadelphia Phillies (12-15) vs Cleveland Indians (11-13) LHP Cliff Lee (2-1, 3.03 ERA) v. RHP Trevor Bauer (0-1, 5.40 ERA) TIME: 7:05, Progressive Field TV: Comcast SportsNet Weather: 62, clear Media: Twitter and Facebook Behind Cliff Lee, the Phillies will look for redemption on Wednesday after being embarrassed by the Indians last night to the tune of a 14-2 score.  The Indians...
Laynce Nix makes a great leaping catch at the wall in the fourth inning of the Phillies' 6-0 loss to the Indians. There was only one major-league team Cliff Lee had never faced in his career. It was the Cleveland Indians, the first team Lee played for in his career....
CLEVELAND (AP) -- Ryan Raburn tied a career high with four hits, Trevor Bauer allowed one hit in five strong innings for his first American League win, and the Cleveland Indians beat the Philadelphia Phillies 6-0 on Wednesday night. Raburn, coming off back-to-back two-homer games, drove in two runs with a single in the third and a double in the fifth. He has 12 hits in his last 14...
By Tony LastoriaFOX Sports Ohio Tonight the Indians face an old friend.Five years ago, lefty Cliff Lee was enjoying a career season with the Indians and broke through as one of the games best pitchers when he won the 2008 American League Cy Young award. But less than a year after winning the award ,the Indians traded him to the Philadelphia Phillies for a package of four prospects...
According to Jim Salisbury of CSNPhilly.com, the Phillies are still at it. They've made a few calls to Miami in an attempt to nab Giancarlo Stanton and will continue to pursue the 23-year-old rightfielder. Now, this should come as no surprise. Twenty-nine other teams should be doing the same thing, as he's clearly the best young power hitter in baseball, when healthy. Ruben Amaro...
  Philadelphia Phillies (12-14) at Cleveland Indians (?-?)  Series 9, Games 24 and 25 Progressive Field, Cleveland: 1.061, Hitters park Series Overview Heading into this season, the Phillies are caught in an in-between state and like the Indians, should rebuild in my opinion. No matter what happened last year, the presence of Hamels, Halladay and Lee makes them...
Philadelphia Phillies (12-14) @ Cleveland Indians (10-13)Pitching Match-Ups:Tuesday - Doc Halladay vs. Zach "Not Kevin" McAllisterWednesday - Cliff Lee vs. Trevor "Not Jack" Bauer*Each are a 7:05 game time.Offensive Native American Named Team Offense:R - 106 (14th)AVG - .257 (9th)OPS - .764 (3rd)Carlos Santana/C, Mark Reynolds/DH/1B, Nick Swisher/OF, and Michael...
Jack Moore is likely the funniest person you have never heard of. Jack is the Senior Sports Editor at BuzzFeed – a fast-paced, humor-driven, best-in-class conglomeration of content matched by few sites right now. He is also one of the two persons behind Modern Seinfeld, the Twitter account that puts the Gang of Four in modern scenarios in 160 characters or less. Modern Seinfeld...
Phillies News

Delivered to your inbox

You'll also receive Yardbarker's daily Top 10, featuring the best sports stories from around the web. Customize your newsletter to get articles on your favorite sports and teams. And the best part? It's free!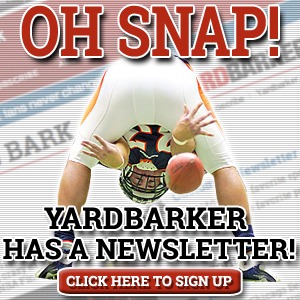 Latest Rumors
Best of Yardbarker

Today's Best Stuff

For Bloggers

Join the Yardbarker Network for more promotion, traffic, and money.

Company Info

Help

What is Yardbarker?

Yardbarker is the largest network of sports blogs and pro athlete blogs on the web. This site is the hub of the Yardbarker Network, where our editors and algorithms curate the best sports content from our network and beyond.