Found February 03, 2013 on isportsweb.com:
The starter's bullets will be dwindling this April, and the manager of the Philadelphia Phillies will be counting the outs to Jonathan Papelbon.  For the most part, this will determine who begins to warm up. TAL'S HANDY CAPS WELCOME, NEWCOMERS:  My articles are designed to represent a baseball man's thinking, the view from the dugout and the GM's box. Most fans do not consider the budget, prospects on the radar, the club's weaknesses, the track record, the competition and the other intangibles. Please go to my author archives or Phillies page for my most recent coverage. Scroll down to Tal's Handy Links at the bottom. Thank you. Check out:  Philadelphia Phillies storyline: Win, place or a no-show Baseball-Fix Schedule When the stove is hot, I will continue the process of the previous Monday's approach, if appropriate.  For early birds Sunday evening is post time. Due to a strong response and a complicated offseason, my reviews will be weekly until spring training ends. The new summer schedule will allow me to publish the best 3 storylines each week, but there will be an updated calendar included with each feature:  Posts involving commentary, polls and stats will be listed for the upcoming 7 days. TIMEFRAMEFORMATPUBLISHING December to AprilBaseball-Fix MondayWeekly December to AprilSuds or Studs2-4 Times a Month April to Season's EndNitecap Insight3 Times a Week April to Season's EndSuds or Studs2 Times per 10 Days April to Season's EndTal's Handy Stats2 Times per 10 Days   Papelbon Closes out the Braves at the Bank on September 21   1ST FEBRUARY BASEBALL-FIX MONDAY        The Path to Papelbon: The effectiveness of the relief corps is influenced by the rotation's strength. One more out doesn't appear to make a huge difference, but over the course of a full 162, it equals 54 innings off the relievers' shoulders. Comparing bullpen workloads, the Nationals had to provide 97 more frames than the red pinstripes in '12. The average is 5 pitchers per out, which equals 485 tosses. That's 69 darts for each man in the 'pen. Durbin Dials up a 2-Seam Fastball during the 11th Inning of his 1st Save on July 20 in Washington A healthy Doc Halladay only needed more than the 1-2 lockdown punch on 8 occasions. He will do everything that is physically possible to rebound 100%, which means 2011′s dependability. If anybody has the determination, endurance and mentality for a complete recovery, this athlete would be first among only a few. To him–he has lost an entire campaign, which means he'll return with a vengeance.   Games with more than only Mike Adams and Papelbon: Halladay with 8 (25%) during his solid 2011. Cliff Lee with 8 (25%) for his 2nd half doubled. Cole Hamels with 11 (35.5%) and Kyle Kendrick at 16 (64%). John Lannan with 28 (84.9%) for '11. Lee suffered through a dreadful first 3 months, which affected his confidence enough to influence his 2012 results. After his first triumph and some reflection during the break, he was again the dominant ace of old. That is my reason for applying only his stats from July 13 on, and multiplying that by 2 to reach a more accurate expectation. It would not be a surprise for him to accumulate 15-17 wins during the year. 2013 Starters: HURLERSTARTS7 + INN 6.2 INN6.1 INN6 INN0-5.2 INN Doc Halladay251401406 Halladay '11322411402 Cole Hamels312010703 Cliff Lee302111601 Lee, 1st Half140900401 Lee, 2nd Haf161211200 Kyle Kendrick250921310 John Lannan060100104 Lannan '11330523716   The Opening Day Starter Hamels experienced a rough patch of 4 contests, where he went 1-3 with a 6.08 ERA. That streak began the day after Halladay was disabled, which was uncharacteristic for the southpaw. Another member of the front five who should have improved 2012 returns is Kendrick. He was yo-yoed from the relief corps to the 5-man staff, which produced a handful of predictably unpleasant starts.     Games with 7th-inning relievers: Halladay with 4 (12.5%) and 2 partial frames (6.25%) during '11. Lee with 4 (12.5%) and 4 partial innings (12.5%) for his doubled projection. Hamels with 7 (22.6%) and 1 partial frame (3.2%). Kendrick with 3 (6%) and 3 partial innings (6%). Lannan with 7 (21.1%) and 5 partial frames (15.2%) for 2011. Lannan is now on the club that had his number, and–remember–he spent 5 months of '12 stashed at Triple-A Syracuse. He was called up to fill rotation emergencies, and be a September replacement for Stephen Strasburg. For his last full summer against other franchises, he went 8-9 with a 3.47 ERA, and the Phils limited him in 5 of his 16 shorter appearances. He should be motivated to have a solid 162. Bullpen load of more than 3 innings: Halladay with 2 (6.25%) during 2011. Lee had zero for his 2nd half. Hamels with 3 (9.7%) and Kendrick at 10 (40%). Lannan with 16 (48.5%) for '11. Durbin Fires a Bullet during Game 4 of the 2010 NLCS on October 20 The bitter taste of the last tour is not limited to the front five, but includes Papelbon and Adams also. There were many nights where Papelbon was a spectator for a brutal defeat. Adams pitched with mild nerve-related numbness for the entire season, and both want to form long-lasting memories again. With a solid 5-man staff and a 1-2 punch at the back end, this group may be on the threshold of a sparkling campaign. When he returns in late April, Carlos Ruiz will have a boatload of talent to deal with In addition to the above-mentioned hurlers, he will have a kiddie corps of moldable athletes. There is Phillippe Aumont with dazzling stuff but control issues, who probably will be more comfortable in the 7th. He can share that frame with Chad Durbin and Antonio Bastardo, who may be able to bounce back under less pressure. Jeremy Horst is the 2nd lefty reliever and he can toil for 6 outs, which is a big plus. He cruised to a 1.15 ERA for the final 3 months of '12. Michael Schwimer had a strong run of 11 performances after some mechanical changes before he became injured, and–also hurt–Mike Stutes had some positive showings on his resume from 2011. Justin De Fratus, B.J. Rosenberg, Raul Valdes, Jake Diekman, Juan Cruz, Rodrigo Lopez and Tyler Cloyd are in the mix for short or long relief. February 12 This is a camp where the stats will mean something for many hopefuls and basically only one mound job. These are the workload projections for the 2013 'pen. Papelbon and Adams will finish 52.9% or 85 battles as the only studs needed after the innings eaters. The 7th frame will require 3 outs 26 times (16.1%) and 1 or 2 on 16 occasions (9.9%). That leaves 35 games where the front end of the bullpen rotation will be exposed, which is approximately 21% The emerging picture is that the 7 arms from the horses to the 1-2 punch are poised for a variety of comebacks. LINK-UP BELOW: A link for Phillies email notification is provided below. Any holdups that may occur will be posted at Tal's Handy Caps on Facebook. This is the 14th storyline for 2013. Check out my recent publication (Red October) on the Phillies page or my author archives, where there is an excerpt photo. Also, my new feature is Suds or Studs.  The last one was The End Result. I will periodically publish the 2013 ERA for the NL East and the 2013 ERA for the MLB 5. Thank you, to all who bookmarked my page. TAL'S HANDY LINKS   Email Notifications TAL'S HANDY CAPS on Facebook  Philadelphia Phillies storyline: Win, place or a no-show Philadelphia Phillies news: Suds or studs, value toss-up Phillies Tal Venada (Author Archives) Philadelphia Phillies: 2012 ERA for the NL East at final game 162 Philadelphia Phillies: 2012 ERA for the MLB 5 at final game 162
Original Story:
http://feedproxy.google.com/~r/isport...
THE BACKYARD
BEST OF MAXIM
RELATED ARTICLES
Erik Kratz proves something I have been saying for an awfully long time. Year after year of watching guys like Olivo and Barajas and a half dozen other old catchers playing for a couple of mil a years is kind of stupid. There has to be catchers in the minors that can do just as well or better than the geriatric "clubhouse" guys who general managers and manager seem to...
Beyond Biddle, its a bunch of unknowns. As we learn more about the top names in the Phillies minor league system thanks to Jay Floyd's Top 25 Prospect countdown, Keith Law goes and kills the mood. That's because ESPN's minor league insider has ranked his farm systems 1-30 and does not look favorably upon the Phillies. Law ranks the Phillies farm 27th of 30 major league teams...
Mitchell has a shot, albeit a very small one, to make the Phillies out of camp in 2013. Photo: MLB.com Unlike 2012, the Phillies enter Spring Training in 2013 with a surplus of depth in the outfield. Yet, what 2012 lacked in depth, it made up for it with talent at the top, including the now-departed Hunter Pence and Shane Victorino. The Phillies enter Spring Training with nine...
Each day MTRphilly.com will be breaking down the players on the Philadelphia Phillies 40 man roster and their non roster invitees. Today we will relief pitcher Jake Diekman. Summary:  26 year old left handed pitcher Jake Diekman showed promise in his first season in the big leagues. He was streaky but at times showed that he could get hitters out. In 32 games he had a 3.95 ERA but...
Each day MTRphilly.com will be breaking down the players on the Philadelphia Phillies 40 man roster and their non roster invitees. Today we will discuss relief pitcher Chad Durbin. Summary:  Chad Durbin spent 2012 with the Atlanta Braves where he was 4-1 with a 3.10 ERA in 76 games. Durbin had a .083 ERA against NL East opponents and was stellar from May through the rest of the...
The Phillies had 13 players suit up and play a non-catching infield position last year, a stark contrast to nine in 2011, 12 in 2010, ten in 2009, and nine in 2009. With the average number of infielders needed by the Phillies at just over ten and a half and the Phillies currently with only seven infielders on their 40-man roster, there is a very good chance more than one of these...
T-minus 10 days until pitchers and catchers report and 21 days until the first Phillies Spring Training game. With Chad Durbin likely being the last major addition to the 2013 roster, so likely ends the Phillies offseason. With the offseason nearing its unofficial close, now seems as good a time as any to compare the last two offseasons.
Last year's top Phillies draft choice righty pitcher Shane Watson did not see much action during his initial pro stint.  Many in the organization and around baseball are extremely high on the 6-foot-4-inch 195-pounder, as he possesses skills that earned him considerable regard and made him the 40th overall pick. Pitching for Lakewood High School, located in the suburbs of Los...
Larry Greene Jr., quietly began his ascension upward in the developmental ranks last season, after being selected in the supplemental 1st round, 39th overall, by the Phillies in 2011. In his senior year of high school, the lefty batting Greene became an All-American, posting a .536 average in 30 games with 11 doubles, 19 home runs, 52 RBI and 37 walks. Greene worked out with the...
The Caribbean Series is underway which is a better sign that spring is around the corner than any groundhog will give you. Tonight's contest between Mexico and Venezuela featured Rodrigo Lopez on the mound for Mexico. Through six innings he was masterful, allowing just two hits which included a home...
Catching depth is needed in Spring Training to accommodate the proportionally large pitching depth that travels to Clearwater. The Phillies currently have three catchers on their 40-man roster, Erik Kratz, Carlos Ruiz, and Sebastian Valle, but with Chooch out, Valle will compete with the three non-rostered invitees for an early season cameo as the Phils back-up catcher. Of all...
Macho Row is currently looking to add to our starting rotation. If you think you have what it takes to provide some commentary on the Philadelphia Phillies, the National League East, or Major League Baseball in general and want an outlet to do it, the perhaps Macho Row is for you. We are currently looking for regular contributors for routine Phillies coverage. You will be given...
Phillies News

Delivered to your inbox

You'll also receive Yardbarker's daily Top 10, featuring the best sports stories from around the web. Customize your newsletter to get articles on your favorite sports and teams. And the best part? It's free!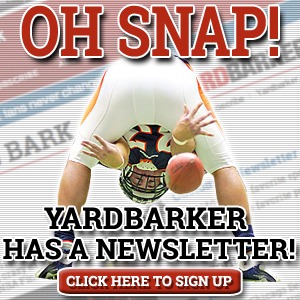 Latest Rumors
Best of Yardbarker

Today's Best Stuff

For Bloggers

Join the Yardbarker Network for more promotion, traffic, and money.

Company Info

Help

What is Yardbarker?

Yardbarker is the largest network of sports blogs and pro athlete blogs on the web. This site is the hub of the Yardbarker Network, where our editors and algorithms curate the best sports content from our network and beyond.