Found January 03, 2013 on isportsweb.com:
The 25th spot on the Philadelphia Phillies will probably go to Darin Ruf, if a corner outfielder is not added. Are the odds in his favor?   TAL'S HANDY CAPS WELCOME, NEWCOMERS:  My articles are designed to represent a baseball man's thinking, the view from the dugout and the GM's box. Most fans do not consider the budget, prospects on the radar, the team's weaknesses, the track record, the competition and the other intangibles. Please go to my author archives or Phillies page for my most recent coverage. Scroll down to Tal's Handy Links at the bottom. Thank you.   Check out:  Philadelphia Phillies storyline: What happens to that $7 million?   Baseball-Fix Schedule When the stove is hot, I will continue the process of the previous Monday's approach, if appropriate.  For early birds Sunday evening is post time. Due to a strong response and a complicated off-season, my reviews will be weekly until spring training ends. The new summer schedule will allow me to publish the best 3 storylines each week, but there will be an updated calendar included with each feature:  Posts involving commentary, polls and stats will be listed for the upcoming 7 days.  This review is updated (2nd posting). TIMEFRAMEFORMATPUBLISHING December to AprilBaseball-Fix MondayWeekly December to AprilSuds or Studs2-4 Times a Month April to Season's EndNitecap Insight3 Times a Week April to Season's EndSuds or Studs2 Times per 10 Days April to Season's EndTal's Handy Stats2 Times per 10 Days     Ruf Supplies a 3-Run Double in the 1st at the Bank on September 27 against the Nats   5TH DECEMBER  BASEBALL-FIX MONDAY      The Spring Swing:   There are reasons to expect Ruf on the opening day roster. That is provided he continues to produce in Clearwater. He certainty didn't stop after his September in Philly. The faithful, however, should be prepared for another streaky stud. He played winter ball for Tiburones de La Guaira. His appearances were:  24 in leftfield, 5 as the designated hitter and 3 at first base. He batted 3rd once (contest 10 of 32) and the rest were in the cleanup slot. He averaged .258 with 17 free passes, 10 taters and 27 RBI. He was plunked by 4 pitches and made 2 errors. His streaks: 1 for 12 with a double over 3 games. 7 for 23 (.304) with 4 homeruns and 6 RBI over 5 battles. 0 for 13 over 4 contests. 11 for 30 (.367) with 5 bombs and 12 RBI over 8 games. 1 for 13 with 3 RBI over 4 contests. 12 for 35 (.343) with 1 dong and 3 RBI over 8 battles.   Alfonso Soriano Lines a 6th-Inning Single on September 30 in Phoenix If Michael Bourne drops to $7 million for 1 return campaign, Ruf and John Mayberry Jr. would not be job competitors. Because Ben Revere has a below-average arm, which is similar to Juan Pierre's. Revere would probably play left, while Dom Brown and Mayberry would patrol right. That said, don't expect Bourne's price to drop that low.   Financial Table @ Philadelphia Phillies storyline: What happens to that $7 million?   Alfonso Soriano would be a workable solution in the lineup behind Ryan Howard, and $4 million each is a reasonable 2-tour value. However, Soriano is not a good defensive fit with Michael Young at third, which would weaken left-side fielding. Plus, Rube Amaro isn't eager to part with a minor leaguer in a potential swap. Mayberry Smokes an RBI Single during the 1st on September 14 in Houston A platoon of Scott Hairston or Vernon Wells with Brown and Laynce Nix is financially attractive at $2.5 million. However, Hairston wants $10 million over two 162's, which would be a bargain for an everyday right fielder. The Angels would eat most of Well's contract, which would cost the Phils $4 million each for 2 years and a prospect. It doesn't look like a trade that would benefit the red pinstripes. The current plan is $7 million, tops, for a starting outfielder. He doesn't have to be a power hitter because the need is for run production, which means extra base hits. The position in the batting order is not an issue either. The fly-ball tracker can also be a left or right-handed swinger. The three acquisition opportunities to look for are just before spring training, at the end of March and July 31. Without an added player, the locals will alternate Brown and Mayberry in right. The other corner will feature Ruf and Nix. That way the bench will always have either 2 right or left-handed sticks to pinch hit. Plus, the leather of Mayberry and Brown would probably be used in the late innings.   The Corner Outfielders: PLAYER & AGEPOS.ABAVG.HRRBIBB IBB RH John Mayberry Jr., 29Right Field441.2451446342 LH Dom Brown, 25Right Field187.2350526212 TOTALRight Field628.2421972554 RH Darin Ruf, 26Leftfield033.3330310021 LH Laynce Nix, 32Leftfield114.2460316120 TOTALLeftfield147.2650626141     Combined stats: Current leftfielders projected to 441 at-bats equals .265, 18 dongs and 78 RBI. Current right fielders produced a .242 mark, 19 jacks and 72 RBI.   Brown Crushes a 7th-Inning Homerun on September 17 in Queens     Pierre was instrumental when he schooled Ruf, Brown and Mayberry about the jobs to be won after the departure of 2 stars. Ruf during a recent interview stated his intentions are more than just making the club. And he wasn't the only one who voiced an opinion. Charlie Manuel was asked during the winter meetings about his training camp expectations. The first words out of his mouth were about Ruf. Manuel anticipates seeing him at the plate and on the field after his continued growth in Venezuela.   LINK-UP BELOW: A link for specific email notification is provided below. Any holdups that may occur will be posted at Tal's Handy Caps on Facebook. This is the 9th storyline for 2013. Check out my recent publication (The Number One Requirement) on the Phillies page or my author archives, where there is an excerpt photo. Also, my new feature is Suds or Studs.  I will periodically publish the 2013 ERA for the NL East and the 2013 ERA for the MLB 5. Thank you, to all who bookmarked my page. TAL'S HANDY LINKS   Email Notifications TAL'S HANDY CAPS on Facebook  Philadelphia Phillies storyline: Manuel is relieved Philadelphia Phillies news: Suds or studs, the boss Phillies Tal Venada (Author Archives) Philadelphia Phillies: 2012 ERA for the NL East at final game 162 Philadelphia Phillies: 2012 ERA for the MLB 5 at final game 162  
Original Story:
http://feedproxy.google.com/~r/isport...
THE BACKYARD
BEST OF MAXIM
RELATED ARTICLES
Would Charlie be fired midseason? Our Phillies Nation contributors got together to give you their boldest prediction for 2013. What will Ryan Howard do? Could the Phillies really trade Halladay or Lee? How well will Cole do? Read our thoughts, then let us know what your bold prediction for the upcoming year is in the comments section. Charlie goes? -Brian Michael: The Phillies struggle...
Buster Olney of ESPN has produced a pretty fun series of articles this week. Day by day, Olney has posted on his Insider blog Top 10 lists for infield, outfield, rotation, line-ups, and Top 10 overall teams. Olney's rankings are comprehensive but can be confusing; for instance, the teams with the two highest ranked line-ups, the Angels and Brewers, are not in the overall Top 10...
Phillies fans are quite used to general manager Ruben Amaro making the blockbuster big ticket move.  And, it's no wonder.  The Phillies pack the stadium every night at Citizen's Bank Park.  Last year, it's consecutive sellout record finally came to a halt at 257 games.  Although, quite frankly, there were times when I sat in…
Dan Szymborski's ZiPS projections, which have typically appeared in the pages of Baseball Think Factory, will be released at FanGraphs this year. Below are the projections for the Philadelphia Phillies. Szymborski can be found on Twitter at @DSzymborski. Other 2013 Projections: Athletics / Giants / Nationals / Rangers. Batters Relative to the teams we've seen projected so far...
As the off season winds down the Philadelphia Phillies still aren't happy with their outfield situation. They've got Domonic Brown, John Mayberry Jr., Darin Ruf, Laynce Nix and Ben Revere do you notice whats missing? A veteran presence and that's what general manager Ruben Amaro Jr is still searching for. "We've had several talks with free agents, although they're limited...
What can the Phillies expect from Roy Halladay in 2013? Wins, ERA, Complete Games Listen to the Philly Baseball Beat live at 8pm only on MTR Radio tonight. Are you missing baseball? Get your fix on the ONLY show dedicated fully to the Philadelphia Phillies!
Baseball players love to play pranks on each other, but this prank set up by Brett Myers on Kyle Kendrick kind of goes over the edge.  Charlie Manuel and Ruben Amaro Jr. are in on the prank as Kendrick is told that he's been traded to a Japanese baseball team. S/O: Fantasy Baseball Blog
Listen to the Philly Baseball Beat live at 8pm only on MTR Radio tonight. Are you missing baseball? Get your fix on the ONLY show dedicated fully to the Philadelphia Phillies!
From the official Twitter account of the Crosscutters, the Phillies have filled one of their last Minor League coaching vacancies: Nelson Prada @nelyprada57 named manager of the Crosscutters. Spent last 8 seasons managing in Twins organization #GoCutters — Cutters Baseball (@crosscutters) January 3, 2013 Prada played four years, 1995-1998, in the Twins organization, reaching High...
Mike Adams' First Phillies Appearance Could Be on ESPN The Phillies will open the 2013 with a little bit extra exposure. The Phillies and the Atlanta Braves will open on Monday, April 1 at 7:00 p.m. in Atlanta. The game will be carried on ESPN2 as part of a four-game...
Things are slow in Phillsville, so what is a blogger to do? Well, this guy looks for fun pictures of anything Phillies related and in my quest came upon this gem. Scott Rolen is a villain in Philly, but damn that boy could pick it at 3rd.
Phillies News

Delivered to your inbox

You'll also receive Yardbarker's daily Top 10, featuring the best sports stories from around the web. Customize your newsletter to get articles on your favorite sports and teams. And the best part? It's free!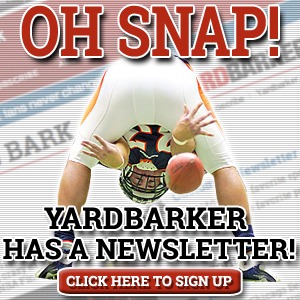 Latest Rumors
Best of Yardbarker

Today's Best Stuff

For Bloggers

Join the Yardbarker Network for more promotion, traffic, and money.

Company Info

Help

What is Yardbarker?

Yardbarker is the largest network of sports blogs and pro athlete blogs on the web. This site is the hub of the Yardbarker Network, where our editors and algorithms curate the best sports content from our network and beyond.