Found January 13, 2013 on isportsweb.com:
There is a new possibility on the trading market for the Philadelphia Phillies to pursue:  Mike Morse.  Will Rube Amaro easily dismiss this opportunity?   TAL'S HANDY CAPS WELCOME, NEWCOMERS:  My articles are designed to represent a baseball man's thinking, the view from the dugout and the GM's box. Most fans do not consider the budget, prospects on the radar, the team's weaknesses, the track record, the competition and the other intangibles. Please go to my author archives or Phillies page for my most recent coverage. Scroll down to Tal's Handy Links at the bottom. Thank you.   Check out:  Philadelphia Phillies storyline: Unstoppable parity   Baseball-Fix Schedule When the stove is hot, I will continue the process of the previous Monday's approach, if appropriate.  For early birds Sunday evening is post time. Due to a strong response and a complicated off-season, my reviews will be weekly until spring training ends. The new summer schedule will allow me to publish the best 3 storylines each week, but there will be an updated calendar included with each feature:  Posts involving commentary, polls and stats will be listed for the upcoming 7 days. TIMEFRAMEFORMATPUBLISHING December to AprilBaseball-Fix MondayWeekly December to AprilSuds or Studs2-4 Times a Month April to Season's EndNitecap Insight3 Times a Week April to Season's EndSuds or Studs2 Times per 10 Days April to Season's EndTal's Handy Stats2 Times per 10 Days     Morse Scores the Tying Run during the 8th Inning of NLDS Game 1 on October 7 in St. Louis   2ND JANUARY  BASEBALL-FIX MONDAY      Morse Code:    There is no way that Amaro isn't eyeing Morse as a possible acquisition. The conventional wisdom, however, is that the Nationals will not deal him to a division rival. This mentality is clouded by the illusion that he would be perfect for the Phils, which he is not. Also, it does not consider that both organizations could part with a player who could return to haunt them. Or each club could plug a hole that would help them to accumulate more victories. Like the red pinstripes, most bartering partners will not be a 100% match. Meanwhile, Washington does not have a quick and easy path to a swap. And that doesn't include the usual poker-game haggling. That stated, it doesn't change the bargaining obstacles. Reasons for the difficulty to move Morse: Low offers from most general managers. A recent injury history. Free agency in 2014. A below-average defender (weak left-side defense behind 3B Michael Young). No desire to DH.   Rumors indicate that 10-11 franchises have an interest in Morse. Besides the locals, seven suitors include the Mets, the Yankees, the Rays, the Mariners, the Indians, the Red Sox and the Rangers. The 3 others could be the Braves, the Giants and the Orioles. The Nats are asking for pitchers with potential or a southpaw reliever. They lost Sean Burnett (Angels), Mike Gonzalez (Brewers) and Tom Gorzelanny (Brewers). They added Bill Bray, who was released outright by the Reds. They say their right handers can retire left-side batters, but that may not be a wise decision with Ryan Howard and Chase Utley on an adversary's squad. Horst Dials Up a 4-Seam Fastball during the 5th at the Bank on August 3 against the D-backs Of the 11 teams, only San Francisco is not in the same division or the AL. They have a more expansive outfield to patrol, and have more interest in bringing back their stars from last year. They have spent heavily on Angel Pagan, Santiago Casilla, Jeremy Affeldt and Marco Scutaro. Plus, Hunter Pence will cost in the neighborhood of $13.8 million, and they are very close to their financial ceiling. The Metropolitans are building for 2014 with their young starters, and are not eager to give them up. Atlanta is holding out for Justin Upton, because they do have inexpensive hurlers at or near the major-league level. Morse would only be a backup plan, and they wouldn't part with a first-tier prospect for him. Also, the Nationals probably view the Braves as their strongest challenger to repeat in the NL East. Boston considers Morse as a fallback position to Mike Napoli, who has a questionable hip. It put a crimp on a 3-campaign agreement that the Red Sox now want to make 1 tour before guaranteeing more. Baltimore and Texas would probably consider Morse only as a designated hitter. They will see a negative factor similar to the one for Cody Ross, who said playing right field was his least desired role. Tampa Bay and New York (AL) need their best minor-league arms. The Rays will have to replace David Price, because he is on the verge of earning top dollar. The Bronx Bombers realize they cannot buy more titles, and have maintained that stance for the last 2 seasons. With a big 162, Morse will command more money than either organization will have a budget for, but the competitive-balance threshold will increase by $11 million, which will not be a problem in Philly.   $178M Maximum Before The Luxury Tax: NOTE:  Click entries button to open more than the visible 10. (Revised as of 1/13) DOLLARSALLOCATIONPLAYERS $72.14MCore FourRollins, Utley, Howard & Hamels $56.50M2 Aces & the CloserHalladay, Lee & Papelbon $06.25M2 StartersKendrick & Lannan $12.00M4 RegularsC Ruiz, 3B Young, CF Revere & LF Brown $03.60MBenchMayberry, Nix, Kratz, Frandsen & Galvis $08.10M4 Bullpen SeatsAdams, Bastardo, Aumont & Horst $01.00M2 Bullpen SlotsRosenberg, De Fratus or Schwimer (plus Stutes, if Healthy) $09.30MSet Aside$5M (Trading Deadline), $3M (Achieved Incentives & Injury Replacements) & $1.3M (Lannan's Incentives) $02.00MBuyoutsPolanco, Contreras & Wigginton $170.89MTOTAL24 Roster Spots $07.11M1 PositionA Corner Outfielder     Bastardo Deals a 4-Seam Fastball during the 7th on September 16 in Houston The Tribe recently signed Nick Swisher, which means they are more likely to address other weaknesses. Also, they want long-term solutions, like Seattle. The M's are open to trading talented Triple-A wings but there is no urgency for 2013. The rub for Washington is the $6.75 million owed to Morse that could be utilized elsewhere. Both red-cap rivals have a piece that the other would value, and this may be the final wrinkle before opening day.  Antonio Bastardo, Jeremy Horst or a farm-product stud are the type of bait that would reel in the Nats, if it becomes a reality. It would also assist Washington in their quest for another NLDS appearance, while it could haunt Amaro, regarding Howard and Utley. This deal could benefit or hurt both clubs, which means it is worth watching for the next 11 weeks.   LINK-UP BELOW: A link for specific email notification is provided below. Any holdups that may occur will be posted at Tal's Handy Caps on Facebook. This is the 11th storyline for 2013. Check out my recent publication (The Spring Swing) on the Phillies page or my author archives, where there is an excerpt photo. Also, my new feature is Suds or Studs.  I will periodically publish the 2013 ERA for the NL East and the 2013 ERA for the MLB 5. Thank you, to all who bookmarked my page. TAL'S HANDY LINKS   Email Notifications TAL'S HANDY CAPS on Facebook  Philadelphia Phillies storyline: Ruf is ready Philadelphia Phillies news: Suds or studs, the boss Phillies Tal Venada (Author Archives) Philadelphia Phillies: 2012 ERA for the NL East at final game 162 Philadelphia Phillies: 2012 ERA for the MLB 5 at final game 162  
Original Story:
http://feedproxy.google.com/~r/isport...
THE BACKYARD
BEST OF MAXIM
RELATED ARTICLES
Don't forget about Doc. (AP) We've gathered all of our Phillies Nation contributors in one room and figured out which players will have the biggest seasons. If they all come true, the Phillies should have no problem winning 100 games. Seriously, we've got our opinions on who will be come up large this year for the Phils. What say you? ————————– "I expect...
Yesterday, the Phils announced that they'd added some pitching depth as they signed veteran starter Rodrigo Lopez to a Minor League deal, while also giving him an invite to Spring Training. Lopez, who had pitched for the Phils once before, in 2009, before being sent back to the minors by the team when they added future Hall of Famer Pedro Martinez to the ballclub during the summer...
The Phillies added some depth to their spring roster by signing veteran right-handed reliever Juan Cruz to a minor-league contract, per Jon Heyman of CBS Sports. Championship. Cruz, 34, had a 2.78 ERA last year but was wild and when he refused to accept a demotion to Triple-A, the Pirates released him. He's pitched for seven teams in 12 years. He has a 4.05 career ERA, a 1.41...
Did you read/hear the big news?  Ruben Amaro inked Rodrigo Lopez to a minor league contract.  That's right, he's back!Rodrigo was with the Phillies in 2009 and appeared in 7 games, having started 5 of them and winning 3 of them.  Career stats: 81-89, 257 G, 215 GS, 1350.2 IP, 865 K, 4.82 ERA, and a 1.42 WHIP.  He is 37 years old and right-handed.He's nothing more...
Hey all, come join me Sunday, January 27  at 6:30 p.m. for Sports Quizzo at Fieldhouse Sports Bar in Center City Philadelphia. I'll be hosting alongside Johnny Goodtimes, one of the most well-known quizmasters in the Philly area. We'll have some great food and drink specials, plus awesome prizes. The grand prize is 4 tickets to a Phillies game in 2013 with limo service to and...
We're just under a month until pitchers and catcher are due to report to Clearwater for spring training. That means it's time to kick off our annual countdown of the top 25 prospects in the Phillies organization. Gradually, in the coming weeks, leading to the kickoff of the 2013 regular season, I will be unveiling player reviews for each of the top developmental talent that...
It's time, once again, to travel around the globe as we review how Phillies talents are performing in off-season and winter leagues.  Be warned that news is becoming quite limited, as the closer things get to spring training, the less there is to report. In the Caribbean Leagues, teams have begun playing in their second wave of the season, as the top four teams from the Dominican...
Aumont will be joined by teammates Gillies and Orr on Team Canada's 23-man roster. Canada was among the first countries to submit their provisional 23-man World Baseball Classic rosters and it has a distinctly Phillies' flavor. Reliever Phillippe Aumont will look to recreate the magic of his 2009 appearance on Team Canada and is joined by Phillies OF prospect Tyson Gillies...
Phillies News

Delivered to your inbox

You'll also receive Yardbarker's daily Top 10, featuring the best sports stories from around the web. Customize your newsletter to get articles on your favorite sports and teams. And the best part? It's free!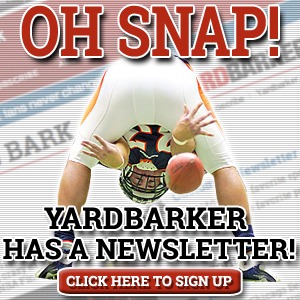 Latest Rumors
Best of Yardbarker

Today's Best Stuff

For Bloggers

Join the Yardbarker Network for more promotion, traffic, and money.

Company Info

Help

What is Yardbarker?

Yardbarker is the largest network of sports blogs and pro athlete blogs on the web. This site is the hub of the Yardbarker Network, where our editors and algorithms curate the best sports content from our network and beyond.