Found July 31, 2012 on Philly Sports World:
PLAYERS:
Shane Victorino
,
Hunter Pence
,
Josh Lindblom
,
Nate Schierholtz
,
Seth Rosin
,
Tommy Joseph
,
Roy Halladay
,
Jim Thome
TEAMS:
Philadelphia Phillies
,
Los Angeles Dodgers
,
San Francisco Giants
,
Baltimore Orioles
Reading the headline on the newyorkdailynews.com "It's a fire sale in Philadelphia….", is a reality we all should have seen coming. The "fire sale" at the trade deadline moved long time fan favorite Shane Victorino and Hunter Pence the one year fan favorite both to the West Coast. Victorino who in all likelihood would not have been re-signed next season did have a great run in Philly and also had declining statistics. Picking up reliever Josh Lindblom, who has been primarily used in the seventh and eighth inning by the Dodgers, addresses immediately a huge hole in the Phillies bullpen. This a good move for the Phillies moving into next season. Domonic Brown will be the guy replacing Victorino's roster spot for the remainder of the season. Trading Hunter Pence who was still under club control for next season did not bring in any players for the future, making it basically an economic move. Nate Schierholtz who will fill Pence's role for the rest of this season is batting .257 with 5 home runs and 17 RBI. The Phillies also got single A pitcher Seth Rosin and Double A catcher Tommy Joseph. Joseph was ranked as the Giants' number 2 prospect and possibly could be the Phillies' catcher of the future. Both moves are not going to bring the Phillies back to 102 wins next season making them difficult to get excited about. In getting value, the Phillies certainly did okay in getting a major league experienced reliever that they desperately needed. As far as the Pence trade, well if you could label Joseph "the catcher of the future" I wouldn't. That label hasn't produced much recent success. Similar Posts:
Phillies Odds and Ends – Victorino Traded, Pence, Blanton, Lee and Pierre on the Market?,
One Trade Will Not Return Phillies to Glory
As Trade Deadline Looms, It May Be End of an Era for Phillies
Phillies Odds and Ends – All Stars, Hamels Trade (?), Roy Halladay Coming Back
Phillies Trade Jim Thome to Baltimore
Original Story:
http://phillysportsworld.com/phillies...
THE BACKYARD
BEST OF MAXIM
RELATED ARTICLES
MAHALO
Shane Victorino may have driven some of us crazy time to time with his play, but the man is a true class act. He took out this full-page ad in tomorrow's Philadelphia Daily News. I'm shocked he got this out so fast. Bob Ventrone, Jr. shared the picture on his Facebook page that I noticed thanks to Phillies Beat Writer Kevin Cooney on Twitter. Speaking of Twitter, Shane...
The Philadelphia Phillies have begun the retooling process. It could hardly be called a rebuilding process following the six year, 144 million dollar extension they gave to Cole Hamels. For the time being, the Phillies have more than 90 million committed to their top three pitchers and Ryan Howard. The extension began wide speculation that the Phillies would begin to...
What a difference a year makes.  On this date one year ago the Phillies brought in Hunter Pence in a hugely popular trade - remember the cameras following his arrival in that black SUV?  It bolstered a team who was 29 games above .500 and held a 6 game lead in the NL East on their way to 102 victories. Exactly one year later, the 12 games under .500 last place Philadelphia Phillies...
A couple nights ago, Dennis O'Donnell of KPIX twittered about that the Giants "have acquired Hunter Pence". It started a wildfire of retweets (re-posts for you old people not on Twitter), by everyone and their mother, including Andy Baggarly of CSN.  With fans going nuts over this apparent news, KPIX ran the story even after Baggarly had confirmed with Bobby...
LOS ANGELES The Los Angeles Dodgers today designated outfielder Bobby Abreu for assignmentas Shane Victorino was added to the active roster. Abreu was signed by theDodgers as a free agent on May 4 and batted .251 with two home runs and 17 RBIin 70 games with Los Angeles, including a .316 batting average (6-for-19) and a.409 on-base percentage in 22 pinch-hitting appearances. Victorino...
LOS ANGELES- L.A. sports fans now have another arch-villain to cheer for that is swapping their old memories for California love. The Dodgers have traded reliever Josh Lindblom and minor league pitcher Ethan Martin to the Philadelphia Phillies for two-time All-Star center fielder Shane Victorino. Please click the link below to read this story watch it's accompanying video.
Say goodbye to 2012. Atlanta did that with a sweep of the Phillies this past weekend, and what dagger the Braves did, Phillies GM Ruben Amaro twisted inside the belly of Phillies fans. OK, gone are Hunter Pence and Shane Victorino. Coming in are outfielder Nate Schierholtz and minor-league prospects Tommy Joseph, a catcher, and Seth Rosin, a righthanded pitcher (from the Giants for...
After days of rumors and speculation, the Giants have finally acquired outfielder Hunter Pence. Heading to Philadelphia are Nate Schierholtz and a pair of prospects — Tommy Joseph and Seth Rosin. Hunter Pence, 29, is under team control through the end of 2013, but is set to make nearly $15M next season. More on this later…
Hunter Pence to the San Francisco Giants? Joe Blanton to the Baltimore Orioles? Cliff Lee to the Texas Rangers? Are these Phillies and more on the move? Discuss....
Tim Brown of Yahoo! Sports says the Dodgers have traded Josh Lindblom and Ethan Martin to the Phillies for Shane Victorino. Phillies have traded Victorino to Dodgers for Lindblom and Ethan martin — Tim Brown (@TBrownYahoo) July 31, 2012 I'll have analysis up later, but in the mean time, here's Shane Victorino's best contributions to
The trading of Shane Victorino and Hunter Pence this week signaled that Phillies general manager Ruben Amaro came to grips with reality that the team needed an overhaul. But is he perhaps showing a little more fear than we'd like to see in today's decision to place starting pitcher Cliff Lee on waivers? Source: Phillies have placed Cliff Lee on waivers. Executives expect...
MLB News

Delivered to your inbox

You'll also receive Yardbarker's daily Top 10, featuring the best sports stories from around the web. Customize your newsletter to get articles on your favorite sports and teams. And the best part? It's free!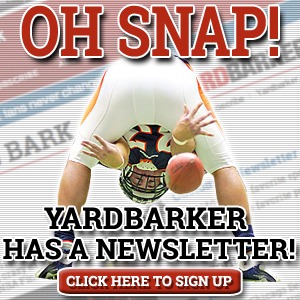 Latest Rumors
Best of Yardbarker

Today's Best Stuff

For Bloggers

Join the Yardbarker Network for more promotion, traffic, and money.

Company Info

Help

What is Yardbarker?

Yardbarker is the largest network of sports blogs and pro athlete blogs on the web. This site is the hub of the Yardbarker Network, where our editors and algorithms curate the best sports content from our network and beyond.