Found April 16, 2012 on My Sports Rumors:
I've lived in Philly for about 15 years and I've definitely learned to never doubt the love Philadelphia fans have towards their sports teams. Thanks to Buzz Feed I came across another article about a fan showing how crazy he is about the Philadelphia Phillies. This fan made himself a jersey from 3,000 drink tabs and it's pretty impressive. In my opinion, it looks more like he's about to go fencing or jousting with a Phillies logo on his chest. But very impressive nonetheless. I do wonder how much fun him and his friends had drinking those 3,000 drinks. addthis_url = 'http%3A%2F%2Fmysportsrumors.com%2Fblog%2F2012%2F04%2F16%2Fphillies-jersey-made-from-3000-drink-tabs%2F'; addthis_title = 'Phillies+jersey+made+from+3000+drink+tabs'; addthis_pub = '';
Original Story:
http://feedproxy.google.com/~r/Myspor...
THE BACKYARD
BEST OF MAXIM
RELATED ARTICLES
Jose Contreras may be available from the bullpen starting tomorrow. Photo: APJose Contreras completed back-to-back appearances for Class A Clearwater Thursday and Friday and could be activated soon, says Paul Hagen of MLB.com. Contreras, 40, threw in five games posting an 8.31 ERA striking out 7. Those numbers, no doubt, are a bit misleading. In his Thursday outing outing, Contreras...
In the early going this season, outfielder Gauntlett Eldemire has proven to be a catalyst for the Class A Lakewood BlueClaws. Sporting a remarkable .324/.439/.500 line along with a league leading 8 stolen bases and 11 runs scored through his first 9 professional games, the 23-year-old has helped the team get off to a 3-1 start to their first homestand.A 6th round draft choice in...
The Phillies will see the new $35 million man Bumgarner in Game two. (US PRESSWIRE)At 4-5, this is hardly a deal-breaking series for the Phillies. Nine games won't tell you much about how the season will go from start to finish. But I don't think you can doubt that there is a good amount of importance resting on the west coast.The Phillies embark on a 10-game road trip through...
Welcome back to Phillies Nation TV! Myself, Corey, and Natalie talk about the long west coast roadie the Phillies are currently on.Natalie has some reader comments and questions, including what other pitchers we enjoy watching outside of the Phillies rotation.Enjoy!
The best pitching stats are between Roy Halladay and the Philadelphia Phillies versus the Halos.  How close are they and which team is better?  The Apocalyptic Horsemen Stats are in my daily coverage. TAL'S HANDY STATS   WELCOME, NEWCOMERS: I am alternating a game-day 2012 ERA For The NL East and a 2012 ERA For The MLB 5. See link section below. In each publication, the number...
Clearly, one deep-in-the-game arm is Cole Hamels of the Philadelphia Phillies.  How does Miami compare after their ace has worked?  The Apocalyptic Horsemen Stats are in my daily coverage. TAL'S HANDY STATS   WELCOME, NEWCOMERS: I am alternating a game-day 2012 ERA For The NL East and a 2012 ERA For The MLB 5. See link section below. In each publication, the number after the...
Given his excellence over the last decade, it's become difficult to discuss Roy Halladay without merely descending into a list of superlative adjectives. Indeed, Roy Halladay posted the league's best WAR (8.2) among pitchers last season. By WAR, he's been the best pitcher over the last two years, as well. And last three years. And four years. And five. And six. And seven...
The matchup was out there: Phillies' Roy Halladay vs. Giants' Tim Lincecum. The only problem is that the Phillies were embarking on a 10-day West Coast swing, and Monday's contest would not start until 10:15 p.m. I had to make it an event. That's right, late night road trip to see the game at the new XFinity Live, the site of the old Spectrum in Philadelphia. Smack dap next...
Cole Hamels pitched seven strong innings and Ty Wigginton drove in four runs, leading the Philadelphia Phillies to an 8-2 win over the New York Mets on Sunday. Hamels (1-1) struck out 10 to help the Phillies avoid a three-game sweep at home against the Mets for the first time since June 13-15, 2006. It was the 19th career double-digit strikeout game for Hamels. As they have all...
Halladay continued his early success. (AP)OFFENSE STRIKES EARLY-Big innings are the new black for the Phillies. On Sunday, they dropped five in the eighth inning on the Mets. On Monday night in San Francisco, they put up four in the opening inning, en route to a 5-2 win to open up the three-game series. It was a positive sign to see them jump on Tim Lincecum early and not let him...
Philadelphia Phillies (3-5) vs. New York Mets (6-2)Cole Hamels (0-1, 5.06) vs. Mike Pelfrey (0-0, 4.76)Time: 1:35 PM, Citizens Bank Park TV: WPHL Weather: Sunny, 70′s Media: Twitter and FacebookThe Phillies will look to avoid getting swept by their rivals the Mets this afternoon, as they take the field at 1:35 on a sunny day in Philadelphia. Cole Hamels will take the mound...
Before I say anything, I'll reiterate what I said in my series preview: I'm not worried about Tim Lincecum and today did nothing to change that. He's not walking guys, he's still getting swing-throughs, and today he was victimized by some God-awful defense behind him. So with that out of the way, let's talk about the game. I refuse to worry until May, and I stand by that...
Phillies News

Delivered to your inbox

You'll also receive Yardbarker's daily Top 10, featuring the best sports stories from around the web. Customize your newsletter to get articles on your favorite sports and teams. And the best part? It's free!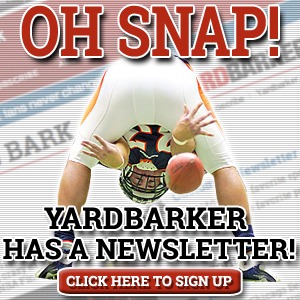 Latest Rumors
Best of Yardbarker

Today's Best Stuff

For Bloggers

Join the Yardbarker Network for more promotion, traffic, and money.

Company Info

Help

What is Yardbarker?

Yardbarker is the largest network of sports blogs and pro athlete blogs on the web. This site is the hub of the Yardbarker Network, where our editors and algorithms curate the best sports content from our network and beyond.