Found December 30, 2012 on Phillies Nation:
Edward Sharpe and the Magnetic Zeros' Here was my favorite album this year. Welcome to the sixth Phillies Nation mailbag! Because nobody asked for it, and everybody else is doing it, here are some of my picks of my favorite things that happened this year. Just hit "Page Down" a few times to get to the baseball stuff. Or just click on "Read More" – it's after that jump. I promise I answer Phillies' related questions eventually. Music: Favorite Album of 2012: Here – Edward Sharpe and the Magnetic Zeros Favorite Pop Single of 2012: "Some Nights" – fun. Hardest Pop Song to Get Out of My Head in 2012: Three-way tie – "Want U Back" by Cher Lloyd, "Call Me Maybe" by Carly Rae Jepsen, and "Domino" by Jessie J. Most Disappointing Album of 2012: Wrecking Ball – Bruce Springsteen and finally, the coveted: Album from 2012 That I Am Most Likely To Confuse for Something by T. Rex (and that's a good thing) Award: Be the Void – Dr. Dog Was it me or was this a weak year for pop an
Original Story:
http://philliesnation.com/archives/20...
THE BACKYARD
BEST OF MAXIM
RELATED ARTICLES
The 25th spot on the Philadelphia Phillies will probably go to Darin Ruf, if a corner outfielder is not added. Are the odds in his favor?   TAL'S HANDY CAPS WELCOME, NEWCOMERS:  My articles are designed to represent a baseball man's thinking, the view from the dugout and the GM's box. Most fans do not consider the budget, prospects on the radar, the team's weaknesses, the...
Biddle is number one but Sickels says Ruf is the real deal. Photo by: Ian Riccaboni Minor League Ball released their list of the Top 20 Phillies' Prospects. For those unfamiliar with Minor League Ball, it is run by John Sickels, who was Bill James' research assistant from 1993 to 1996 and was ESPN's Minor League Baseball Analyst from 1996-2005. Sickels was among the first...
Before the 2012 season even began, Phillies fans were worried about the 2012-2013 offseason.  Cole Hamels was due to enter free agency, which raised a lot of questions about the season.  Would be traded mid-season?  Would he be locked up?  Would he become a free agent and sign with our rivals?  Ruben Amaro Jr. addressed this issue in late-July. On July 25, the Phillies and Cole...
Not only have I, a young-at-heart 56-year old Pennsylvania native who has lived in California for the last 33 years of my life, grown up listening to, watching, reading about and talking about the Phillies, but so did my mother and her mother before her – all Philadelphia natives (go Richie Ashburn!). I truly look forward to watching the Phillies game every day (I must do that...
The Philadelphia Phillies struggled last season for many reasons, one of which was injuries.  Injuries to pitchers like Roy Halladay devastated the team.  Halladay pitched in only 25 games last season and did not look like the same dominant pitcher he had been since his days with the Toronto Blue Jays.  He came back from shoulder and back problems, but there has been real concern...
Although it was a disappointing season for the Phillies, I hope you will agree it was a great year for Phillies Nation. We welcomed Ryan and Eric to the writing team, officially registered our charity, debuted Phillies Nation TV on air in Allentown and the Lehigh Valley, passed 250,000 Likes on Facebook and served up over 5 million pageviews on PhilliesNation.com. We have plenty...
As has been the case with many players this offseason, Michael Young is choosing to skip the World Baseball Classic and focus on being healthy for the start of the 2013 season.  The WBC is heald every four years and matches the best of the world's players against each other while they represent their home country (or country of family origin).  This year, unlike the previous...
The Phillies after missing out on some big name free agents are beginning to shape up well, sort of average on paper. The way it looks now the Phillies are pinning their hopes on Howard and Utley to have bounce back years. While this is certainly plausible, "hope" is not very inspiring. It is all in the numbers and if we take a look at the projected lineup for this coming season...
In what has become an annual tradition, I usually post New Year Resolutions for Phillies fans at about this time. But it seems that as a fan base, most of us do seem to have our act together. As for the 2012 Phillies team, the same cannot be said. They need some serious help. So this year, I would like to propose a set of New Year Resolutions for the team instead: Jimmy Rollins...
We were told that Mike Adams likes Bo Jackson and therefore was going to wear #16. The Phillies official roster lists Adams as #16. However, I am hearing now that Adams has worked out a deal with reliever Antonio Bastardo to get jersey number 37 from Bastardo. This marks the...
It's another edition of our weekly off-season league review. Read ahead, as we take a tour around the globe for a look at Phillies talents including Antonio Bastardo, Raul Valdes and plenty of others, who are participating in various winter league action. Venezuelan League- Second baseman Cesar Hernandez (pictured, left) ended his VWL regular season batting .226 with a home...
Everyone's favorite reliever turned machete wielding attempted murderer is back on the open market after 7.5 years in a Venezuela jail.  Ugueth Urbina, who last pitched in the Majors with the Phillies back in 2005, is already back on the mound after his stint in prison, currently hurling bullets for the Lions of Caracas.  Oogie wishes to return to Major League Baseball, and...
Phillies News

Delivered to your inbox

You'll also receive Yardbarker's daily Top 10, featuring the best sports stories from around the web. Customize your newsletter to get articles on your favorite sports and teams. And the best part? It's free!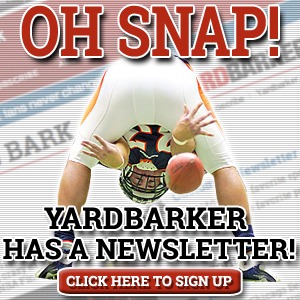 Latest Rumors
Best of Yardbarker

Today's Best Stuff

For Bloggers

Join the Yardbarker Network for more promotion, traffic, and money.

Company Info

Help

What is Yardbarker?

Yardbarker is the largest network of sports blogs and pro athlete blogs on the web. This site is the hub of the Yardbarker Network, where our editors and algorithms curate the best sports content from our network and beyond.