Found December 07, 2012 on MLB Injury News:
It's easy to forget that R.A. Dickey is still under contract for the 2013 season.  That's because there have been so many rumors tied to him and so much discussion about the Mets working out a new deal for the knuckleballer.  However, New York does not necessarily need to worry about a new contract right now if they want him to pitch for them in 2013.  They already have Dickey under contract. Jeff Wilpon, the Mets' COO, has said that a new deal is not necessary for New York to keep Dickey.  And he's right.  However, as Adam Rubin of ESPN New York points out, the Mets met with at least eight teams about Dickey's future.  Despite this, Wilpon didn't mention a trade as an option for Dickey. "We're in the process now," Wilpon said. "It's a negotiation. They want more than we're willing to give right now. We want to do it for less than they want to accept right now. Somewhere in between, there's probably a deal to be done. If not, he'll be a great bargain at $5 million playing out next season for us." The reason the rumors surrounding Dickey have hit a fever pitch is not because he's too expensive.  The rumors are swirling because there may not be a better time for the Mets to trade him.  His value is likely at the highest point it ever will be right now.  Dickey is coming off a 2012 Cy Young Award season.  He went 20-6 and had a 2.73 ERA.  It's not probably that he will be able to duplicate that season. Dickey is also coming off minor surgery.  He had surgery after the season to repair a torn abdominal muscle.  He admitted that the pain was starting to catch up to him as the season wore on.  While the surgery was minor and the repaired tear is not expected to have any lingering affects, this will not be confirmed until Dickey starts pitching next season. If New York does not extend Dickey's contract, they may be costing themselves in the long-term.  However, they have the luxury of sitting back and waiting for the right time or waiting for the right deal.  Because Wilpon is right.  They don't HAVE to do anything right now. Follow @mlbinjurynews !function(d,s,id){var js,fjs=d.getElementsByTagName(s)[0];if(!d.getElementById(id)){js=d.createElement(s);js.id=id;js.src="http://www.mlbinjurynews.com//platform.twitter.com/widgets.js";fjs.parentNode.insertBefore(js,fjs);}}(document,"script","twitter-wjs"); var _gaq = _gaq || []; _gaq.push(['_setAccount', 'UA-34100676-1']); _gaq.push(['_trackPageview']); (function() { var ga = document.createElement('script'); ga.type = 'text/javascript'; ga.async = true; ga.src = ('https:' == document.location.protocol ? 'https://ssl' : 'http://www') + '.google-analytics.com/ga.js'; var s = document.getElementsByTagName('script')[0]; s.parentNode.insertBefore(ga, s); })();
Original Story:
http://www.mlbinjurynews.com/2012/12/...
THE BACKYARD
BEST OF MAXIM
RELATED ARTICLES
New York Yankees beat writer Sweeny Murti of WFAN is reporting on some of the Mets buzz he is hearing at the Winter Meetings in Nashville. The Mets are asking for too much, one GM said here, in regard to R.A. Dickey and trade possibilities, the Mets are targeting the top prospect in nearly every organization they speak with. The Royals don't appear eager to trade Wil Myers for...
Readers of this blog and all of the other Mets-related sites have been speculating on what kind of return would make it worthwhile for the Mets to trade RA Dickey at the peak of his value. Some suggest one "super-prospect".  Others suggest a package. I had my own thoughts that Dickey should bring back the kind of almost-major-leaguers-but still-prospects such as the Padres got...
Updated Post 11:00 AM Ken Davidoff sums it all up like this: As we leave R.A. Dickey's hometown, let's rank his list of admirers, from big fans down to skeptics. 1. R.A. Dickey 2. The New York Mets 3. The 29 other Major League Baseball teams. That's where things appeared to stand as the Mets and the rest of baseball packed up their laptops, slide projectors and blazers and...
Exactly what would the Mets get for R.A. Dickey? The question remains pertinent; the Mets are considering trading the National League Cy Young Award winner if they do not sign him to a contract extension. Mets chief operating officer Jeff Wilpon also has said the team might choose neither course, and simply carry Dickey into the final year of his contract. Such an outcome would...
I guess other teams must be wondering why any team would trade a reigning Cy Young Award winner, God knows I frequently ask myself that question. But here is what the the Dallas Morning News believes is the reason: In trying to find starting pitchers to plug into their rotation, the Rangers have been connected to reigning NL Cy Young winner (and former Ranger) R.A. Dickey in the...
R.A. Dickey has revived his career — and found some fame — thanks to his high-powered knuckleball. The Mets pitcher took that fame to The Daily Show this week, talking with host Jon Stewart about his trademark pitch and Cy Young award-winning season. But with rumors continuing to swirl that the Mets may trade Dickey while his worth is high, Stewart's first question was of a...
Updated Post 1:00 PM Jeff Wilpon told reporters today that R.A. Dickey and the Mets are still far apart on the overall value of a possible contract extension, and it's possible they could go into next season with no new agreement. Dickey later told ESPN.com that he is hopeful a new deal can be worked out, but he understands that Sandy Alderson is paid to make the Mets better...
If GM Sandy Alderson spent as much energy trying to sign R. A. Dickey as he has trying to trade him, the contract would be done by now. Alderson told reporters in Nashville he's seeking a "difference maker," for Dickey, which means a power-hitting outfielder, preferably from the right side. A difference maker, by definition, would mean a proven commodity, as Alderson said he's...
According to John Harper of the Daily News, the Texas Rangers would trade top hitting prospect Mike Olt for R.A. Dickey, but only if they first lose out on free-agent Zack Greinke AND are unable to trade for James Shields who is their top preference if they have to make a swap. Meanwhile the Royals and Blue Jays are not that interested in Dickey and and prefer the Mets young...
The URL you entered is not a .mp3 file.In hour two of the Open Mike program, host Michael Cohen, with guests Karen Vankat of the Warning Track and John Pielli of Passed Ball, break down the off-season moves made thus far by both the Yankees and Mets. Will the Metropolitans keep R.A. Dickey? What will the Yankees do with A-Rod sidelined til June with hip surgery. Open Mike 12-5-12...
Updated by Joe D. at 1:00 PM Adam Rubin of ESPN New York reports that the Royals actually talked to the Mets more about Niese and Wheeler in trade variations involving Myers – not Dickey, and adds that either way it's not happening. Since rumors first floated about R.A.Dickey for Wil Myers I shot down that notion as nothing more than wishful thinking by overly enthusiastic Met...
On day three of the MLB Winter Meetings in Nashville, the New York Mets held a formal news conference to announce the signing of all-star third baseman, David Wright.  In case you were unaware, Wright and the Mets agreed to a 8-year $138 million extension, the largest contract in franchise history.  During the presser, Wright told reporters he is very happy to be a Met-for-life...
Mets News

Delivered to your inbox

You'll also receive Yardbarker's daily Top 10, featuring the best sports stories from around the web. Customize your newsletter to get articles on your favorite sports and teams. And the best part? It's free!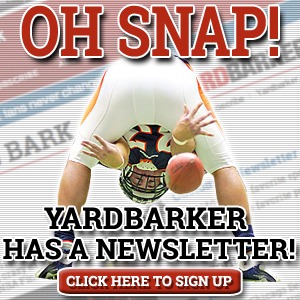 Latest Rumors
Best of Yardbarker

Today's Best Stuff

For Bloggers

Join the Yardbarker Network for more promotion, traffic, and money.

Company Info

Help

What is Yardbarker?

Yardbarker is the largest network of sports blogs and pro athlete blogs on the web. This site is the hub of the Yardbarker Network, where our editors and algorithms curate the best sports content from our network and beyond.