Found August 28, 2012 on Fox Sports Florida:
You wont find a nicer, more down-to-earth guy on the Tampa Bay Rays than Sean Rodriguez. And thats what makes the possible season-ending incident involving him this weekend in Durham so perplexing and disappointing. Rodriguez was all set to rejoin the Rays on Saturday from the Triple-A club, where hes been biding his time the past week until major league rosters expand on Sept. 1. But everything changed in a fit of anger this past Sunday, when he punched his locker after the game with the Bulls. The result: a hairline fracture in his right hand that could end his season, just when it was about to resume at the big-league level in a possible playoff run with the Rays. The veteran utility infielder wouldnt disclose to reporters what specifically prompted him to vent his emotions by slamming his fist into his locker, other than saying it was the result of a comment made by a Bulls teammate. Oddly, everything had gone well for Rodriguez during the game. He went 2 for 4 and blasted a homer off the giant bull in left field, qualifying him and a Bulls fan for a free steak dinner. He declined to identify the teammate or provide any other details. Definitely the dumbest thing Ive ever done, he told the Tampa Bay Times by phone. It certainly could be a costly move for Rodriguez, who was going to be used heavily by manager Joe Maddon through September and in a potential postseason role, possibly filling in for Evan Longoria at third base and seeing spot starts against lefties. He was sent down to Durham last week only as a temporary move, since he still had minor league options remaining on his contract. That allowed the Rays to re-activate Luke Scott on Aug. 20 on the 25-man active roster, with the intention of bringing Rodriguez back in 12 days. It was all set up and everything was there," Maddon told the media Monday night in Texas, prior to the Rays 6-5 loss to the Rangers. "It's just unfortunate this happened. Especially against left-handed pitchers, he's a big part of what we do here. Maybe it's not as bad as I'm hearing, but then again it could be, and he may end up missing the rest of the season. I'm just not sure." In fact, Rodriguez is hopeful that the fracture isnt as bad as it might appear. He traveled to St. Petersburg on Monday and had his hand X-rayed by a team specialist. The conclusion was that he broke the metacarpal bone above the knuckle on his pinky, Because hes able to move his hand, hes hopeful that hell be able to play in a week. But that remains to be seen. One things for sure: With the Rays battling for a Wild Card spot, and holding hopes of still challenging the Yankees for first-place in the AL East, he couldnt have picked a worse time to lose his cool. Rodriguez is known for his all-out, fiery style of play. But in the clubhouse, hes always conveyed a soft-spoken, even-keeled manner. Thats why the incident caught everyone including Maddon off guard. He'll get upset," he said. "When you've been sent down from the major leagues to the minor leagues, even if it's for a finite period of time, even if everything has been mapped out for you, who knows what you might be thinking and you might come out of character a little bit under those circumstances. He gets upset like all of us do, but to hit something like that, that's unfortunate."
Original Story:
http://www.foxsportsflorida.com/08/28...
THE BACKYARD
BEST OF MAXIM
RELATED ARTICLES
FISTS OF FURY
Sean Rodriguez's 2012 season may be over after he punched a locker out of frustration, just days before the Rays wanted to recall him from AAA.
Infielder Sean Rodriguez won't be rejoining the Tampa Bay Rays later this week as expected after he broke his right hand while punching a locker at Triple-A Durham. Rays manager Joe Maddon says that Rodriguez was very contrite and upset about his actions when the two shared texts. Maddon said Tuesday that it was unfortunate because Rodriguez was set to play for the Rays in...
ARLINGTON, Texas-- One has won American League Manager of the Year honors twice over the last four seasons and led his team to its first-ever World Series while the other guided his club to back-to-back American League championships, the first two pennants in franchise history. The parties in question here are Tampa Bay manager Joe Maddon and Texas manager Ron Washington. Not only...
Rays right fielder Matt Joyce left Tuesday night's game at Texas with a left forearm strain. Joyce struck out against Yu Darvish in the top of the first inning. He played the field in the bottom of the first, but was then replaced by Sam Fuld. It was unclear how exactly Joyce got hurt. He had no plays in the field. Joyce has only four hits in his last 39 at-bats since a career...
David Price had a bad night Monday. That's news because he hadn't had one in so long. The Tampa Bay Rays left-hander had won eight consecutive decisions over his last 12 starts since a June 13 loss to the Mets, and he came in leading the majors in ERA and sharing the lead in wins. By the end of the night, he had given up six runs and 10 hits to the Rangers while failing...
The road may have smiled upon the Tampa Bay Rays in their last two cross-country swings with 14 wins in 19 outings. But the going looks potentially treacherous this week as they venture into the Lone Star State. Thats because the Rays slipped on the way out the door over the weekend. After a rejuvenating run of 14 wins in 17 games, they dropped two straight to Wild Card rival...
The Tampa Bay Rays' current three-game skid has cost them their grip on an AL wild card, and having to deal with a red-hot Adrian Beltre isn't making things any easier. James Shields hopes to cool off Beltre and help Tampa Bay avoid a fourth consecutive defeat when the Rays face Yu Darvish and the Texas Rangers on Tuesday night in Arlington. The Rays (70-58) have dropped...
Evan Longoria homered twice, Tampa Bay roughed up Matt Harrison and the Rays beat the Texas Rangers 8-4 Wednesday night to snap a four-game losing streak. After dropping the last two against the AL-West leading Rangers by one run, the Rays avoided the three-game sweep. Harrison (15-8) allowed seven runs and 12 hits in 5 1/3 innings. He took a no-hitter into the seventh and permitted...
Tampa Bay Rays right-hander James Shields really couldn't have done much better Tuesday over seven solid innings, holding the powerful Texas Rangers to three hits, albeit one a home run by Ian Kinsler. But with his team once again failing to provide any support, he ended up on the wrong side of a 1-0 decision. It was, amazingly, the fourth time the Rays lost 1-0 in August...
The Tampa Bay Rays and Texas Rangers have met in the postseason each of the last two years. The results of their six head-to-head matchups over the next two weeks may determine whether they'll have the chance to square off in October yet again. Rays starter David Price seeks another stellar performance when Tampa Bay visits Texas in the opener of a three-game series Monday night...
ARLINGTON, Texas (AP) -- Evan Longoria homered twice, Tampa Bay roughed up Matt Harrison and the Rays beat the Texas Rangers 8-4 Wednesday night to snap a four-game losing streak. After dropping the last two against the AL-West leading Rangers by one run, the Rays avoided the three-game sweep. Harrison (15-8) allowed seven runs and 12 hits in 5 1-3 innings. He took a no-hitter...
ARLINGTON, Texas (AP) -- Yu Darvish struck out 10 over seven innings for the Texas Rangers to win a 1-0 pitchers' duel against James Shields and the Tampa Bay Rays on Tuesday night. Ian Kinsler homered to give Texas enough against the suddenly sliding Rays, who have lost four in a row, had runners on base in each of the first five innings against Darvish (13-9) and still couldn...
Rays News

Delivered to your inbox

You'll also receive Yardbarker's daily Top 10, featuring the best sports stories from around the web. Customize your newsletter to get articles on your favorite sports and teams. And the best part? It's free!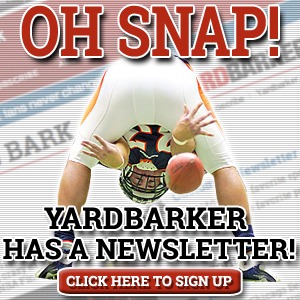 Latest Rumors
The Backyard

Today's Best Stuff

For Bloggers

Join the Yardbarker Network for more promotion, traffic, and money.

Company Info

Help

What is Yardbarker?

Yardbarker is the largest network of sports blogs and pro athlete blogs on the web. This site is the hub of the Yardbarker Network, where our editors and algorithms curate the best sports content from our network and beyond.