Found February 03, 2012 on Mets Fever:
Ruben Tejada the Next NewYork Superstar?
Written by Tim Horodyski
Editor's Note: This is Tim Horodyski's first article with Mets Fever, it's the one of three articles as a guest writer and based on what we've read we hope he decides to join us permanently.  
Photo by Michael Baron 
When does a young ballplayer turn from an upand coming prospect to an established major league talent?   Theanswer various base on the player.  Has Ruben Tejada shaken off the labelof prospect?  The answer is yes, Tejada has become a major leaguetalent.   The Panama born Tejada has done it in a very unusual way.
Ruben Tejada was not the ideal prospect. He was signed by the Mets at age 17.  He was thrust into the major leaguesat age 20.  Tejada isn't known for his control of the strike zone, norwill he ever be a power hitter.  He doesn't bring the energy of Jose Reyesor the flashiness of Texas Rangers shortstop, Elvis Andrews. The thing hebrings to the table is a sense of calmness and confidence that many youngplayers do not posses. The future superstar has progressed well at the majorleague level.
In two major league seasons Tejada had rackedup 544 at bats.  In those at bats he is hitting .256 with an on basepercentage (OBP) of .338.   He has one home run and 53 runs batted in(RBI).  Those numbers do not jump off the page and yell out superstar;however you must look deeper at his body of work.
In 2010 he posted a dismal .213 batting average and an OBP of .305 in 255 plate appearances;which lead fans to think he was a fringe player that would never fully developinto a major league star.  After being sent down to the minor leagues hecontinued to work hard.  He continued to get stronger physically andmentally.   Tejada has always had great baseball instincts; which isone of the reasons why the Mets have rushed his development.  He workedhard on his offense, working to have more quality at bats. His recent abilityto make contact and hit line drives is a sign that his bat speed has improvedalong with his ability to read pitches. This makes him a much better offensivechoice for the Mets.
One of Ruben's best attributes is hisglove.  Tejada has smoothness to his defensive game that few young playersdisplay and has the arm strength to turn the double play. In 2011 he wasbrought back to the major league level because of injuries on the Metsroster.  He played second base when Daniel Murphy tore his MCL. Tejada later played his natural position of shortstop when Jose Reyes went onthe disable list.
The then 21 year old Tejada made the most ofhis playing time in 96 games and 328 at bats he posted a .284 average and a.360 OBP. The last half of the season Tejada batted .299 with a .361 OBP, 11extra base hits, 14 RBI and 12 runs scored in 160 plate appearances spanning 40games.  This should make Mets fans happy.  He has impressed the Metscoaching staff, particularly his manager, Terry Collins.  Mets fans willindeed be looking forward to watching Tejada having an outstanding career inFlushing.  There is no doubt that Tejada will be making the Mets 50thyear anniversary season very fun to watch.
Whether playing second base or shortstopTejada will be a fixture in the Mets infield for years to come.  To learnmore about Ruben Tejada or the New York Mets please visit the Mets online atwww.mets.com or www.losmets.com.  To learn more about the Mets 50thyear anniversary celebration plans please visit www.Mets50.com
Note from the author.
My name is Tim Horodyski and I live in NewYork with my wife of four years.  I have been a lifelong fan of the gameof baseball.  I root for the New York Mets.  Baseball has a deepmeaning for me.  One of my earliest childhood memories is going to OpeningDay 1987 at Shea Stadium with my father.  That was the day the Metsreceived their World Series rings.  Darryl Strawberry hit a three run homerun to beat the Pittsburgh Pirates 3-2.  So it is a great honor to becoving the Mets for their 50th year anniversary, so let's hope theAmazing Mets have a great season.  Let's Go Mets!!!
Original Story:
http://www.metsfever.com/2012/02/rebe...
THE BACKYARD
BEST OF MAXIM
RELATED ARTICLES
Big game today.  A NY team is involved.  in about 14 hours we will know if there is another trophy for a NY team.  After that though we turn the focus to PSL and what the Mets can provide entertainment wise for the next 6-7 months.   To tell you the truth besides the lackluster off season for our team the drama that surrounds it with the cash strapped Wilpons has grown very...
The big news surrounding the Mets has been the announcement that SNY is going to purchase a bunch of the shares that the Wilpons are offering in the team as a way to raise money. Some see this as nothing more than rearranging deck chairs on the Titanic. But is there anything wrong about taking money from a profitable venture and using it to support a struggling one in your financial...
We're big Jon Stewart fans here at The Legend. Actually, let me not speak for the rest of the editorial staff. I am a big Jon Stewart fan. And Stewart  shares as least one thing with Cecilio's Scribe. He's a fan of the New York Mets. So, we're both sorry bastards in that regard. Fortunately for Stewart, he has a national platform to playfully and brilliantly poke fun at...
The latest episode of the Mets360 podcast is available and the guest is Mike Silva. You can listen at http://www.blogtalkradio.com/mets360/2012/02/02/mets360-with-mike-silva Mike and I covered a wide range of topics including: his work as a columnist thoughts on Jon Heyman the BBWAA the Wilpons' finances Johan Santana Daniel Murphy and Mike's history with the Mets ...
You can find a lot of stuff on YouTube but I found out this morning you cannot find Glenn Close singing the National Anthem. I want to write about "The Star Spangled Banner" today and this, I thought, was a good way to do this on a Mets-themed blog. Close has sung the anthem at Mets games more than once and the best thing about her rendition is that she sings it quickly. I...
I know for some this is a repetitive topic, but let's face there is absolutely nothing to talk about in regard to the Mets.  It's amazing how little they done and how long it's been, the last signing was Ronny Cedano on  January 12th.  They haven't even signed anyone to a minor league deal with an invitee to camp, Tuiasosopo will go straight to minor league camp...
With Spring Training right around the corner it's time to start to get into the baseball spirit. Even though it appears we are not going to be contending for a title this season, there is still plenty to be excited about.  There is always the outside chance that we make it interesting and contend for the second wild card spot.  For that to potentially happen things need to...
Left-hander Casey Fossum has agreed to a minor league contract with the Baltimore Orioles. The 34-year-old Fossum last pitched in the majors in 2009 with the New York Mets and spent last season with the Mets' Triple-A team at Buffalo. Fossum is 40-53 with a 5.45 ERA in nine big league seasons. Selected by Boston in the first round of the 1999 amateur draft, Fossum broke into...
Last night the much awaited hair cutting ceremony of former Mets SS Jose Reyes took place. I can't describe how much it pains me to scribble "former."As anyone with a pulse knows, I have been sick to my stomach since it was obvious the Mets had absolutely zero interest in re-signing Reyes, let alone his eventual signing with the dreaded Marlins. I also firmly believe...
The Do's and Don'ts of the New York Mets in your 2012 Fantasy League.
Whenever there is a discussion about General Manager's talents with regards to a rebuilding team, it often seems like the amateur draft is a measuring stick used, and it's used improperly. Perhaps it is because the General Manager is seen as the face of the franchise in terms of decisions to be made, but in reality, the General Manager has little to do with the amateur draft...
MLB News

Delivered to your inbox

You'll also receive Yardbarker's daily Top 10, featuring the best sports stories from around the web. Customize your newsletter to get articles on your favorite sports and teams. And the best part? It's free!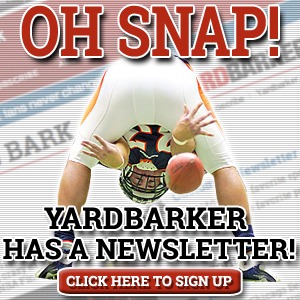 Latest Rumors
Best of Yardbarker

Today's Best Stuff

For Bloggers

Join the Yardbarker Network for more promotion, traffic, and money.

Company Info

Help

What is Yardbarker?

Yardbarker is the largest network of sports blogs and pro athlete blogs on the web. This site is the hub of the Yardbarker Network, where our editors and algorithms curate the best sports content from our network and beyond.