Found January 14, 2013 on Obstructed View OLD:
As a Cubs blogger, I think I'm going to have to get down on my knees and thank the good Lord that Sammy Sosa has joined us in the social media world. We've seen his Pinterest page and his Twitter account. He also has a Facebook page littered with the same awesome yellow-sweatered photos as his Pinterest (which @harrypav pointed out were directly pinned from his Flickr account). Sammy knows social media, apparently. Today, Sammy tweeted out a "special video," claiming he had been promising it. I didn't see the promise, but I may have missed it in between all of the "Sammy Sosa. Yes, I'm the real Sammy Sosa, and this is my Pinterest" declarations. Sammy has been setting the bar quite high in the Sammy Sosa being Sammy Sosa contest lately, but this video does not miss in it's effort to remind us all that Sammy Sosa once hit a ****-ton of homeruns and millions of people ******* LOVED him.  It isn't the best produced video ever. But it is definitely the Sammy Sosa-est. Here are some of the highlights: 0:00 - Eight seconds of the WGN multi-color bars and off-the-air, high pitched tone. 0:08 – A silent black screen for another ten seconds. Seriously. At first I thought it was a tribute to Hawk Harrelson, but then Sammy's big face comes on screen and we're off. 0:18 - No introduction. It's just Sammy swinging and hitting homeruns. I assume he's hitting homeruns because the name of the video is "Sammy Sosa Homerun Highlights," but we really only get to see the swing in most cases. Usually not even the hop. In the background, you get a catchy drum beat that might be something from the Dominican? I don't know. But through the first 30 seconds of the video, the only audio is of Sammy's bat crack, a brief crowd reaction, and the drum beat in the background. 0:29 – Henry Rodriguez sighting! Remember when fans used to throw O Henry bars on the field (and when they didn't have a candy bar, they threw garbage)? That was stupid. 0:31 - Chip Caray's voice reminds us that Chip Caray was once a thing. I'm really trying to like you, Sammy, but you keep making it difficult. 0:34 – Alex Gonzalez sighting! He looks like a guy who's going to **** up a perfectly fieldable ball in a few months. 0:38 – Ryan Dempster sighting! He's in a Marlins uniform and he's giving up a homerun. 0:54 - We get the first extended shot of a homerun where Sammy hits the pink house across Waveland that doesn't exist anymore and I get the first real idea that these homeruns are all happening in 1998 because I vividly remember seeing that one. 1:02 - Chip yells, "Swung on and belted! he's got 20 this month!" so we're definitely in 1998. We're also getting a few more shots of fans holding up pro-Sammy signs interspersed in the montage now. 1:13 – We get the first dose of Steve Stone coupled with Chip's second "Swung on and belted!" of the video after Sammy's first career grandslam. 1:26 – Chip announces that Sammy has 50 and I went back to count the homeruns, and it was the 50th homerun of the video, so we are definitely going chronologically in 1998. 1:48 – We get the Spanish announcers yelling about #59 and shot of them in the press box. 1:52 – Lance Johnson sighting! God, do the Cubs suck at centerfielders. 1:54 – Sammy gets his 61st and we get shots of fans in the stands and on Waveland going *******. Chip's catch phrase also makes an appearance. I suggest you not make that a trigger to drink if you watch this video as part of a drinking game. 1:59 – Mark Grace sighting! Drink! (Not you, Mark.) 2:01 – The montage slows down to give us more detail on the last historic shots of 1998. More Chip screaming and more fans (home and away) going crazy in the stands. 2:16 – Jose Nieves is not impressed. 2:26 – We get the sound of him connecting with #66 three separate times and then Sammy blowing kisses to the fans. 2:32 – We get a shot of Sammy jumping up on the dugout after the Wildcard Tie-break game in his Wildcard shirt and allowing himself to get molested by the fans. One of them REALLY gets into rubbing Sammy's chest and embracing him. It's kind of disturbing. There is also audio of Sammy telling Chicago what an unbelievable year 1998 was and how much he loves Chicago. 2:46 – A still shot of the Chicago Tribune announcing Sammy hit 63 in his encore to 1998 (1999). I'm not sure if they want us to read the whole article or if they think it takes us a REALLY long time to read the headlines, but it stays on that static shot (with no audio) for 18 seconds. 3:04 – Fatboy Slim's "Funk Soul Brother" kicks in as the video alternates between a slow pan up Sammy's body starting from his shoes and shots of Cubs fans declaring their love for Sosa via sign and Dominican Republic flag-waving. 3:18 – More homeruns! The nice part is that "Funk Soul Brother" is now partially drowning out Chip. 3:54 – Greg Maddux sighting! He's on the Braves and he looks pissed he gave up a homerun. 4:03 – Grace sighting! Drink! This time with Mickey Morandini giving Sammy a hug. 4:16 – Grace sighting! Drink! He's giving Sammy another hug. I just hope Sammy takes his car keys. 4:32 – Sammy eats Slammin' Sammy's cereal. 4:53 – Bill Clinton loves Sammy! 5:05 – A little kid sprints towards Sammy while he's standing in the outfield, but we don't get to see what happend when he gets there. 5:30 – Jim Riggleman sighting! He must have thought Sammy was a Wrigleyville trixie because he slapped his ass. 5:40 – Pedro Astacio throws the hangingest curveball you've ever seen. I mean, there are pitchers mistakes all throughout the video, but watch how Astacio puts that one on a tee for Sammy. 6:30 – Glenallen Hill sighting! I don't have a joke about Glenallen Hill because I'm afraid he'd find me and kill me. It seems like he probably has the time to do that now. 6:54 – Sammy walks out to right field tipping his cap to the fans… fade to black. Then another few awkward silent seconds. 7:03 – Fin.
Original Story:
http://www.obstructedview.net/comment...
THE BACKYARD
BEST OF MAXIM
RELATED ARTICLES
I had to jump on this story as soon as I saw it.  I can only imagine the looks on people's faces when they read this.  Via a tweet from Crossing Broad, and doing some research of my own on the company's website, former Chicago Cubs slugger, and ambassador of baseball's steroid error, Sammy Sosa is the CEO and investor of a company that distributes needle-free injection systems...
Good teammate To the surprise of no rational Cubs fan here or elsewhere, Alfonso Soriano is a good teammate. During his time in Chicago, Theo Epstein has come to realize what a tremendous teammate Soriano is and how willing he is to help younger players. Epstein considers Soriano an excellent clubhouse presence, and after a 32-homer, 108-RBI season, the Cubs president contends that...
The Chicago Cubs should be getting some offers for their 37-year-old outfielder Alfonso Soriano. The Philadelphia Phillies would be a perfect destination for Soriano considering that they are looking for some outfield help bad. KenRosenthal of Fox Sports reports that the Phillies GM Ruben Amaro is seeking some outfield help to make his team into more of a contender...
It's not news to anyone, but, last week, Sammy Sosa did not make it into the Hall of Fame.  And, for some reason, the 1998 National League MVP felt it his place to comment."Even if we weren't inducted on our first time," Sosa said via a statement, "we are still winners and there is always a next time."Now, unless Sosa has a mouse in his pocket...I'm...
Sammy Sosa, a guy who hit 609 home runs, retired and then disappeared to the obscurity of Latin America (Miami), has stepped back into society via a suddenly serious social media presence. For a guy who made $124,000,000 during his baseball career, you'd think that Slammin' would just sail off into the sunset and whiten his face with cream of pearls. Not Sammy. He started using...
Here's the deal.  We know that prospects are important in baseball.  We know that one of the primary methods of acquiring these prospects is through the amateur draft, and that the guys who are picked early are usually the most likely to succeed in the major leagues, which intuitively makes sense. We know that a team is more likely to succeed in the regular season and make the...
Photo By Michael BaronFor the second time in less then a month were hearing that a Scott Hairston decision is imminent. Supposedly Hairston was choosing between the Mets and Yanks with a decision any day but when the Yanks lost interest he decided to wait the market out. Now reports are that Hairston is once again close, is this a ploy to see if he can get that two year 8M contract...
During a recent Cricket match, Brad Haddin blasted a six into the crowd and a spectator came down with one of the best grabs we have seen, especially considering he was carrying an iced coffee and two hamburgers. The spectator is a 16-year old named Peter Spurling who according to the Herald Sun is already being recruited heavily while he plays for his AIS AFL Academy. The catch...
Yesterday, we outlined the mess the new front office had to clean up.  Today, unencumbered by playoff football and random awards shows, let's try to figure out how they may work towards that goal in regards to player development. The Way of the Pitcher Once upon a time, I happened upon an article about the Minnesota Twins' minor league pitcher development program.  There was...
MLB News

Delivered to your inbox

You'll also receive Yardbarker's daily Top 10, featuring the best sports stories from around the web. Customize your newsletter to get articles on your favorite sports and teams. And the best part? It's free!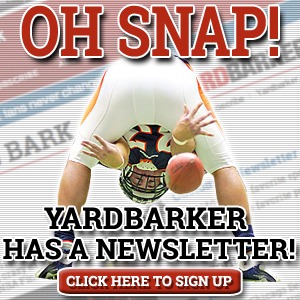 Latest Rumors
The Backyard

Today's Best Stuff

For Bloggers

Join the Yardbarker Network for more promotion, traffic, and money.

Company Info

Help

What is Yardbarker?

Yardbarker is the largest network of sports blogs and pro athlete blogs on the web. This site is the hub of the Yardbarker Network, where our editors and algorithms curate the best sports content from our network and beyond.