Found June 06, 2012 on Subway Squawkers:
Squawker Jon and I will be at the first game of the Subway Series on Friday. It also happens to be Johan Santana's first start after his no-hitter, so we will see if he will emulate Johnny Vander Meer and pitch two no-hitters in a row. Not very likely -- Terry Collins would have to be tied with duct tape to a pole in the dugout, the way Pedro Martinez was a few years ago, to ever let that happen! There is no way he's going to let Santana go past the pitch count again.Anyhow, I have been hearing some Yankee fans grouse that Santana didn't really get a no-hitter because of the Carlos Beltran foul ball that hit the line and should have been a hit, and so the no-hitter doesn't count because of a missed umpire call. Really, Yankee fans? C'mon now. It counts. Leave the pettiness to Mets and Red Sox fans.Let's face it -- at this point in time, the Mets are the little brother in New York baseball. Do big brothers whine like little schoolchildren when their little bro...
Original Story:
http://subwaysquawkers.blogspot.com/2...
THE BACKYARD
BEST OF MAXIM
RELATED ARTICLES
Every once in a while you run across a landmark moment in a baseball season, so compelling it becomes larger than life and, yes, even larger than an in-your-grill tabloid headline. It'd be one thing to obsess over this weekend's Subway Series -- the Yankees and Mets are the Saudi Arabia of rivalries, an endless resource -- but the most important story will occur Friday night...
Mets ace Johan Santana will get two extra days of rest after his no-hitter. The team says Santana will make his next start Friday night at Yankee Stadium in the opener of the Subway Series. Santana threw a career-high 134 pitches Friday night against St. Louis in the first no-hitter in team history. The Mets have been trying to get Santana additional rest this year after he missed...
METS TO SELL TICKETS FROM JOHAN SANTANA'S NO-HITTER Purchase Tickets From the Historic Game for $50 Each Season Ticket Holders to Receive Complimentary Reprints, 40-Game, 20-Game, 15-Game, and 6-Game Plan & Pack Holders to Receive Discounts No-Hitter Ticket Offer Starts This Monday, June 11 at 10:00 a.m. on Mets.com FLUSHING, N.Y., June 7, 2012 – The New York Mets today...
If you haven't seen comedian Jon Stewart's reaction to Johan Santana's no-hitter, I think you're going to love this video… The Daily Show with Jon Stewart Stewart is a life-long suffering Mets fan just like many of us and he does an outstanding job of sharing his reaction which I'm sure was very similar to many of our own reactions. I'm still on a high from that night…
The Daily Show host Jon Stewart and his family were in attendance at Citi Field during Friday night's New York Mets game when Johan Santana pitched the first no-hitter in franchise history. During Monday night's episode, Stewart showed raw footage of himself, his wife and children celebrating Santana's no-hitter in the crowd. The Daily ShowGet More: Daily Show Full...
Johan Santana made history the last time he took the mound. A win over the New York Yankees might be satisfying enough this time. Coming off the first no-hitter in the history of the New York Mets, Santana will be well-rested when he takes the mound at Yankee Stadium on Friday night for the first installment of the 2012 Subway Series. Santana (3-2, 2.38 ERA) cemented his status...
Well, this pretty much ends Johan Santana no-hitter penis gate. @BobsBlitz anyone notice Thurs Mets/Nats pitching matchup?? espn.go.com/mlb/schedule— Michael (@Giaco30) June 5, 2012 Every... Full story at Bob's Blitz ~ http://www.bobsblitz.com
The New York Mets wind up taking 3 of the 4 games against the St. Louis Cardinals, losing the finale on Monday afternoon. Since I work fulltime, it's very hard for me to catch weekday games, but it's really of no consequence, because this edition of 3&3 is all about some great weekend pitching by the Mets. 3 Up: Oh, What A Night: Friday night Johan Santana made Mets history...
Johan Santana became the first Met pitcher to throw a no-hitter in the 50 history of the New York franchise. Santana fanned eight Cardinals in the contest, including a strikeout of Cardinal third baseman David Freese to end the game. The lefty change up specialist struck out eight Cardinals over nine clean innings, while throwing a career high 134 pitches. The magic in Los Angeles...
Where were you when the world stopped turning? A pitcher from the New York Mets actually pitched a no-hitter. That's right. We can all stop holding our breath. (I was. Weren't you?) After 8,019 games, the second longest active drought in baseball came to an end yesterday. The longest drought in baseball obviously still belongs to my favorite punching bag, the Chicago Cubs. How's...
Player of the Week? Johan Santana. We're past the Memorial Day pole and into the Dog Days of Summer. There are so many tight races right now in baseball that it is nearly impossible to determine who is going to make the playoffs and who will be left at home. With inter-league baseball coming back this weekend, its time to start getting the awkward "Is Albert...
MLB News

Delivered to your inbox

You'll also receive Yardbarker's daily Top 10, featuring the best sports stories from around the web. Customize your newsletter to get articles on your favorite sports and teams. And the best part? It's free!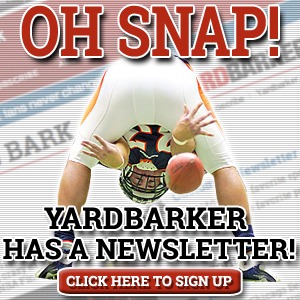 Latest Rumors
The Backyard

Today's Best Stuff

For Bloggers

Join the Yardbarker Network for more promotion, traffic, and money.

Company Info

Help

What is Yardbarker?

Yardbarker is the largest network of sports blogs and pro athlete blogs on the web. This site is the hub of the Yardbarker Network, where our editors and algorithms curate the best sports content from our network and beyond.