Found December 31, 2013 on isportsweb.com:
Within  the course of a summer, many stars experience peaks and valleys; however, Domonic Brown of the Philadelphia Phillies had a May dwarfing every teammate's best month. Was this a glimpse of tomorrow? Please, scroll down for this edition of Nitecap Insight: The Final Trade Chip. TAL'S HANDY CAPS Welcome, Newcomers:  This article represents the thinking of a baseball man in my opinion. Most fans do not consider the budget, prospects on the radar, the organization's weaknesses, the track record, the competition and the other intangibles. There will be a published storyline each week. Check this out: Storyline: Rumored Nemeses for the Philadelphia Phillies   Brown Advances to Third Base During the Second Inning in Miami on September 25. (Mike Ehrmann/Getty Images North America)   NITECAP INSIGHT         The Final Trade Chip: While many fans complain about the studs that went to Cleveland, Toronto and Houston, they don't appreciate the keeper. Prospects reach their ceiling along the path from rookie ball or a short-season league to the show. Calculating that only one of six reaches his hoped-for destination, this establishes a pattern. Therefore, three Double-A players can realize their limits at three different levels: one in Double-A Reading, the second at Triple-A Lehigh Valley or the third successfully in Philly. This trend becomes very visible during their journey's second half. Brown Scores a Second-Inning Run in Washington on September 15. (Greg Fiume/Getty Images North America) For instance, the Phils released Sebastian Valle, no team claimed him, and the organization temporarily reassigned him to Lehigh Valley. That stated, the catcher did not impress anyone with a .203 average, 12 homers and 41 RBI for Reading. In, for example, the head honcho's proposal for Roy Halladay (2009′s offseason), Michael Taylor was the so-called toss-up candidate with Brown. Last year, Taylor hit .281 with 18 long balls and 85 RBI for Triple-A Sacramento, but he has not put up those numbers in the majors. Minor League Progression: The Phillies draft and sign six athletes. A call-up is not a promotion. * Or 1 of 3 rookie leagues. ** Short season. NUMBER LEVELTEAMPROMOTED 6 Players Report toLow A *Williamsport ** 5 Players Receive a Promotion toALakewood5 of 6 4 Players Receive a Promotion toHigh AClearwater4 of 5 3 Players Receive a Promotion toAAReading3 of 4 2 Players Receive a Promotion toAAALehigh Valley 2 of 3 1 Player Receives a Promotion toMLBPhillies1 of 2 Brown Makes a Diving Catch in Atlanta on August 14. (Scott Cunningham/Getty Images North America) According to Matthew Pouliot of NBC Sports' Hardball Talk, Brown was the trade bait for a starting pitcher. For my taste, the writer provided a harsh appraisal: He cited hideous glove work, which he claimed with stats and the eye test. However, concentrating only on mistakes, he ignored the acceptable fielding strides with the switch of corner positions. Long after fans witnessed a whirlwind May, they thought one big month hid a disappointing reality. However, the comparison between '12 and '13 is dramatic. Remember, February's expectations were low and many ticketed Brown for Lehigh Valley. The Trifecta: After a magnificent beginning to spring training, Brown finished at .356 with seven home runs and 17 RBI. He cooled down near camp's end, and that downward trajectory continued through April. Naturally, the fan base vocalized about meaningless March stats, and they said this was the real Brown. Changing minds after April ended, the left fielder caught fire and All-Star talk went viral. However, many misinterpreted his May production because of that final week, where he blasted six homers with nine RBI. He averaged .348 during that stretch and hit .291 otherwise. For the first 21 days, however, he stroked six long balls and 21 RBI. Even without that six-day burst creating a false impression, his May was excellent. Brown's 2013: TIMEFRAMEGMSABAVGHR - RBIBB - IBBSB - CS April026086.23303 - 1107 - 20 - 0 May029109.30312 - 2500 - 03 - 1 After May084301.27212 - 4727 - 35 - 2 Without May110387.26415 - 6834 - 55 - 2 Total139496.27227 - 8334 - 58 - 3 Brown Crushes a Two-Run Homer During the Sixth Inning in Atlanta on August 14. (Scott Cunningham/Getty Images North America) From June through September, Brown batted .272 with 12 home runs and 47 RBI. That said, projecting those four months to a full tour, his statistics would be .272, 18 homers and 71 RBI. Those numbers are solid for the lineup's six hole and provide protection for Marlon Byrd. Rough Diamond: As a left field defender, Brown improved on his prior opposite-corner adventures and will make more strides in 2014. Also, Pouliot didn't mention his cannon-like arm either. For clarity, does anyone remember these regulars: Greg Luzinski, Pat Burrell and Raul Ibanez? With a full 162 and his first All-Star appearance on his resume, Brown will increase his production. He will draw on his 2013 experience and be more comfortable in the six slot.   On the high side, he could reach .285, 30 long balls and 100 RBI.   RELATED ARTICLES Storyline: Rumored Nemeses for the Philadelphia Phillies Storyline: Amaro's Next Acquisition for the Philiadelphia Phillies Storyline Expanded: Full Circle to the Philadelphia Phillies Storyline Expanded: Plan B for the Philadelphia Phillies Revised Storyline: Strategy, Dollars and Deadlines for the Philadelphia Phillies Expanded Storyline: Trading Tomorrow for 2014′s Philadelphia Phillies Expanded Storyline: Forecast for Miguel Alfredo Gonzalez's 2014 with the Philadelphia Phillies Storyline: New Dosage of Youth Mirrors 1980′s Philadelphia Phillies   Phillies e-mail notification for Tal's Storyline Message me at talvenada@hotmail.com or now you can Follow @Tals_Storyline for article notification.
Original Story:
http://feedproxy.google.com/~r/isport...
THE BACKYARD
BEST OF MAXIM
RELATED ARTICLES
On December 18, the Phillies announced through their transactions page that they signed Tony Gwynn, Dave Sappelt, Lou Marson, and Sean O'Sullivan to minor league deals. On that day, they also quietly signed RHP Chris Bootcheck and re-signed LHP Greg Smith to little fanfare. The news was first reported by Matt Eddy of Baseball America over an otherwise quiet holiday. Let's take...
With all the hoopla going on about the Eagles beating the Cowboys in Dallas to win the NFC East title and make a trip to the playoffs we wanted to take a step back and take a winter look at the Fightin Phils. Spring Training is right around the corner!Many feel that it's time to rebuild the Phillies from the ground up, however, that doesn't seem to be the approach being...
Pretty catchy title, huh? I came up with that one all by myself. I also fed myself, dressed myself, and I even wiped myself and put on my big boy pants all by myself. It might be a generic title and one I normally try to avoid, but in this case I think it actually works. Your favorite drinking establishment was no doubt filled with New Year's Resolutions last night, but you can...
AP Photo). I'm going be honest with you; I think I'm depressed. I'm sad, dejected, beaten down and feeling empty inside when it comes to the Phillies. This is what Ruben Amaro Jr. – and the Phillies as a whole – has done to me. I'd like to imagine that I was ever the optimist when it came to the Phillies – posting such wise things as the quote below. I said this after...
If you're wondering what Roy Halladay is doing in his idle time since retiring you can rest easy knowing he's keeping busy by attending 80′s themed costume parties. However instead of dressing as Magnum P.I. or fashioned in all neon spandex, Halladay paid tribute to former teammate Jamie Moyer, whom he played with in 2010. Moyer made the most of his time in the MLB by staying...
I was so caught up in the Roy Halladay Jamie Moyer costume that I missed this one: Ryan Howard and Jimmy Rollins attended the 80s party, too, and were well-prepared. Here, posing with Brandy Halladay are the Phillies' shortstop and first baseman as Run DMC. While Jamie Moyer tweeted the...
It appears that the recently retired Roy Halladay has decided to leave the ugly Christmas sweaters to his former Philadelphia Phillies teammate Jonathan Papelbon.  Instead, the two-time Cy Young Award winner opted to hit an 80s-themed holiday party dressed as Jamie Moyer.  Yup, Halladay threw on a Chicago Cubs uniform (remember, Moyer debuted in 1986) and walked around as the...
Everyone loves a good 1980's party. Former Phillies pitcher Roy Halladay appears to be making good use of his retirement by attending such parties. In doing so, he dressed up as one of our favorite former Phillies who played in the majors in the 80s. No, not Von Hayes, but...
The Phillies were kept out of the postseason for two seasons in a row, as were their South Philadelphia neighbors, the Eagles. The Eagles tonight pulled off a 24-22 defeat of the Dallas Cowboys in Dallas to secure an NFC East Championship. The Eagles have successfully pulled from worst to...
Roy Halladay goes to 80's party dressed as Jamie Moyer. (via Moyer)
Phillies News

Delivered to your inbox

You'll also receive Yardbarker's daily Top 10, featuring the best sports stories from around the web. Customize your newsletter to get articles on your favorite sports and teams. And the best part? It's free!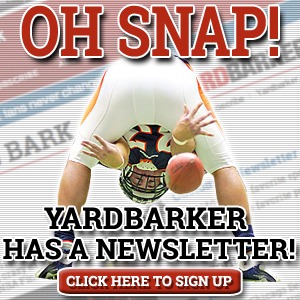 Latest Rumors
The Backyard

Today's Best Stuff

For Bloggers

Join the Yardbarker Network for more promotion, traffic, and money.

Company Info

Help

What is Yardbarker?

Yardbarker is the largest network of sports blogs and pro athlete blogs on the web. This site is the hub of the Yardbarker Network, where our editors and algorithms curate the best sports content from our network and beyond.