Found August 21, 2012 on Miller Park Drunk:
He grew up a Cubs fan just like his dad did. As a kid his dad would sit him down in front of the TV, turn on WGN and the two of them would spend a summer day with Harry Caray. It was a ritual as a kid, but then he got older and friends and girls and other things got in the way. He grew up and he didn't watch as much Cubs baseball with his dad as he used to. He didn't watch any at all really. Now that he's older he doesn't consider himself much of a baseball fan, more of a football guy. He probably couldn't even tell you who won the World Series last year, but he did like the Cubs. He loved the idea of it more than anything else. "Did you know that a guy lived his whole life without ever seeing the Cubs in the World Series? I hope that's not me." He'd say and he meant it too. The Cubs were his team. Forever and always. He had a son of his own now and he figured he'd be a Cubs fan just like him. Harry Caray wasn't around and half the games...
Original Story:
http://www.millerparkdrunk.com/baseba...
THE BACKYARD
BEST OF MAXIM
RELATED ARTICLES
Anthony Giansanti slugged a two-run double off the CF Batter's Eye to cap a three-run 1st inning and Ryan McNeil and three relievers combined to throw a shutout, as the AZL Cubs whitewashed the AZL Diamondbacks 3-0 in Game #1, and then Giansanti hammered a lead-off walk-off HR off the base of the scoreboard in the bottom of the 7th that gave the Cubs a 1-0 victory in Game...
Two months ago, Dale Sveum said this about shortstop Starlin Castro, who forgot how many outs there were on a potential double play ball: "It's something that's obviously unacceptable at any time," Sveum said Monday. "Whether we could have turned the double play or not is irrelevant to not knowing how many outs there are in the most important part of the game. These...
MILWAUKEE Dale Sveum looks a little older now than he did the last time he returned to his former place of employment, his face dotted with salt-and-pepper stubble that appears to be turning more salt than pepper on this Monday, 120 games into his first season as manager of the Chicago Cubs. He's experienced a handful of ups and myriad downs in his first season at the helm...
News broke this weekend about Starlin Castro signing an extension with the Cubs for seven years and $60 million, with an option for the eighth year. I was waiting for the details of the deal (specifically, yearly salaries) before posting about it, but then news came out that it would take a week or two for the contract to get finalized. The AAV of Castro's extension...
It's really interesting writing this Stock Watch update each week. I start off with no clue of who I want to write about. After digging through the data and looking at a few different statistics, the story of what I want to write about lays itself out for me. Getting to this point is a test of patience and gets harder as the weeks progress, especially because the available players...
ARLINGTON, Texas Left-hander Derek Holland has been the man when it comes to Harry Caray impersonations with the Texas Rangers. The acquisition of Ryan Dempster at the trade deadline last month changed that. Holland, who took his Caray work to a national level last year during the World Series, got a chance to work with the godfather of Caray impersonations last week when the...
GREAT IMPRESSIONS
Derek Holland and Ryan Dempster can deliver impressions with the best of them, especially for one pretty famous broadcaster. Holland and Dempster can both deliver spot-on impressions of longtime Cubs broadcaster Harry Caray, and with the Rangers in New York last week, MLB took full advantage of that. The duo of Texas pitchers dropped by MLB Fan Cave to hang out and to also put their...
I grew up watching Harry Caray mumble and stumble over afternoon Cubs games, but wasn't old enough to appreciate what a gem he was.  Texas Rangers pitchers Derek Holland (left) and newly-acquired Ryan Dempster (right) do two of the best Harry Caray-impressions you'll ever see. Caray was never known for his smooth delivery, but his white hair, big glasses and the ability to...
Your browser does not support iframes. Ryan Dempster and Derek Holland are two MLB pitchers known for their impressions and humorous antics.  Both have made their Harry Caray impersonations a major pitch in the comedic arsenal.  It just so happens that with Dempster's trade from Chicago to Texas, the two are on the same pitching staff and can now take their Dueling Harry...
Dempster has a stronger Harry Caray. He commits to the character. Derek just wings it and is a good sport. Will Ferrell would be proud of Ryan's impression. I would have loved to have heard where the conversation would have went if they asked each other if they would eat the moon if it were [...]
Ryan Dempster and Derek Holland had some fun in the MLB Fan Cave. The two pitchers announced some MLB highlights as legendary Chicago Cubs announcer Harry Caray. I guess Dempster had picked up some tips from Will Ferrell already. And Holland has some television experience outside of baseball. These guys are are a hilarious. I'm hoping they bring out some extra cheers if the Rangers...
MLB News

Delivered to your inbox

You'll also receive Yardbarker's daily Top 10, featuring the best sports stories from around the web. Customize your newsletter to get articles on your favorite sports and teams. And the best part? It's free!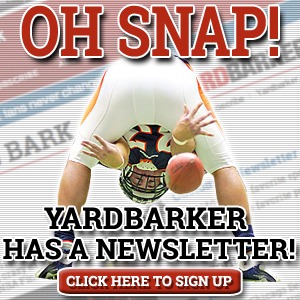 Latest Rumors
Best of Yardbarker

Today's Best Stuff

For Bloggers

Join the Yardbarker Network for more promotion, traffic, and money.

Company Info

Help

What is Yardbarker?

Yardbarker is the largest network of sports blogs and pro athlete blogs on the web. This site is the hub of the Yardbarker Network, where our editors and algorithms curate the best sports content from our network and beyond.