Found February 10, 2013 on World Series Dreaming:
One of the benefits of being a parent is being able to watch television shows that you would otherwise feel guilty about watching by yourself. My daughter has become a fan of the most recent version of the Teenage Mutant Ninja Turtles. The new version has made numerous changes to the cartoon and movies that I watched as a child, but the same basic premise of the main characters is there. Also because my mind works in strange ways I began to see parallels between the four main characters and the 2013 Cubs. There has been a wave of cautious optimism surrounding the Cubs. These qualified good thoughts have been in the range of this team winning between 75-85 games, but those are still remarkable predictions with the many holes and lack of big names acquired. The predictions have mostly to do with the vast improvements made to the pitching staff. The offense is still a work in progress to be generous. The Cubs outfield should actually provide average to perhaps even a tick above average production for their position. That is perhaps a shocking statement given how poorly Cubs centerfielders and right fielders performed last season, and the Cubs only added Nate Schierholtz and Scott Hairston to the mix. However, the Cubs have the possibility of having two very successful platoons combined with another solid season from Soriano should make the OF a strength of the offense. The infield will be the biggest question with a group of five players all under the age of 28. There are four players that are going to be the difference between this offense producing enough to push this team into the heady waters of 80 or more wins or another 2012 like season. The four players are Anthony Rizzo, Starlin Castro, Welington Castillo, and Ian Stewart, and they are my teenage mutant ninja Cubbies. Leonardo-Anthony Rizzo Rizzo came to the Cubs with much fanfare. The Wrigley faithful waited patiently for his Cubs debut, and were not disappointed with a solid performance that erased the doubts his stint in San Diego had raised. Rizzo's numbers dropped a touch after his blistering start, but he ended the 2012 campaign with a very respectable .805 OPS and 15 homeruns in a little over half a season. The Cubs are going to need him to be the leader of this team like Leonardo. The offense cannot afford for Rizzo to have a Hosmer like sophomore slump. Rizzo being a legitimate middle of the order bat is necessary for this to be even an average bunch in 2013. Obstructed View already has looked at the projections for Anthony Rizzo, and so I am not going to rehash them here.  If the Cubs Leonardo takes a step forward and moves towards elite level production than the Cubs might exceed even those cautiously optimistic expectations. Michelangelo-Starlin Castro Michelangelo is the fun loving, immature, nun chuck wielding turtle that seems a best fit for Castro. In the new version of the show they have made Michelangelo incredibly stupid, more so than I remember. Many question Castro's mental makeup and his baseball decision making is one of the few skills that can be questioned. Castro is also the youngest of the bunch despite having the most big league experience in the infield besides Ian Stewart. Michelangelo's weapon is the nun chucks which require an incredible degree of hand-eye coordination. Castro's ability to get bat on ball is the best amongst Cubs players and maybe one of the best in baseball. In terms of offense though Castro had his first truly subpar season, which I must say still represents above average production for a shortstop. Castro's slash line fell to .283/.323/.430, but there were a number of positives that were shown throughout the season. Castro's power continued to grow as he established career high marks in ISO and HR total. After the dismissal of Rudy Jaramillo, Castro displayed more patience at the plate than any point in his career. The if with Castro is whether he can combine those elements with the rate he got singles in 2010-2011. That would result in a player capable of holding down a middle of the order spot in more than a few lineups. But if Castro is what he is at this point that is still an above average offensive SS and solid piece of the supporting cast. Donatello-Welington Castillo Donatello is the smart turtle and that is exactly what the Cubs are going to need from Welington Castillo. Castillo's reputation has always been a player with the tools necessary to be a good starting catcher. He has the arm strength and power to provide value both at the plate and behind it. However, the other parts of his game have needed refinement especially framing of pitches. He has worked hard at improving these areas of his game and drew praise for the way he took command of the pitching staff. The Cubs will need that continue with as Castillo hopefully evolves into the Donatello role of the infield. The focus here though is on offense, and he had a very solid season last year at AAA and in the majors. He finished the year with a major league slash line of .265/.337/.418. If he maintained that level that would be a huge boost for the offense. Obstructed View did a breakdown of the projections of Castillo and the baseline seems to be a touch lower than those marks at .251/.319/.429. Those numbers are good, but if he takes a step forward the Cubs offense becomes a lot more dynamic with his 65% numbers of .265/.341/.466. Raphael-Ian Stewart Raphael is the angry, loner of the bunch. I will admit that I always like Raph, and perhaps that is why I picked. Or perhaps it was like Rice Cube said that he makes Cubs fans sai. The Cubs are going to need Raph to save the day this year by providing some power to the bottom of the order to make up for the lack of truly elite hitter in the lineup. Ian Stewart had a terrible season last year with a .201/.292/.335 slash line. He also finally had a wrist injury cleaned up and is pain free for the first time in two years. If Stewart can return to form from that time period the Cubs have a very nice option for the bottom three of the lineup. Stewart from his three season, let's call it a, peak hit .246/.334/.454 with 24 HRs averaged over 162 games. That player would like mighty nice in the 7 spot of the Cubs lineup. Splinter-Darwin Barney I wasn't planning to include Darwin Barney because I think his offense is pretty fixed, but to keep the theme going I think Barney is a nice match for Splinter. As the second oldest member of the infield and with a gold glove he will take on more of a leadership role in the infield than he already does. Barney has been a good influence on Castro defensively, and should continue to mentor the most important Cub player. Offensively Barney is what he is at this point. He is going to hit for a decent average with little power and few walks. He provides value as a glove first middle infielder, but expecting more than a middle .600 OPS is probably unrealistic. That will be fine if the other infielders play their role. Best case lineup projection David DeJesus/Dave Sappelt .288/.359/.437 Michelangelo  .310/.364/.461 Leonardo  .272/.352/.502 Alfonso Soriano .252/.310/.473 Nate Schierholtz/Scott Hairston .287/.364/.437 Donatello  .265/.341/.466 Raphael  .246/.334/.454 Splinter  .265/.305/.354 Worst case lineup projection David DeJesus/Dave Sappelt .288/.359/.437 Michelangelo  .280/.320/.390 Leonardo   .250/.316/.438 Alfonso Soriano .252/.310/.473 Nate Schierholtz/Scott Hairston .280/.320/.460 Donatello  .237/.296/.392 Raphael  .183/.272/.289 Splinter   .265/.305/.354 Conclusion As you can see there is a wide range of possibilities from my very unscientific methods of figuring these projections, but I think these numbers really do represent the realistic high and low ends of production for those four Cubs. If the TMNC hit their peaks than this offense could be average to even slightly better. If the TMNC fall to their weakest numbers this offense looks like 2012 or worse. This doesn't factor in the possibility of injury because the replacements for the TMNC are not good, and possibly the platoons don't play up to their potential production. The odds are quite low that all of them hit their peak or their low, but where the majority fall on the spectrum will determine what this offense will produce. More than likely it will be a below average bunch, but perhaps if they tap their TMNC power perhaps those projections aren't quite so optimistic.
Original Story:
http://worldseriesdreaming.com/2013/0...
THE BACKYARD
BEST OF MAXIM
RELATED ARTICLES
The deal between Scott Hairston and the Chicago Cubs has been formally announced. Hariston and the Cubs agreed to a two-year deal worth $5 million nearly two weeks ago. Hairston can earn another $1 million in incentives and expects to platoon with Nate Schierholtz in right field. The Cubs outfield hardly seems set in stone and it is reasonable to expect Hairston to accumulate a large...
Chicago Cubs pitcher Carlos Marmol is fighting his way through very serious accusations.  A 24-year old woman in the Dominican Republic is claiming that he abused her. The case was upsold to a higher court within the country according to the Chicago Sun Times. Please Click Here To Read This Story. The post Carlos Marmol watches his domestic abuse case go to a higher court appeared...
The Chicago Cubs added a little depth to their roster on Sunday when the team announced they reached a two-year agreement with OF Scott Hairston. The deal is worth a reported $5 million for two years. In order to clear a roster spot for Hairston, the team made a move with OF Tony Campana, who was designated for assignment. Chicago general manager Jed Hoyer told reporters that he...
News out of Mesa, Arizona today on the first day that pitchers and catchers report. The Chicago Cubs and outfielder Scott Hairston agreed to terms: two-years, $5 million contract. To make room for Hairston on the 40-man roster, outfielder Tony Campana was designated for assignment. The deal was reported last month and is now finalized. Scott Hairston, who can earn an additional ...
The Cubs finalized a deal with newly-acquired outfielder Scott Hairston, who they signed as a free agent last month.   That they got Hairston, who signed a two-year deal, into the fold isn't necessarily the real story in Chicago. Yes, he hit 20 home runs with the New York Mets last season, and yes, he [...]
Just about every media outlet that matters, including Carrie Muskat, has reported that Tony Campana has been designated for assignment to make room for Scott Hairston.  The Cubs 40-man roster is now full up again, but just replace Campana's name with Hairston's.  At this point the Cubs have 10 days to waive, trade or release Campana.  But I think there's a good chance that...
The Buntfest is returning!  This time, with a twist: This spring, the Cubs will have their second bunting tournament, with a slight tweak. The front office will compete for a spot in the field of 64, and Theo Epstein was expected to square off against GM Jed Hoyer in their first round match. David DeJesus won the tourney last year. There are a number of other staffers in the new...
Outfielder Scott Hairston and the Chicago Cubs have finalized a two-year contract. The 32-year-old Hairston hit .263 with a career-high 20 homers, 57 RBIs and 25 doubles last year in his second season with the New York Mets. He also has played for Arizona (2004-07), San Diego (2007-09, 2010) and Oakland (2009) during a nine-year big league career. Hairston has a .247 career average...
The devastating news du jour as pitchers and catchers reported today was that Cubs legend (TM) Tony Campana was designated for assignment and thus likely exposed to waivers assuming that the Cubs can't trade him.  There is actually a good chance that some random team (my guess is the Atlanta Braves) will use one of their open spots to claim Tony, and then the cycle of Cubs fan...
Cubs News

Delivered to your inbox

You'll also receive Yardbarker's daily Top 10, featuring the best sports stories from around the web. Customize your newsletter to get articles on your favorite sports and teams. And the best part? It's free!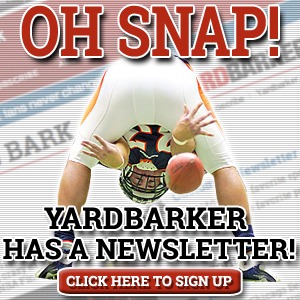 Latest Rumors
Best of Yardbarker

Today's Best Stuff

For Bloggers

Join the Yardbarker Network for more promotion, traffic, and money.

Company Info

Help

What is Yardbarker?

Yardbarker is the largest network of sports blogs and pro athlete blogs on the web. This site is the hub of the Yardbarker Network, where our editors and algorithms curate the best sports content from our network and beyond.