Found February 16, 2012 on Feelin' Kinda Blue:
While some thought Frank McCourt's final present to Dodger fans could have been to sign Prince Fielder to a mega deal (and the Dodgers were close), there's something a little more practical that could be done; something that would hopefully spur the next Dodger owner to invest in: international scouting.Who am I referring to? None other than Cuban outfielder Jorge Soler.Mike Petriello had a great post in December about the Dodgers' lack of international spending in recent years. He said it a lot better than I can, but I'm going to give it a shot.The Dodgers were once known as one of the most active teams in the international market -- signing players like Fernando Valenzuela, Ramon Martinez, Pedro Martinez Hideo Nomo, Chan Ho Park, Adrian Beltre and so on. Now, the international signings include Rubby De La Rosa and Kenley Jansen, which isn't bad, but the quantity of international signings has been unimpressive.The Dodgers spent about $314,000 in inte...
Original Story:
http://feedproxy.google.com/~r/Feelin...
THE BACKYARD
BEST OF MAXIM
RELATED ARTICLES
A common excuse for Ned Colletti defenders (here, in the comments) is to blame his recent lack of success on the current financial situation of the Los Angeles Dodgers brought upon by the nightmare ownership of Frank McCourt. Generally speaking though, the lack of money hasn't been the problem. Hell, it's almost the opposite, as
If you're a Dodger fan, you probably read Roberto's stuff from time to time. There is no better person for sourcing Dodger appearances or discovering hidden gems of content out there than Roberto from Vin Scully is My Homeboy. He has some great videos up from the MLB Fan Cave with Matt Kemp talking about the story behind some of his tattoos, thoughts on working out, and more...
MSTI: I don't know where he found this, but this is definitely the best thing Javy Guerra and James Loney do all year even if they finish 1/2 in the MVP race. Dodger Thoughts: None of the potential Dodgers ownership groups liked the Matt Kemp and Clayton Kershaw contracts? Uh…yikes. Feelin' Kinda Blue: Jon Weisman
Larry Bigbie was born in Hobart, Indiana which is actually pronounced Hobert believe it or not.  Bigbie, a big 6-4 outfielder, was drafted 21st overall in the 1999 MLB Draft. He somehow only spent 2 years in the minors before being called up and I have no idea why (Wait yes I do, the Orioles aren't good/Steroids). After showing no power and hitting under .300 in the minors, he...
The Card Draft will continue on as we return to regularly scheduled programming. And what's more regular at the Plaschke abode than a sweet new Kershaw or a trade post? The two together. I completed my first trade with Tony from The Common (Card) Man. Tony teased a box break of 2012 Topps, hinting that some Dodgers Mojo was afoot. I immediately expressed interest in anything...
In the eighth part of my Dodger Blogger Profile series, I catch up with Jon Weisman of Dodger Thoughts. I posted a piece on Feb. 3 I wrote about him a couple years ago.Weisman was the first Dodger blog (or any blog, for that matter) I ever started reading and it's been a treat. He's really the most rational Dodger blogger out there -- he doesn't get too high or too low...
Matt Kemp was runner-up for NL MVP and signed one of the richest contracts in baseball history a year after he posted a career-worst batting average and was called out by his general manager.
HBT: It would be a shame if the dysfunctional Dodgers waste the best years of Matt Kemp and Clayton Kershaw, but it looks like that's exactly what's going to happen.
The Do's and Don'ts of the 2012 Los Angeles Dodgers.
As the remaining 11 bidders revise their offers for the Dodgers, issues such as stadium renovations, control of the parking lots and TV rights will be major factors in the eventual sale price.Dodger Stadium turns 50 this year. In 2008, as owner Frank McCourt unveiled plans to revamp the stadium and surrounding area, Vin Scully explained why.
"My advice is to do what your parents did; get a job, sir. The bums will always lose!"  - The Big Lebowski  I know it's still the offseason, but there is always room to make time to bag on the Dodgers.  Even Jeffrey Lebowski thinks they will lose this year!  For the second year in a row they pi ck up our sloppy seconds (2010 - Jon Garland, 2011 - Aaron Harang...
But despite falling fan support for the team last year, Dodger Stadium remained L.A.'s favorite sports venue.The Dodgers could recapture the hearts of Los Angeles in short order based on data from the Marketing Arm, a Dallas-based firm that helps companies determine where to get the best bang for their advertising dollars.
MLB News

Delivered to your inbox

You'll also receive Yardbarker's daily Top 10, featuring the best sports stories from around the web. Customize your newsletter to get articles on your favorite sports and teams. And the best part? It's free!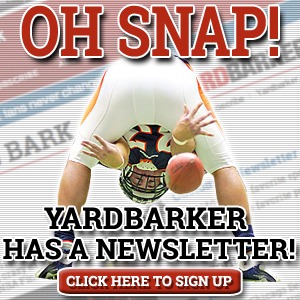 Latest Rumors
Best of Yardbarker

Today's Best Stuff

For Bloggers

Join the Yardbarker Network for more promotion, traffic, and money.

Company Info

Help

What is Yardbarker?

Yardbarker is the largest network of sports blogs and pro athlete blogs on the web. This site is the hub of the Yardbarker Network, where our editors and algorithms curate the best sports content from our network and beyond.