Found March 16, 2012 on Mike Silva's New York Baseball Digest:
PLAYERS:
Michael Pineda
,
Ivan Nova
,
Freddy Garcia
,
Phil Hughes
,
Keith Hernandez
,
Jesus Montero
,
Brian Cashman
,
Miguel Cabrera
,
Randy Johnson
,
Bob Gibson
,
Sandy Koufax
,
Warren Spahn
,
Bert Blyleven
,
Bob Feller
,
Tom Glavine
,
Johan Santana
,
Roger Clemens
,
Greg Maddux
,
Jayson Werth
TEAMS:
New York Yankees
,
Seattle Mariners
,
Detroit Tigers
,
New York Mets
,
Washington Nationals
Well, Michael Pineda and Ivan Nova just completed their third spring training appearances. Lucky for Nova, his consisted of a four inning, no run, no walk affair, and Pineda has a pretty good outing yesterday, too. Glad they both performed well or each could likely have been banished to the bullpen.
Or even worse – Triple-A. Yes, you heard that correct, a guy who won 16 games for the Yankees last season (12 of his last 16 starts), with the third best ERA of any starting pitcher on the team (just behind Freddy Garcia), and one who completed seven innings in nine of those last 16 starts, can be sent to the Empire State Yankees.
And this past off season's biggest acquisition could also have tasted that fate of minor league-ville.
Joe Girardi has said that Nova, Pineda  and even Phil Hughes all have options left, which tells me one of these young guys can be sent back to begin the season.
That is total garbage.
I don't care if Nova or Pineda has a totally disastrous spring. They both should be in the opening day starting rotation, and Girardi would be smart if he came out today and named each guy to the rotation.
Girardi's theory is that each of Nova, Pineda and Hughes has to earn their spots in the rotation. Saber stats guys are all about screaming "small sample size" this and "small sample size" that. Spring training is the epitome of small sample size, isn't it?  This season should not be about making each guy "earn" his spot; they both already have "earned" it based upon their performance last season, and in Pineda's case, the player he was traded for.
Pineda threw 170 major league innings last season and had a sub-4.00 ERA at the age of 22. Is dominating a bunch of 4A players going to help him get out big league hitters? Be real. If Girardi is actually thinking of sending Pineda to the minors (likely the excuse will be "He needs more command of his change-up" type crap), then I think he needs his head examined.
The idea for the Yankees is to make these kids who performed well last season comfortable entering their second full seasons. This is the tough year for major league players, the year of adjustments other teams will make to them, and the adjustments these kids need to make to continue their success.
So, instead of putting added pressure on them for each pitch made in spring training, they should have the confidence to know they can work on different pitches without looking over their shoulder for the Yankee-train to take them upstate. I mention it all the time, but Keith Hernandez said the key to his career was his early manager with the Cardinals, Ken Boyer, telling him before the 1979 season that no matter what happened early, he was his first baseman that entire year.
That gave Mex the confidence to just play without added pressure or worry. Hernandez went on to win the 1979 NL MVP that year.
Nova and Pineda should immediately be recognized as rotation starters.
It's funny, but since the trade of Jesus Montero for Pineda, there has been such strong backlash against the new pitcher. To set the record, I was against the trade as I feel it is tougher to get a middle of the order hitter as opposed to a top pitcher, but I am no way discounting Pineda as a hurler. First, it was said Pineda would be a top of the rotation pitcher, but Brian Cashman said early in spring training that expectations on Pineda shouldn't be that high, and the Yankees were only looking at him now as a back end type starter. All hell broke loose on that comment.
Second, Pineda came into camp 10 pounds overweight. Ten pounds? That's the amount of weight everyone is worried about? At 23 years of age, it would take about two to three weeks to lose that weight. Hell, after Miguel Cabrera of the Detroit Tigers found out he was going to play third base, he lost 20 pounds, and plans on losing 15 more. It is not that hard when you are in a confined area like training camp and have personal trainers available to you. And looking at video of Pineda last season and seeing him so far this season, there isn't much of a difference. And he is still growing! In a prospect video presentation of Pineda before last season, the big guy was quoted at being 6'5" tall. He is now two inches taller, and should be heavier overall.
Then, Pineda has to work on his changeup. He can't be a two-pitch pitcher in the major leagues, but guys like Randy Johnson, Bob Gibson, Sandy Koufax, Warren Spahn, Catfish Hunter, Bert Blyleven, Steve Carlton and Bob Feller all were great, Hall of Fame pitchers who mainly relied on two pitches. Tom Glavine and Johan Santana made careers out of being fastball, change up guys. When you have two high quality pitches, you can be successful with only two pitches*.
*If a pitcher changes the speed of his fastball and locates well, I truly believe you can be successful in the majors by throwing only fastballs.
Speaking of fastball speed, now all we hear now is about Pineda's velocity. He was only throwing the ball at 91 MPH, and then he only reached 92 MPH in his second and third starts! Oh, my God! What a devastating thing this early in camp. It is unbelievable these beat writers need some sort of controversy in camp, even if they have to create something!
Velocity is not the end all for pitching. All young kids want to throw harder so they can get a look from scouts and get drafted. Those who throw harder usually get drafted higher, which translates to more cash at signing. But you know what is more important than velocity?
Pretty much everything else about pitching.
Velocity only allows you to escape damage WHEN YOU CAN'T LOCATE YOUR PITCHES. If a pitcher can throw to each side of the plate, (you know, like the real good ones always have over the history of baseball), you have the hitter guessing inside or outside. Also, changes in velocity, not necessarily change ups and other off-speed pitches, but different speeds on a fastball. Most pitchers have better command when they "take something off" their fastballs.
There have been boatloads of high velocity pitching prospects who never made it big, and plenty of guys with great command. There have also been pitchers with a multitude of pitches who couldn't locate any of them. All other things being equal, give me command over velocity anytime. Every time a Yankee pitcher gets hit around, the first thing you hear Girardi say is that "Nova (or CC, or so many times, A.J.) didn't have "command of his fastball tonight."
For a pitcher, control is being able to throw the ball over the plate. That is what you want Little Leaguers to do. Command is control within the strike zone. That is what you want professional pitchers to do. Really good major league pitchers have command of two (or more) pitches. When you add in high velocity with command of more than two pitches, you get an in his prime Roger Clemens.
The greatest pitcher of our generation, Greg Maddux, was asked about his key to pitching, and said, "I try to do two things: locate my fastball and change speeds. That's it. I try to keep as simple as possible. I just throw my fastball to both sides of the plate and change speed every now and then."
Maddux also said, "I could probably throw harder if I wanted, but why? When they're in a jam, a lot of pitchers…try to throw harder. Me, I try to locate better." That goes with what I teach young pitchers, not to try and throw the ball through the glove, but throw the ball TO the glove. Big difference with this approach. Pitchers who try and overthrow usually end up with pitches out of the strike zone or right down the middle.
It appears to me that Pineda is trying to command his pitches better, get ahead in the count and force the hitter to hit from behind in the count. Most hitters tighten up and think much more often about pitch selection when they are behind in the count than they do early and ahead in the count. Pineda is taking advantage of this and getting his fastball over early.
This showed in Thursday's start against the Washington Nationals. Pineda was throwing early strikes, getting ahead and getting hitters to chase his slider, which was pretty nasty all day. Ask Jayson Werth, who reached desperately to get the bat on it, and ended up hitting a popup to shallow left center.
There was talk of Garcia winning the fifth starter job. While that would be a nice story for the classy veteran, the key is for the Yankees to develop a couple young, low-cost starting pitchers, which is what Nova and Pineda are. Low cost starting pitchers are a key for both this season and the next five years.
Garcia's biggest contribution last season wasn't his 12 wins, his 3.62 ERA or his calm demeanor on the mound. It was his mentoring of Nova throughout the season. That is the main reason why Garcia was brought back in 2012. Now he can add Pineda to his corral of young Latin hurlers to mentor.
The mentoring can only be performed if Pineda and Nova aren't optioned out. It is time to name them both to be in the starting rotation and forget this charade.
The Yankees didn't allow Nova to develop last season and they didn't trade for Pineda to watch either of them pitch in Rochester.
Original Story:
http://nybaseballdigest.com/2012/03/1...
THE BACKYARD
BEST OF MAXIM
RELATED ARTICLES
Author: Andrew SwansonFantasy Baseball fans and writers are constantly searching for the next big thing. A prospect who possesses a mixture of both freakishly good, god-given talent, and the mental fortitude to excel in the Major Leagues.  One possible candidate for this year's next big thing is Michael Pineda, a 22 year old pitcher for the Seattle Mariners.  A native of the...
Andy Pettitte's comeback will be the headline topic on tomorrow night's radio program. I wrote yesterday that I am not optimistic that Pettitte will be able to provide the kind of performance that makes his presence worth the signing. This isn't about money; it's about the fact that he will create the kind of distraction that could potentially add pressure to Michael Pineda...
New York Yankees 8 — Washington Nationals 5   Five consecutive singles in the 7th inning led to 3 runs in today's 8-5 win over the Washington Nationals. Michael Pineda started today's Spring start and went 3.2 innings with 4 strikeouts and 1 walk, and 4 hits that led to 2 runs. Pineda's velocity was [...]
Wow, this came out of nowhere.... Here's the story from Mark Feinsand:Andy Pettitte ended his one-year retirement, agreeing to a minor-league deal with the Yankees worth $2.5 million plus incentives. "He's coming back," a source said. The deal was first reported by the YES Network. Pettitte returned to camp earlier this spring, and though he indicated that he planned...
Andy Pettitte has reportedly come out of retirement and re-joined the New York Yankees. According to Jack Curry of the YES Network, Pettitte has signed a 1 year minor league deal: The Yankees have signed Andy Pettitte to a 1-year minor league deal worth $2.5 million. The team is thrilled to have 240-game winner back.
Andy Pettitte abruptly ended his retirement Friday, signing a one-year contract with the New York Yankees. The deal is worth $2.5 million for Pettitte, who had officially called it quits in February 2011, saying he no longer had the hunger and drive to play another season. Pettitte, who will turn 40 in June, went 11-3 with a 3.28 ERA in 21 starts in 2010. He owns a career mark...
Author: Andrew SwansonThe Seattle Mariners boast one of the best young arms in the American League.  A flame throwing pitcher who possesses a knee-buckling slider, an excellent change up, and a blazing fastball that has been clocked in the triple digits.  No, I am not referring to reigning AL CY Young winner Felix Hernandez, but rather rookie sensation Michael Pineda. With just...
MLB News

Delivered to your inbox

You'll also receive Yardbarker's daily Top 10, featuring the best sports stories from around the web. Customize your newsletter to get articles on your favorite sports and teams. And the best part? It's free!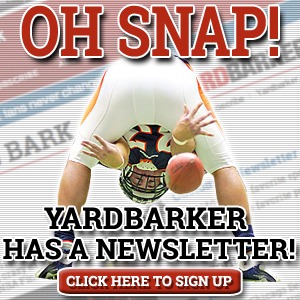 Latest Rumors
Best of Yardbarker

Today's Best Stuff

For Bloggers

Join the Yardbarker Network for more promotion, traffic, and money.

Company Info

Help

What is Yardbarker?

Yardbarker is the largest network of sports blogs and pro athlete blogs on the web. This site is the hub of the Yardbarker Network, where our editors and algorithms curate the best sports content from our network and beyond.