Found May 06, 2012 on Reading Between The Seams:
PLAYERS:
Mariano Rivera
,
Trevor Hoffman
,
Roger Clemens
,
Ken Griffey
,
Edgar Martinez
,
Ruben Sierra
,
Jorge Posada
,
Jim Leyritz
,
Jason Varitek
,
David Ortiz
,
Kevin Millar
,
Aaron Boone
TEAMS:
New York Yankees
,
Minnesota Twins
,
Arizona Diamondbacks
,
Seattle Mariners
,
Boston Red Sox
The Greatest Mariano "Mo" Rivera is the best closer in Major League Baseball history and is arguably the best pitcher in New York Yankees history. His legacy is filled with clutch performances. If there were a baseball definition of "reliability," "Mo's" face would lay next to the word. For the past 18 years, there has been on rock of the Yankees pitching staff. That rock is Mariano Rivera. "Big Mo" was recently injured, and his 2012 season has come to an end. At the age of 42, many will question whether Rivera will ever pitch again. Well, he has made his feelings clear and says he'll be back. If Mo says so, I believe it. With that said, let's take a look back at his fabulous career. Here's Mariano Rivera's top five moments: 5. MAY 17, 1996 – Mariano Rivera gets his first Major League save. It is not often mentioned that "Mo" was originally called up in 1995, as a starting pitcher. He was moved to the bullpen late in '95. In 1996, Rivera was primarily used as a set up man for closer John Wetteland. On May 17th, the California Angels were in New York and Rivera recorded the first of his 608 career saves. Pitching one inning, Rivera gave up one hit, struck out one and surrendered no runs. By recording the last out, he lowered his season ERA to 0.89. 4. SEPTEMBER 19, 2011 – "Big Mo" records career save number 602, passing Trevor Hoffman and becoming the MLB all-time save leader. With the Minnesota Twins in town, Rivera saved and closed out a 4-2 ballgame in typical Rivera style. Pitching the 9th inning, "Mo" faced three batters, recording three outs, giving up no hits while striking out one. Of the thirteen pitches thrown, nine were strikes. 3. OCTOBER 30, 2001 – Not much needs to be said about this outing. This was simply vintage Mariano Rivera. Facing the Arizona Diamondbacks, in Game 3 of the World Series, Rivera was given the ball to start the 8th inning with a 2-1 lead. Rivera pitched two perfect innings and struck out four batters. "Mo" threw 21 strikes out of 29 pitches. Rivera gets the save and Roger Clemens gets the win. Complete Box Score and Play-by-Play from retrosheet.org 2. OCTOBER 4, 1995 – This was the beginning of Mariano's post-season greatness. As a rookie and pitching in his first post-season game, Rivera took the mound in the ALDS, against the Seattle Mariners. "Mo" received the call in the 12th inning as Yankees' closer John Wetteland gave up a go-ahead solo home run to Ken Griffey Jr., and a single to Edgar Martinez. With the Yankees down 5-4, Rivera took the ball and struck out Jay Buhner, on four pitches, for the final out of the inning. The Yankees were able to tie the game in the bottom of the 12th on a Ruben Sierra double to left that scored Jorge Posada. Rivera pitched a perfect 13th and 14th innings. In the 14th, "Mo" struck out all three batters while throwing 12 of 14 pitches for strikes. In the 15th, with the game still tied, Rivera got Griffey to fly out to center. After giving up back to back singles to Edgar Martinez and Buhner, Mariano recorded the final two outs of the inning, sending the game to the bottom of the 15th tied at 5. With one out in the bottom of the 15th, Jim Leyritz clubbed a walk-off home run giving the Yankees and Rivera the win. In total, Rivera pitched 3.1 scoreless innings, giving up two hits while striking out five. Out of 49 pitches, Mariano threw 35 strikes. 1. OCTOBER 16, 2003 – This is the "crown jewel" of Rivera's career. Game 7 of the ALCS against the "despised" and rival Boston Red Sox. It doesn't get more dramatic than this. Top of the 9th, tie ball game 5-5, the Sox vs. the Yanks for the American League Pennant. Mariano Rivera takes the mound against a heavy hitting Boston club. 9th inning, no problem… "Mo" allows one runner, Jason Varitek, to reach base on a one out single, nothing else. As the Yanks fail to score in the bottom of the inning, Rivera comes out for the 10th. Staring at the heart of the order, Rivera freezes Nomar Garciaparra for the third strike and the first out. Next, "Mo" gets Manny Ramirez to ground out to first. With two outs, David Ortiz doubles. With the potential go-ahead run on second, Mariano gets Kevin Millar to pop out to shortstop. Again, the Yankees fail to score in the bottom. Mariano comes out for his third inning…Strikeout, ground out, strikeout…After three strong innings in relief, Rivera gave up two hits, no walks, no runs, and stuck out three. 33 of Rivera's 48 pitches were strikes, and that's all it took. Aaron Boone hit a lead-off home run to send the Yankees to the World Series. The Yankees win and Mariano Rivera's "crown jewel" of a game is cemented in baseball history.   Special thanks for contributions from Jimmy Kraft and Jason Whitney.              
Original Story:
http://sports-kings.com/readingbetwee...
THE BACKYARD
BEST OF MAXIM
RELATED ARTICLES
This is one of the saddest posts I have written for our Subway Squawkers since we started writing the blog in 2006.  Mariano Rivera's career may be over, thanks to a torn ACL and a torn meniscus. Geez, it's painful even to write that. I'm still in shock over what happened.I was out for a walk last night, talking on the phone with one of my brothers, when Squawker Jon...
A CRYING SHAME
Your browser does not support iframes.
Mariano Rivera isn't done just yet. The Yankees closer tore his ACL shagging fly balls in the outfield before Thursday night's game in Kansas City, but he has vowed to return to the big leagues. He's not letting this injury end his career. "I'm coming back," River told reporters in New York. "Write it down in big letters. I'm not going out like...
<a href="http://NYYUniverse.com/wp-content/plugins/wordpress-feed-statistics/feed-statistics.php?url=aHR0cDovL05ZWVVuaXZlcnNlLmNvbS9ueXkvY291bGQtdGhpbmdzLWdldC1hbnktd29yc2UvYXR0YWNobWVudC9tby0xNS8=" rel=\"attachment wp-att-5537\">Legendary closer, Mariano Rivera, may be forced to miss the season with a torn ACL. Life without Mo won't be easy, but the...
The all-time saves leader, Mariano Rivera, suffered a torn ACL yesterday while shagging fly balls at Kauffman Stadium in Kansas City and according to Bryan Hoch of MLB.com it is still unknown if he'll ever pitch again. "At this point, I don't know," Rivera said, repeating softly (via Hoch), "At this point, I don't know. I have to face this first." According to Hoch...
With 42-year-old Mariano Rivera on the DL for the first time since 2003, Yankees manager Joe Girardi said that David Robertson and Rafael Soriano will close games the remainder of the season. From what we've seen, read, and heard, however, Robertson is the guy to bet on as your fantasy baseball closer for now. The 27-year-old Robertson is certainly well qualified to fill the very...
I know it is the Evil Empire and we aren't supposed to like any of them, but I do have one I've always liked. Mariano Rivera. The BEST relief pitcher in MLB history. You can argue with me in the comments, but I'm pretty sure I can trump it.Mariano, as he has always done, was shagging flyball during Yankees batting practice when he tore his ACL at Kauffman stadium on Thursday...
Thursday was another crazy one for closers. The most bizarre story came when the greatest of all time, Mariano Rivera, slipped while shagging fly balls in batting practice and suffered what first appeared to be a twisted knee, but now is expected to be a season-ending torn ACL. A brutal blow to Rivera owners and a horrible way for his career to end if he calls it quits after this...
This is a Mets blog, but also a baseball blog, and part of baseball is Mariano Rivera, the Yankees' Hall of Fame closer. Mets fans remember Rivera because he snuffed out many games over the years, including Game 5 of the 2000 World Series. When the ball left Mike Piazza's bat with a crack I thought it had a chance, but like many before, because of that awesome cutter, Piazza...
As the Orioles head into Boston this week, they are playing really well and flying. I'm not if what we are seeing the real Birds, or what; however, they have been a nice, pleasant surprise. They are in second place in the American League East with a 16-9 record; meanwhile, the Boston Red Sox are in last place in the division, as they are 11-13. The Red Sox seem out of sorts, and...
Join us for the show tomorrow at 11:00am.  ArmchairReport's Yankees and Blue Jays Contributor, Elisabeth Galina, will be coming on the show to talk about the Mariano Rivera fallout in New York along with other news and notes around the AL East. We'll also be discussing the Saints players' suspensions, Tiger Woods missing the cut [...]
There were huge shakeups in bullpens all around major league baseball last week as injuries and ineffectiveness led to changes with some of the premier closers from last season in fantasy baseball. Mariano Rivera was lost for the season with a torn meniscus and ACL and the New York Yankees will now turn to David Robertson and Rafael Soriano to shut the door in the ninth inning...
MLB News

Delivered to your inbox

You'll also receive Yardbarker's daily Top 10, featuring the best sports stories from around the web. Customize your newsletter to get articles on your favorite sports and teams. And the best part? It's free!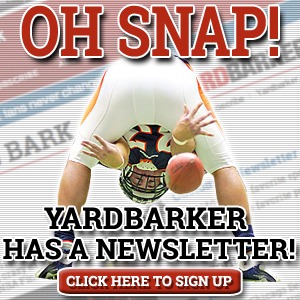 Latest Rumors
Best of Yardbarker

Today's Best Stuff

For Bloggers

Join the Yardbarker Network for more promotion, traffic, and money.

Company Info

Help

What is Yardbarker?

Yardbarker is the largest network of sports blogs and pro athlete blogs on the web. This site is the hub of the Yardbarker Network, where our editors and algorithms curate the best sports content from our network and beyond.