Found March 09, 2013 on Obstructed View OLD:
The Cubs unveiled their new marketing slogan the other day and simultaneously churned Twitter into a furious snarky froth with "Committed." Frankly, I think "Committed" is right up there with "It's a Way of Life" as most mockable slogans the Cubs have come up with under the Ricketts. It took Twitter about 10 seconds to start making insanity references and the beat writers were in on it within 30 seconds. This was not the farthest anyone has ever had to reach to make a joke out of the Cubs. The speed in which the slogan was turned on its ear made me wonder what the Cubs had considered and rejected if "Committed" is what they landed on and agreed was the best possible option on the table. Naturally, we unleashed OV's full espionage resources that are rivaled only by the most secretive of government agencies, which may or may not exist, and gathered information on the Cubs rejected ideas. We now present the Cubs slogan ideas that were never intended for the public to see, and in many cases were simply jotted down on a cocktail napkin. Many Bothans died to bring us this information: Top Ten Rejected 2013 Cubs Slogans 10. "Give Us Your Money" 9. "Cubs Baseball es Muy Valbuena!" 8. "What Are You Going to Do, Root for the Sox?" 7. "Jeff Samardzija Might Pitch in the Game You Attend, Wouldn't That be Neat?" 6. "Seriously, Give Us Your Money" 5. "Come for the Schierholtz, Stay for the Lillibridge"  4. "If a Piece of Concrete Falls On You, It's Yours to Keep!" 3. "How 'Bout Them Blackhawks?" 2. "We Accept Visa, Mastercard, American Express, Cash… There's Really no Reason Why You Haven't Given Us Your Money Yet" 1. "Bison Dogs and Troughs and Slightly Better Celebrity Singers, Oh My!"   The post Top Ten Rejected 2013 Cubs Slogans appeared first on Obstructed View.
Original Story:
http://www.obstructedview.net/comment...
THE BACKYARD
BEST OF MAXIM
RELATED ARTICLES
The days of the Chicago Cubs being lovable losers are gone and now the team is looking for ways to bring fans back to the ballpark. Being one of the few teams that do not employ a mascot their is talk that the Cubs could add one as part of a renovation of their 99 year old ballpark. Of course not everyone is happy about that. Pitcher Jeff Samardzija told the Chicago Tribune that...
Chicago Cubs first baseman Anthony Rizzo rejoined the team for a one-day break during the World Baseball Classic. Rizzo was in camp Sunday. He'll return to Team Italy when it plays in the second round this week in Miami. Rizzo also plans to watch a little video and collect some bonus money. Before he left for the WBC, several players pledged $500 if Italy won a game in the...
"Hello again, everybody." Those three words, while probably not as often said as, "I'll have another," were always on the tip of Harry Caray tongue.  A week after what would have been the amazing broadcaster's 99th birthday, I wanted to lead this edition of Ramblings with a shout-out to the man that made me fall in love with baseball. (Editor's note: this is by TSB...
Alfonso Soriano hit a two-run double and Dioner Navarro followed with two-run homer Sunday, leading the Chicago Cubs past the San Diego Padres 9-3. Christian Villanueva added a two-run homer for the Cubs. He has three hits this spring and all of them are home runs. Padres starter Jason Marquis threw four scoreless innings and allowed two hits. Reliever Andrew Cashner made his first...
With today's declaration of war between Canada and Mexico, won by the Canadian side (who has already apologized numerous times for Bryan Adams), Team Italy has advanced to the second round of the World Baseball Classic.  Here's a summary of the skirmishes from World War Que/Eh: The HBT team made a good observation, illustrating one of the inherent flaws of the WBC pool ranking...
Buntfest 2013 is nearing the finish, with defending buntmeister David DeJesus still alive.  However, a surprising Cinderella contestant has found himself in the Final Four: DeJesus, Maysonet, EJackson, and Nate the video guy advance to #Cubs final 4 in bunt tourney — Carrie Muskat (@CarrieMuskat) March 9, 2013 Who is this guy?  Some information can be acquired by scouring his...
Scott Hairston homered for the Chicago Cubs before their game against a split squad of Cincinnati Reds was rained out in the second inning with the score 1-all Friday night. Hairston homered in the first off Tony Cingrani. Neftali Soto put the Reds ahead with a sacrifice fly. The game was stopped after a 33-minute rain delay. After Hairston homered, Alfonso Soriano doubled and...
I find myself waffling on this subject quite a bit, because as all Cubs fans do, I just want the best for the Cubs.  I want them to win, and to do that I want them to be able to make truckloads of money.  There are many obstacles preventing the Cubs from making as much money as they should given the brand name recognition, the history (most of it crap, but you know, we're committed...
He's [Brian Bogusevic] been the Joe Mather of camp so far – Dale Sveum I'm pretty sure Dale Sveum meant this as a compliment, but saying someone is the Joe Mather of anything is kind of the opposite. I'll just repost what I already did about Mather. Joe Mather was the worst player in baseball last year. Baseball Reference only thought he was the 5th worst player...
Cubs News

Delivered to your inbox

You'll also receive Yardbarker's daily Top 10, featuring the best sports stories from around the web. Customize your newsletter to get articles on your favorite sports and teams. And the best part? It's free!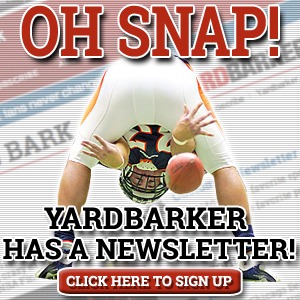 Latest Rumors
The Backyard

Today's Best Stuff

For Bloggers

Join the Yardbarker Network for more promotion, traffic, and money.

Company Info

Help

What is Yardbarker?

Yardbarker is the largest network of sports blogs and pro athlete blogs on the web. This site is the hub of the Yardbarker Network, where our editors and algorithms curate the best sports content from our network and beyond.