Found June 23, 2012 on Fox Sports North:
On Saturday, Brian Duensing tried to do what only Scott Diamond and P.J. Walters have achieved for the Twins this season: earn a win in his first start of the season.Like seven others before him, he failed, but the odds were already against him. His pitch count was strict, and the Reds are good seven games over .500 going into the afternoon and sitting atop the NL Central.Manager Ron Gardenhire said he'd limit Duensing to about 60 pitches, and after giving up three runs in the fourth inning, he was over his limit at 63. With no one out, he was pulled for Anthony Swarzak, who allowed one more of Duensing's runners to score."Once I got to the fourth inning, I was into territory that we hadn't gone yet," Duensing said. "I hadn't thrown that many pitches before. I hadn't been sitting down and getting back up that many times. So it was kind of uncharted territory, and I kind of hit a wall."Three innings. Four earned runs. No run support en route to a 6-0 loss. It was not what Gardenhire envisioned.As the Twins' 10th starting pitcher of 2012, Duensing is the team's latest hope to spark a starting rotation that's been decimated by injuries and struggles. This isn't the most starters Gardenhire has used in a season he employed 11 in 2009 but it's only the second time he's tried 10 after doing so in 2006. But it's only June. That mark of 11 could likely fall.Duensing joined the starting rotation after accruing a 1-2 record and 3.12 ERA in 34.2 innings in the Twins' bullpen. He slotted into Walters' spot after the righty landed on the 15-day disabled list with shoulder inflammation on June 14. Before Saturday, Duensing spent all of 2012 in the bullpen after going 9-14 with a 5.23 ERA in 2011, his first year as a full-time starter. It was the worst ERA of his career after posting winning records and sub-4.00 ERAs in his first two seasons in the majors.Before 2011, Duensing offered promise as a starter. In 22 games started in 2009 and 2010, he had a 2.93 ERA and a 12-3 record. He also received an average of 5.6 runs in support, up from the 4.72 his team gave him in 2011. Even in Saturday's loss, Duensing felt good after the first three innings. He said he felt like he was commanding the strike zone, but regardless, stretching from a reliever into a starter is always an experiment. It's a tough transition, Duensing said, though a good opportunity."As a reliever, you know exactly the extent of how much you're going to pitch," Duensing said. "You might go in for an inning, but you're not going to go in for more than two or three. Then all the sudden, you're asked to start, which I'm happy to do, (but) it's tough. It's tough to tell yourself that you're going to be out there for a while." On Saturday, Duensing's run support was a disheartening zero. In fact, he gave up just one hit before the fourth inning, and it looked like a promising start. But the team's offensive stagnancy under National League rules was eventually its undoing.Four runs should not be an insurmountable deficit, even when a starter leaves after three innings and hands the game over to a bullpen that averaged 3.86 innings of work in the team's previous seven games. But when Duensing, who doesn't have a hit in six career at bats, must hit and Reds' starter Johnny Cueto drives in two runs on sacrifices, it's even more difficult to come out on top.Saturday's game marked the first time the Twins have been shut out since June 5 in Kansas City, but it continued a worrisome trend. In eight of their last 12 games, the Twins have been held to three or fewer runs, a streak that's dropped their average runs scored to 4.07 per game. That's ninth-worst in the majors. When Duensing left in the fourth, the game was still far from out of reach. But the bullpen gave up one or more hits in every inning except the fifth, unable to hold the four-run margin.It's hard to assess Duensing's performance when it was so constrained by pitch count. The outing was hardly a resounding vote of confidence, but it's difficult to say what standard he needed to meet to be good enough. His three strong innings to begin the game suggest that Duensing might improve as he stretches his arm through further starts, but one game is hardly a good sample size.Four earned runs in three innings isn't good. For the Twins right now, it's not enough to salvage a win, but might not rule out a second chance for Duensing.Follow Joan Niesen on Twitter.
Original Story:
http://www.foxsportsnorth.com/06/23/1...
THE BACKYARD
BEST OF MAXIM
RELATED ARTICLES
Manager Ron Gardenhire is in no position to turn down solid starting pitching, so when left-hander Brian Duensing makes his first start of the season Saturday it will be less a spot start than an audition. Not only do the Minnesota Twins have one of baseball's worst rotations, they have two starters on the disabled list and a doubleheader looming. "I can honestly tell...
The Minnesota Twins have selected the contract of left-handed pitcher Tyler Robertson from Triple-A Rochester, the team announced Sunday. A corresponding roster move will be made before Monday's game against the Chicago White Sox. Indications are that the Twins will place closer Matt Capps on the disabled list, as the right-hander has been battling a shoulder injury. Capps pitched...
MINNEAPOLIS This is more than just a musical instrument. Perched high above the infield at Target Field, just a shade toward third base, Sue Nelson's organ is tucked among the red- and blue-clad bodies. Yes, it's the property of the Twins but in name only. The instrument still somehow belongs to Nelson. It's covered in Crayola-colored drawings she's been given...
Twins manager Ron Gardenhire said earlier this month that he's not a fan of interleague play because he doesn't like the fact that his pitchers have to swing a bat. But with left-hander Scott Diamond due up in the top of the 8th inning, Gardenhire let his starting pitcher swing away. The move made sense, as Diamond cruised through seven innings, allowing just one run to...
Twins right fielder Ben Revere left Pittsburgh without a hit, going 0-for-12 with just one walk in the three-game series against the Pirates. Dating back to the team's final game against Milwaukee, Revere was 0-for his last 15 prior to Friday.He snapped out of that funk quickly Friday in Cincinnati. Revere went 4-for-4 to help spark Minnesota to a series-opening 5-4 win over...
Francisco Liriano is back. After a month-long banishment to the bullpen, Liriano has returned to the rotation looking like a completely different pitcher. In his six starts prior to his demotion, Liriano was broken. The lefty allowed 37 hits in just 26.2 innings, and racked up a 9.45 ERA. While his stint in the bullpen only lasted five outings, it seemed to be exactly what he needed...
What a season it has been for right-hander Jared Burton. Limited by injuries and illness to eight major-league innings in 2010-11, he has become of the Minnesota Twins' most trusted relievers this season and on Sunday earned his first major league save. Already 1-0 with a 3.10 earned-run average in 30 appearances, he closed out a 4-3, come-from-behind victory at Great American...
GOOD HANDS
Your browser does not support iframes. Minnesota's Ben Revere is among the fastest players in Major League Baseball right now. No, we're not talking Billy Hamilton fast, but the Lexington, Kentucky native does have speed to burn. But his speed was no match for the defensive wizard known as Brandon Phillips on Saturday. Watch as the 3-time Glove Glover guns down Revere...
Ryan Doumit and Ben Revere each had four hits Friday night, leading the Minnesota Twins to a 5-4 victory that gave the Cincinnati Reds their season-high fourth straight loss. Doumit hit a solo shot off Homer Bailey (5-5), who angrily left the field after failing to get through the sixth inning. Revere broke an 0-for-15 slump with four singles. Chris Heisey and Scott Rolen had two...
Josh Willingham hit a two-run homer in the ninth inning off shaky Cincinnati closer Aroldis Chapman, rallying the Minnesota Twins over the Reds 4-3 Sunday. Joe Mauer opened the ninth with a double off the left-field wall against Chapman (4-4). Willingham followed with his 15th homer of the season, a 438-foot drive into the second level in left field. In Chapman's previous outing...
CINCINNATI (AP) -- Josh Willingham hit a two-run homer in the ninth inning off shaky Cincinnati closer Aroldis Chapman, rallying the Minnesota Twins over the Reds 4-3 Sunday. Joe Mauer opened the ninth with a double off the left-field wall against Chapman (4-4). Willingham followed with his 15th homer of the season, a 438-foot drive into the second level in left. In Chapman'...
By MATT BEARDMORE,STATS Writer The Cincinnati Reds still have a chance of finishing with a winning interleague record. The best the Minnesota Twins can hope for is a .500 mark against the NL. The NL Central-leading Reds and AL-worst Twins close out their series - and their 2012 interleague schedules - Sunday at Great American Ball Park. Losers of four straight - all against the...
MLB News

Delivered to your inbox

You'll also receive Yardbarker's daily Top 10, featuring the best sports stories from around the web. Customize your newsletter to get articles on your favorite sports and teams. And the best part? It's free!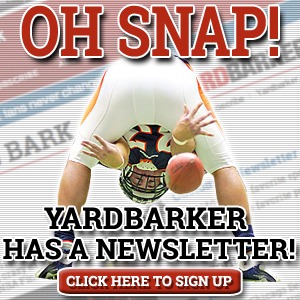 Latest Rumors
The Backyard

Today's Best Stuff

For Bloggers

Join the Yardbarker Network for more promotion, traffic, and money.

Company Info

Help

What is Yardbarker?

Yardbarker is the largest network of sports blogs and pro athlete blogs on the web. This site is the hub of the Yardbarker Network, where our editors and algorithms curate the best sports content from our network and beyond.