Found April 17, 2013 on Fox Sports North:
MINNEAPOLIS Simply put, Joe Mauer is in the zone. The Twins catcher is in the type of zone where you expect him to get a hit every time he comes to the plate and when he doesn't, you're surprised. It's not a new phenomenon for Mauer to go through a hot streak like this, but it's certainly an encouraging start to the season for the three-time batting champion, who turns 30 on Friday. Mauer went 4-for-5 in Tuesday's 8-6 win against the Angels, his second straight 4-hit game. He's now batting .386 on the year and seems as locked in as he has in quite some time. "I've seen him hit his whole career. We've seen him do this," Twins manager Ron Gardenhire said of Mauer. "We keep saying it's incredible and it is at this level to swing and get those hits like he does when he can just rack em up. It is incredible. That will never change. He's just an amazing hitter." Monday and Tuesday's back-to-back four-hit games marked the second time in Mauer's career in which he had four hits in consecutive games. He also did so on June 26 and 27 in 2006 when he had a total of nine hits in two straight games against the Los Angeles Dodgers. Tuesday at Target Field was just another ho-hum day at the plate for the former MVP. "It was a good day," Mauer said. "I'm seeing the ball pretty well. Like I said (Monday) night, I'm just trying to hold onto that feeling." Perhaps just as noteworthy as Mauer's four hits Tuesday is the fact that three of them came with two strikes in the count. It's a continuation of a rather impressive trend so far for the Twins catcher, who now has 22 hits 16 of which have come with two strikes. On Monday, Gardenhire lauded Mauer's ability to hit with two strikes. He doesn't panic when he gets behind in the count and instead seems to thrive when the pitcher is ahead. Mauer is now 16-for-39 (.410) when batting with two strikes this season. "I'm just trying to have a plan. You go up there and you try to execute it," Mauer said. "A pitch might look good on TV, but it's not really something I want to offer at. Getting a couple strikes on you to be able to come through with a hit is huge." Mauer's first hit Tuesday was a single to center off Angels starter Jason Vargas. By the time the second inning was over, Mauer was already 2-for-2 at the plate and drove in a pair of runs with his two-out single in the second to give the Twins a 3-0 lead. Mauer improved to 3-for-3 on the day with a single in the fourth off Vargas. Mauer's only out of the night was possibly the hardest ball he hit in the game, as he scorched a sinking liner to left field that was caught by Angels left fielder Mike Trout before it hit the ground. Two innings later, though, Mauer dropped a single to left field for his fourth hit of the game and his eighth in the past two days. "It felt good. I was just looking for something out over the plate," Mauer said of the lineout. "I think I was ahead in the count and got it and put a good swing on it. It was one of those where you want to get it up in the air or you want it to fall in front of him. It was a good swing. I think the baseball gods the next at bat, I hit it off the handle a little bit and it fell in, so I guess they evened it out tonight." Minnesota's offense has scored eight runs in each of the past two games, and Mauer has been a big reason why. He drove in three runs and scored twice in the series opener Monday and drove in another three runs Tuesday. After an injury-plagued 2011 season limited Mauer to 82 games, he bounced back to bat .319 and play in a career-high 147 games in 2012. Through Tuesday's win, Mauer has played in all 13 games for Minnesota and has once again proven to be the Twins' best hitter. "Especially right now, when he gets hot, nobody can really stop him," said Twins second baseman Brian Dozier, who batted leadoff ahead of Mauer on Tuesday. "He's obviously a joy to hit in front of or behind, whatever it is. But he does some pretty neat things with the bat." Follow Tyler Mason on Twitter.
Original Story:
http://www.foxsportsnorth.com/mlb/min...
THE BACKYARD
BEST OF MAXIM
RELATED ARTICLES
It's no secret that it's easier for a left-hander to pitch to Joe Mauer and Justin Morneau. The Minnesota Twins can hope that a big hit by Mauer off a southpaw in the series opener against the Los Angeles Angels will help turn things around. The Twins will be up against a left-handed starter for the second time this season Tuesday night when they face Jason Vargas, who has...
MINNEAPOLIS Lost in the shuffle of Joe Mauer's four-hit night on Tuesday was the performance of the guy hitting ahead of him in the Twins' lineup. Second baseman Brian Dozier led off against the Angels, his first career start as Minnesota's leadoff man. His 2-for-4 night was enough to convince manager Ron Gardenhire to put Dozier back in the leadoff spot for the second...
MINNEAPOLIS Last season, at the ripe old age of 38, Twins infielder Jamey Carroll was an every-day player. He played in 138 games, just shy of his career high. One year later, Carroll's role in Minnesota has changed drastically. Through the first two weeks of the 2013 season, the 39-year-old Carroll is no longer an every-day player. In fact, he's made just two starts this...
MINNEAPOLIS All offseason, the main emphasis for the Minnesota Twins was to improve their starting rotation. To do so, the team signed two veteran free agents and traded for another pitcher in hopes of rebuilding what had been the American League's worst starting staff in 2012. Though it's still early in the 2013 season, it appears those offseason changes have made a difference...
Monday the Minnesota Twins filled a roster void as OF Wilkin Ramirez is in New York as his wife is giving birth. They purchased the contract of outfielder Oswaldo Arcia from Triple-A Rochester. Arcia has a talented bat but won't be up long enough to put it to much use. The post Minnesota Twins Purchase Contract Of Oswaldo Arcia appeared first on Fantasy Sports Player Rankings...
The Minnesota Twins made some relatively under-the-radar moves yesterday.  They placed left fielder Darin Mastroianni on the disabled list while recalling Oswaldo Arcia to fill out the 25-man roster.  Mastroianni had been battling a sore left ankle and was scratched from last night's game before eventually being placed on the DL. Darin Mastroianni is headed to the DL...
The Minnesota Twins have placed outfielder Darin Mastroianni on the 15-day disabled list with a stress reaction in his left ankle. Mastroianni injured his ankle on Monday night against the Los Angeles Angels and was a late scratch on Tuesday when he couldn't run on it. He left Target Field in a walking boot and will be replaced on the roster by outfielder Oswaldo Arcia. Arcia...
MINNEAPOLIS (AP) -- Joe Mauer had another four hits and three RBIs to lead the Minnesota Twins to an 8-6 victory over the Los Angeles Angels on Tuesday. Mauer sprayed four singles into the Target Field outfield, making him 8 for 10 in the series through two games and raising his average to .386. Brian Dozier added two hits and two RBIs in his first career game batting leadoff for...
MINNEAPOLIS (AP) -- Joe Mauer had a home run among his four hits and drove in three runs for the Minnesota Twins in an 8-2 victory over the Los Angeles Angels on a cold, windy Monday night that helped send several fly balls to the deepest parts of Target Field. Kevin Correia (1-1) earned his first American League win after finishing seven innings for the third time in as many starts...
The Minnesota Twins have recalled outfielder Oswaldo Arcia from Triple-A Rochester. The move was made before Monday's game against the Los Angeles Angels. Arcia took the roster spot of outfielder Wilkin Ramirez, who was placed on paternity leave after Saturday's game. Players can stay on the list for one to three days. Arcia was batting . 414 with three home runs and eight...
MINNEAPOLIS (AP) -- The Los Angeles Angels and Minnesota Twins have had their series finale at Target Field postponed by rain. The decision was made about 15 minutes before the scheduled start of Wednesday night's game. The Twins won the first two games of the series to drop the Angels to 4-10, matching their worst start in franchise history. The Twins said the makeup date...
MLB News

Delivered to your inbox

You'll also receive Yardbarker's daily Top 10, featuring the best sports stories from around the web. Customize your newsletter to get articles on your favorite sports and teams. And the best part? It's free!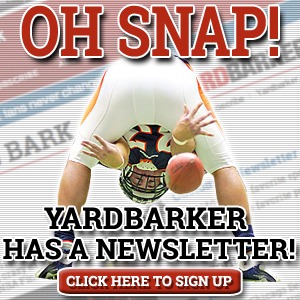 Latest Rumors
The Backyard

Today's Best Stuff

For Bloggers

Join the Yardbarker Network for more promotion, traffic, and money.

Company Info

Help

What is Yardbarker?

Yardbarker is the largest network of sports blogs and pro athlete blogs on the web. This site is the hub of the Yardbarker Network, where our editors and algorithms curate the best sports content from our network and beyond.