Found July 29, 2012 on Fox Sports North:
PLAYERS:
Samuel Deduno
,
Francisco Liriano
,
Justin Morneau
,
Ron Gardenhire
,
Joe Mauer
,
Eduardo Escobar
,
Pedro Hernandez
,
Brian Duensing
,
PJ Walters
,
Scott Diamond
,
Cole Devries
TEAMS:
Minnesota Twins
,
Chicago White Sox
MINNEAPOLIS The inevitable came on Saturday night, just hours after recent Twins call-up Samuel Deduno's seven-inning, two-hit night. It came as the Twins have gained more and more confidence in their young pitchers over recent weeks, but that didn't make it any more of a decision the team wanted to make. It came as the Twins strung together two nights with double-digit runs. They slipped out of last place for the first time since April, but no matter how much less palatable a trade to a division rival might have seemed after those two games, it still made sense. That's the thing about the Twins dealing Francisco Liriano to the White Sox: not only was it a foregone conclusion, but it also seemed to be the right decision. Liriano, who will be a free agent after this season, was making 5.5 million this year. He has a 3-10 record, which the Twins managed to parlay into a something of a positive due to his success in the last two months, and the team sits 13 games out of first place as August looms. The Twins are in sell mode for the first time in years, and general manager Terry Ryan said he was fortunate enough to field offers for Liriano from a good portion of the about 20 teams that still consider themselves contenders. And though dealing Liriano requires the requisite mourning of a good teammate, his inconsistency makes the trade that much easier to swallow. Talking to players and coaches on Sunday morning, it was impossible to avoid the emotions of losing a player who's been a mainstay in the Twins' clubhouse for seven seasons. Justin Morneau, who's played with Liriano since the pitcher debuted, said that in situations like this, when business breaks up friends, it's easy to forget the bad and remember only the good. Regardless, though, the Twins' clubhouse without Liriano will be lacking one of its most standup players. "That's the toughest thing," pitching coach Rick Anderson said. "We love Frankie. He works hard. No problems (with) the way he goes about his trade. We love him. You wish him the best. As a person, as a friend, as a teammate, we're going to miss him." Like Morneau predicted, the high points are looming larger in the immediate aftermath of the trade. The Twins' slugger said that with Liriano's departure, he's reminded of the player he watched in 2006, the dominant AL Rookie of the Year who went 12-3 with a 2.16 ERA. That version of Liriano, the pitcher at his best, was as good as anybody in baseball. "For that stretch when he was healthy, when he was pitching he was the best that I've seen personally," Morneau said. "It was something special and something we'll remember." Manager Ron Gardenhire agreed, citing Liriano's 2011 no-hitter and his 15-strikeout outing on July 13. But increasingly with Liriano, the success came more in flashy glimpses than sustained success, and just more than 12 hours after the trade it's already easier to see and to vocalize his inconsistency and the havoc it wreaked on both Liriano and his team. Anderson admitted that with Liriano the team was "always hoping," crossing its fingers that successful bullpen sessions would translate into consistent games. Sometimes, coaches would bring catcher Joe Mauer to the bullpen for Liriano's throwing sessions to see what he noticed. No matter how much the pitcher was struggling in pressure situations, Mauer would be impressed; he'd say that if Liriano could bring that kind of pitching into games, he could be successful. But somehow, it never quite translated. "See all this gray hair?" Anderson asked, jokingly blaming it on Liriano. "It's frustrating. Not for me; you want the kid to do well. If the kid does well, then we do well ... So it got frustrating, but I know he was more frustrated than we were." When many of the highlights are years old and the struggles are so fresh, trades like this one become easier. Liriano leaving still overshadows what the Twins received -- two prospects, Eduardo Escobar and Pedro Hernandez -- and that's how it should be for a player who was such an integral part of a team for so long. But soon, the Twins will have to move on. Liriano will likely start for the White Sox on Monday when they face the Twins at Target Field, so a shift in perspective needs to happen -- now. The trade deadline still looms on Tuesday, and with the Twins' current record, more moves wouldn't be a stretch. "This is something that happened that is a process," Gardenhire said. "We've put our general manager in this situation because of our performance. Terry has to do what he has to do to right this organization and bring more talent to it. He's been in a situation where he's kind of stepped in here and because of our play and lack of it has put him in this situation. So he's trying to do what's right and get us back on the right track." Ryan would not give the details of where the Twins stand in terms of further moves, but he acknowledged that the team might not be finished if a proposed move makes sense. With Liriano gone, the Twins moved Brian Duensing into the starting rotation on Sunday for the second time in 2012, this time for a spot start. They also promoted pitcher Jeff Manship from Triple A after placing P.J. Walters on the 60-day disabled list. Going forward, the team will have to lean more heavily on the young pitchers it's promoted from Triple A this year. It's not a perfect plan, but for a team with some surprising young starters and that's driven itself far from contention, it's the most logical option. Despite his stint in the bullpen, Liriano had still started more games, 17, than any other Twins pitcher due to the injuries and promotions within the starting lineup. However, the five-man rotation that the Twins began the season with went a combined 11-25 through Saturday, while Scott Diamond, Cole De Vries, Deduno and Walters have a combined 15-8 mark. No matter how good those pitchers have been, going forward the focus will be more on their development into consistent starters than anything else. The shutouts and efficient outings are perks, but these players are still proving themselves. They can be the Twins' future, and with the Liriano trade, the focus on that future is intensifying a few months early. Follow Joan Niesen on Twitter.
Original Story:
http://www.foxsportsnorth.com/07/29/1...
THE BACKYARD
BEST OF MAXIM
RELATED ARTICLES
With their playoff chances looking ever brighter and a roster full of young, inexperienced players, the White Sox are up for the challenge. Now, Francisco Liriano must turn their challenge into his opportunity. When the White Sox traded for Liriano on Saturday, they knew they weren't getting a polished starter guaranteed to win them a chunk of games down the stretch. They were...
When Francisco Liriano takes the mound Tuesday night in Minnesota, he'll be coming out of the visiting clubhouse for the first time in his career. Acquired by the Chicago White Sox over the weekend, Liriano squares off against his former Twins teammates as these AL Central rivals continue a three-game set. In an attempt to bolster its starting rotation, division-leading Chicago...
MINNEAPOLIS The Minnesota Twins traded pitcher Francisco Liriano to the Chicago White Sox on Saturday, acquiring shortstop Eduardo Escobar and left-handed pitcher Pedro Hernandez, who will both be assigned to Triple-A Rochester. Liriano has played his entire big-league career with the Twins, dating back to 2003 when the team acquired him from the San Francisco Giants. He's...
GM Terry Ryan pulled the trigger Saturday on the trade everyone saw coming, moving LHP Francisco Liriano to the Chicago White Sox for infielder Eduardo Escobar and LHP Pedro Hernandez. That doesn't mean he's done dealing. Teams have until 3 p.m. CDT Tuesday to trade players without sending them through waivers. Ryan called the run-up "my most important time of the...
The Chicago White Sox have acquired left-hander Francisco Liriano from the Chicago White Sox for shortstop Eduardo Escobar and pitching prospect Pedro Hernandez. The AL Central-leading White Sox Tweeted the news late Saturday night after the Twins beat the Cleveland Indians and Chicago won in Texas. Liriano was an All-Star in 2006 and was expected to be one of the Twins' top...
The Cleveland Indians continue to fall off pace in the AL Central amid a frustrating series against the Minnesota Twins. On the bright side, they won't have to face Francisco Liriano in the finale of the three-game series Sunday when they try to avoid a sweep. Liriano was scheduled to pitch before the Twins dealt him to Chicago late Saturday night for shortstop Eduardo Escobar...
A sweep in Texas would have been nice Sunday night, but the Chicago White Sox lost 2-0 as Rangers RHP Scott Feldman pitched eight shutout innings. The Sox couldn't feel bad about taking two of three from the Rangers, as well as going 6-3 against the defending American League champions this season. And when they arrive in Minnesota for a three-game series, the Sox will welcome...
Kenny Williams made another puzzling move when he dealt infielder Eduardo Escobar and left-hander Pedro Hernandez to to the Twins for starter Francisco Liriano. The White Sox have long been questioned for the depth of their farm system and now he has made two deals surrendering five prospects. What's more, I'm not exactly sure how he has gotten better. Liriano presumably...
Kenny Williams reportedly worked his tail off to land Zack Greinke from the Brewers this week. The AL Central is up for grabs and the White Sox and Tigers have gone back and forth for the division lead in recent weeks. Greinke would have solidified the White Sox hold on the division by giving them another top starter to go along with Chris Sale and Jake Peavy. Williams was so entrenched...
MAKING MOVES
The White Sox weren't able to get Zack Greinke from the Brewers, but they pulled off a trade for Francisco Liriano from the Twins.
53-48, 2nd place, 2.5 games back. Keeping it short and sweet for the W… - Sanchez threw only 4 balls in the first 3 innings yesterday. - White Sox continue to beat up on Texas (5-0 vs. them this year), as they won their 5th straight yesterday, and they acquired Francisco Liriano from the Twins. Today's It's Okay to Bat Rayburn Once Per Week Against Lefty's Though 6th is...
Last Thursday, The Common Man expressed his trepidation that the Twins were positioned to truly make this a disastrous trade deadline.  With the trade of Francisco Liriano to the White Sox, that's well underway. Admittedly, Liriano is a uniquely frustrating pitcher.  When he's on, Liriano has three plus-plus pitches in his fastball, changeup, and slider, and is capable of...
MLB News

Delivered to your inbox

You'll also receive Yardbarker's daily Top 10, featuring the best sports stories from around the web. Customize your newsletter to get articles on your favorite sports and teams. And the best part? It's free!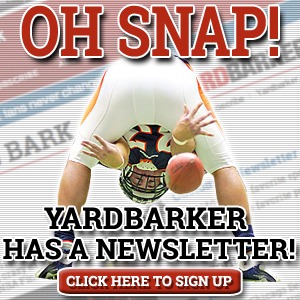 Latest Rumors
The Backyard

Today's Best Stuff

For Bloggers

Join the Yardbarker Network for more promotion, traffic, and money.

Company Info

Help

What is Yardbarker?

Yardbarker is the largest network of sports blogs and pro athlete blogs on the web. This site is the hub of the Yardbarker Network, where our editors and algorithms curate the best sports content from our network and beyond.