Found April 01, 2013 on Phillies Nation:
PLAYERS:
Chase Utley
,
Cole Hamels
,
Tim Hudson
,
Ben Revere
,
Jimmy Rollins
,
Ryan Howard
,
Michael Young
,
Dan Uggla
,
Justin Upton
,
Chad Durbin
,
Cliff Lee
,
Paul Maholm
TEAMS:
Philadelphia Phillies
,
Atlanta Braves
Utley got off on the right foot in the Phillies loss. (AP) A near-cycle from Chase Utley wasn't enough to overcome a shaky start from Cole Hamels as the Braves held off the Phillies, 7-5. UTLEY UNLOADS ON OPENING DAY -What a day for Chase Utley. In the fourth, Tim Hudson tossed a sinker that hung up in the zone and Utley tagged it to dead center field, over 400 feet away for the first homer of the season for the Phillies. -In the fifth, Utley slapped a single to right that scored Cole Hamels and Ben Revere, moving the Phillies to within a run at 4-3. Beyond the single, Utley came hard out of the box and advanced to second base on the throw that went to third, where Jimmy Rollins had advanced on the hit. -In the seventh, Utley tripled on a wormburner through the right-center gap. Really, it should have been a double, but Utley ran like his ass was on fire and made it just ahead of the throw. Ryan Howard sent him home on a ground out. Utley would finish 3-for-5 with three RBI. -The of...
Original Story:
http://philliesnation.com/archives/20...
THE BACKYARD
BEST OF MAXIM
RELATED ARTICLES
It is more than the first series of 2013 for the Philadelphia Phillies and Cole Hamels.  These contests are 3 of the 38 most important battles that will determine serious October baseball in Philly. TAL'S HANDY CAPS WELCOME, NEWCOMERS: By design my articles represent a baseball man's thinking, the view from the dugout and the GM's box. Most fans do not consider the budget...
Categories: BREAKING NEWS News PhilliesTags: Ben RevereChad DurbinChase UtleyCole HamelsPhilliesFor the first time in his career, Cole Hamels stepped on the mound on Opening Day with hopes of shutting down the Atlanta hitters and getting his team off to a fast start in the new season. Unfortunately, he was very "un-Hamels like" tonight. The 29-year old pitcher did not have...
W: Avilan (1-0, 0.00 ERA) L: Hamels (0-1, 9.00 ERA) SV: Kimbrel (1) Chase Utley hit his 200th career home run and was a double shy of baseball's first Opening Day cycle since 1950, but his impressive 2013 debut was not enough to get the Phillies started on the right foot in Atlanta. Cole Hamels allowed three home runs in a 7-5 Opening Day loss to the Braves. Braves...
Are you a struggling blogger who could use some free pageviews? Have a post you've been busting your ass on that deserves …
Philadelphia Phillies vs. Atlanta Braves Cole Hamels vs. Tim Hudson Time: 7 PM, Turner Field TV: PHL 17, ESPN Weather: Clear, 62 Media: Twitter and Facebook Baseball is back. Be excited. The 2013 season kicks off against the division rival Atlanta Braves, a team the Phillies will certainly be jockeying with for position in the playoff race. But for tonight, it's just game one...
Happy Opening Night, Phillies fans! Cole Hamels was your Opening Night starter tonight for the first time in his career. Hamels faced Tim Hudson on the mound. Atlanta hopped ahead to an early 2-0 lead in the bottom of the first inning. With Jason Heyward on base, Freddie Freeman brought...
Categories: BREAKING NEWS News PhilliesTags: PhilliesStarting Pitchers Cole Hamels: The ace of the staff. He's been sharp through out Spring Training, and should be primed for another big season. Also, he's grown one heck of a mustache. Cliff Lee: The team hopes the lefty will bounce back from a disappointing 2012 campaign and become a dominant anchor in the rotation once...
Revere had the at-bat of the night against Tim Hudson. Can he keep it up? (AP) For a second, forget about Chase Utley spraying line drives all over (and out of) Turner Field last night.  It was a satisfying sight, for sure.  But equally fulfilling was the sight of Tim Hudson, prior to Utley's two-run single, laboring in the fifth inning. Hudson threw 90 pitches to 21 batters...
It's finally here Phillies fans. The Phillies will actually be playing baseball tomorrow. They have been playing all spring but these games will actually count! It has been a long off season since the Phillies did not make the playoffs and was the first time since 2007. Cole Hamels will be getting the start for the Phillies tomorrow night against the Atlanta Braves.  It is his...
Philadelphia Phillies (0-0) @ Atlanta Braves (0-0) Pitching Match-Ups:Monday, 7:00 Cole Hamels vs. Tim HudsonWednesday, 7:10 Roy Halladay vs. Paul MaholmThursday, 7:10 Cliff Lee vs. Kris MedlenSurprise Roster Spots:Phillies- Ender Inciarte, the Rule 5 pick, out of the Diamondbacks organization will begin the season as their 5th outfielders, despite never playing above Single-A. Braves...
Freddie Freeman drove in three runs with three hits, including the first of three Atlanta home runs Monday night, and the Braves beat Cole Hamels and the Philadelphia Phillies 7-5 on opening day. Dan Uggla and Justin Upton, making his Braves debut, also homered for Atlanta, which led National League teams with 49 in spring training. Hamels (0-1) struggled in his first opening day...
by "Cakes" FisherPhiladelphia CorrespondentRyan Howard, Photo: hj_west, Flickr.comThe Phillies open their 2013 season in the heart of Dixie as they take on the Braves in a three game series starting April 1st at Turner Field in Atlanta. Taking the mound for the first time on opening day in the Roy Halladay Era will be the sunny southpaw from San Diego, Cole Hamels. Cole...
MLB News

Delivered to your inbox

You'll also receive Yardbarker's daily Top 10, featuring the best sports stories from around the web. Customize your newsletter to get articles on your favorite sports and teams. And the best part? It's free!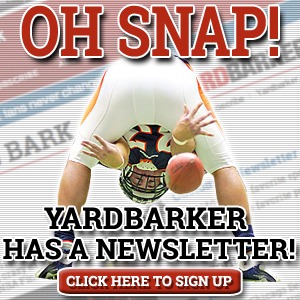 Latest Rumors
Best of Yardbarker

Today's Best Stuff

For Bloggers

Join the Yardbarker Network for more promotion, traffic, and money.

Company Info

Help

What is Yardbarker?

Yardbarker is the largest network of sports blogs and pro athlete blogs on the web. This site is the hub of the Yardbarker Network, where our editors and algorithms curate the best sports content from our network and beyond.