Found April 04, 2013 on Fox Sports Detroit:
PLAYERS:
Jose Valverde
,
Scott Boras
,
Jim Leyland
,
Raul Ibanez
,
Al Alburquerque
,
Brian Wilson
,
Bruce Bochy
TEAMS:
Detroit Tigers
,
Seattle Mariners
,
Washington Nationals
,
San Francisco Giants
,
New York Yankees
Now that Jose Valverde has signed a minor-league contract with the Tigers, the obvious question is: When will Papa Grande be back as the closer? The obvious answer is: When he can once again command his out-pitch, the split-fingered fastball at Triple-A Toledo. Valverde lost the ability to throw the splitter effectively late last season and became a one-pitch guy. However, FOX Sports Detroit Tigers analyst Rod Allen said the clubs scouting report on Valverde sounds as if hes gotten his repertoire back in order. His velocity is a little better, Allen said during Thursdays game telecast from Minneapolis. And he threw some split-fingered fastballs that were very good. Valverde repotedly is throwing mid-90 mph fastballs back home in the Dominican Republic. Allen went on to say that Valverde, 35, has lost weight and gotten into good shape. Hes hungry, Allen said. We shall see. Valverde saved 110 games for Detroit the last three years, including a club-record 49 without a blown save in 2011. Hes certainly worth a look-see with the closer-by-committee approach hardly making anyone feel secure. The Tigers can say that Phil Cokes blown save Wednesday in Minnesota didnt influence the decision on Valverde, who they've been talking about with agent Scott Boras for over a week. But the timing of the signing was not a coincidence in that regard. Tigers manager Jim Leyland and general manager Dave Dombrowski fully realize that an effective closer is all this club lacks. But they cant be too patient with Valverde if the splitter isnt splitting. Raul Ibanez of the New York Yankees crushed a Valverde splitter that din't break downward -- in essence a fastball down the pipe -- and tied Game 1 of the 2012 ALCS at Yankee Stadium. That was the end of Valverde as a credible closer. Having also blown the lead in Game 4 of the ALDS in Oakland a few days before deemed him unusable in that role. Valverde must go to extended spring training in Lakeland, Fla., and get his pitches and command down before getting a shot at closing for the Toledo Mud Hens. If he looks effective at Toledo, Valverde comes back to Detroit to attempt to close games. If he works out, Dombrowski told reporters hes already discussed the parameters of another contract with Boras. Detroit would be glad to pay good money again for a good Valverde. He made 9 million last year. Were trying to get better however we can, Dombrowski told FOX Sports Detroits John Keating of the signing. Valverde has a May 5 opt-out of the minor-league contract if hes not recalled to Detroit by then, which makes the deal low-risk financially. What do the Tigers do if Valverde remains a gopher-ball machine? They either hope somebody like Al Alburquerque shakes out of the committee as a confident closer, trade with a team such as the Washington Nationals (they have a closer surplus) or wait on Brian Wilson. Wilson is throwing again one year after his second Tommy John surgery, and Scott Miller of CBSSports.com quoted a source as saying Wilson will not throw for teams until hes 100 percent. He was listed at 80 to 85 percent one month ago and several weeks away from signing. If Wilson can still bring it, he becomes a great option for Detroit. But they might have to beat out his old team, San Francisco, because Giants manager Bruce Bochy hasn't ruled out going after his old reliable. One things for certain: Papa Grande is going to get a shot.
Original Story:
http://www.foxsportsdetroit.com/mlb/d...
THE BACKYARD
BEST OF MAXIM
RELATED ARTICLES
After the Detroit Tigers' short-lived and frightening (if you're a Tigers fan at least) experiment with the closer by committee approach, the team went out and signed Jose Valverde.  Papa Grande will likely eventually be added to the 25-man roster, but for now the deal is of the minor league variety. Jose Valverde has signed a minor-league contract w/ the Tigers. —...
The Detroit Tigers and former closer Jose Valverde have agreed to terms on a minor-league contract. Tigers general manager Dave Dombrowski made the announcement before Thursday's game at Minnesota. Valverde is a three-time All Star who led the AL with 49 saves in 2011 but wasn't as effective in 2012. He struggled badly in the postseason, allowing 11 hits, nine runs and...
A 3-game series has come and gone for the Detroit Tigers. And in classic Motor City fashion, fans are abuzz over what they just saw. Losing 2 of 3 to the measly Twins simply shouldn't happen. Jose Valverde Questions that have already arisen from a fairly insignificant series in early April include: Will the Tigers stink on the road again, thus preventing them from pulling away...
After finishing the 2012 season on a sour note, the Tigers may give former closer Jose Valverde a chance to redeem himself in 2013. Although Valverde had 35 saves during the regular season, he blew two during the Tigers' playoff run and was removed from the role in favor of a closer-by-committee approach. A free agent after the season, Valverde had been unable to find work despite...
The Detroit Tigers have agreed to a one-year contract with reliever Jose Valverde, who is expected back with the team Wednesday. And manager Jim Leyland says Valverde will be Detroit's closer immediately. Valverde was the Tigers' closer the last three years, but the team was prepared to let him leave as a free agent after he faltered during the 2012 postseason. But he never...
The man they call "Papa Grande" is on his way back to Detroit. Well, maybe. Jose Valverde, the 2011 MLB Delivery Man of the Year, was signed to a minor league deal by the Tigers on Thursday. Valverde was released following a disastrous 2012 postseason which saw him concede the closer's role to lefty reliever Phil Coke. Valverde only pitched 2.2 innings in the Tigers' run...
The Detroit Tigers maintained all offseason that they did not have any interest in bringing back former closer Jose Valverde. On Thursday the team announced a minor league deal for the 35-year-old. Valverde had a down year in 2012. Despite 35 saves, Valverde had a 3.78 ERA and a 1.25 WHIP. Both numbers were his worst since 2006. If Valverde cannot make it to the majors by May 5th...
The Detroit Tigers signed Jose Valverde to a minor-league contract on Thursday, one day after Phil Coke blew a save in a 3-2 loss to the Twins. Valverde's contract includes an out-clause, which triggers on May 5 — if Valverde is not with the Tigers by then, he can void his deal and become a free agent again. But according to GM Dave Dombrowski, the Tigers will "figure out pretty...
He'll make you feel good and bad and happy and sad. But mostly just sad. And mad. And glad...you don't own him. I'm talking, of course, of Jose Valverde. Motown just can't resist the temptations of signing Papa Grande. Smokey just went over all the fantasy baseball closers. There's $12 Salads. There's Donkeycorns. There's Brain Freezes. There...
The Detroit Tigers signed their former closer Jose Valverde on Thursday to a minor league deal, he will report to Lakeland, Fla. "We love Papa Grande. He's been fantastic for this organization," general manager Dave Dombrowski said today via The Detroit Free Press. "He's been fantastic as a person. We saw a little fall-off last year, and it wasn't just during the postseason...
All offseason long, the Detroit Tigers denied interest in re-signing free-agent closer Jose Valverde. Every other team in baseball also effectively denied interest in signing Valverde. The Tigers did next to nothing to address their closer situation, and on Wednesday, Phil Coke blew a save against the Twins. Thursday, the Tigers signed Valverde, albeit to a minor-league contract...
MLB News

Delivered to your inbox

You'll also receive Yardbarker's daily Top 10, featuring the best sports stories from around the web. Customize your newsletter to get articles on your favorite sports and teams. And the best part? It's free!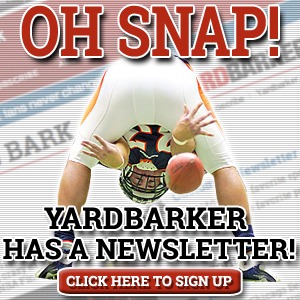 Latest Rumors
The Backyard

Today's Best Stuff

For Bloggers

Join the Yardbarker Network for more promotion, traffic, and money.

Company Info

Help

What is Yardbarker?

Yardbarker is the largest network of sports blogs and pro athlete blogs on the web. This site is the hub of the Yardbarker Network, where our editors and algorithms curate the best sports content from our network and beyond.