Found February 14, 2013 on Bush League Chronicle:
The Washington Nationals had their practice interrupted on Thursday after a large bird dropped a fish onto the field. Newly acquired outfielder Denard Span spoke about the unusual occurrence in this video clip, courtesy of The Washington Post.Apparently, the bird, which is believed to be an osprey, soared over the field while clutching something in its talons. As it flew over center field, the bird had a case of butterfingers and dropped what players soon realized to be a fish onto the grass."As it closer we could tell it was a fish, or some type of animal from the water," said Span, who was startled by the bird. "And then he dropped it. And that's when everyone huddled around the fish and started looking up and it was entertaining."According to a witness, the bird then began circling the field, perhaps weighing the risk of reclaiming its lost meal. That's when Span allegedly started screaming and making noises at the bird to discourage it from returning."I kept thinking, that's his dinner. That's his food. As I was looking down at the fish, I didn't want him to think that I was trying to take his dinner and have the bird come from behind me or come from the sky and try to attack me. I kept my head on a swivel and made sure the bird didn't catch me slipping."Span, who played last season for the Minnesota Twins, admitted to being terrified of fish and birds during the interview. He then went on to say that the only creature that he is probably not scared of is an ant. Of course, he may have been exaggerating a bit there.Via DC Sports Blog
Original Story:
http://www.theblcblog.com/2013/02/was...
THE BACKYARD
BEST OF MAXIM
RELATED ARTICLES
Long story short: Ryan Zimmerman got married in January, and went to South Africa on his honeymoon. Nats fan and Photoshop aficionado Allan Petersen (@ambp77) created a series of Ryan Zimmerman-on-African-Safari-Honeymoon-themed photoshops. Ross Detwiler noticed, and (on Twitter) vowed to decorate Zim's locker with said photoshops when he got to spring training. And Detwiler...
Bryce Harper is already issuing gems for today's diehard fan, he's 230 pounds and he's ready to wreck baseballs. This quote caught our eye, and it's why we've loved Harper from the start. You know he means it when he says: "I'm still 20," he said. "I'm still young. I'm going to treat every guy on our team with respect, going to treat every guy in the other dugout...
Biggest news out of Nationals camp today? Jordan Zimmermann and the Nats avoiding arbitration by signing a one year deal? Raffy clearing up his visa issues and being cleared to leave the Dominican Republic? No and No. The answer: Ian Desmond's mustache, of course. And the stache is staying a while, confirms @IanDesmond20: (Screencap above via this CSNWashington.com...
SO LONG
R.I.P. Danny Espinosa's beard. Video of Danny shaving his beard via MLB.com. We hardly knew ya. At least we still have Ian Desmond's mustache and Jayson Werth's beard. Befriend Nats Enquirer on Facebook. Follow on Twitter.
And so, while you're sitting around fretting about Gio's drug test and Raffy's visa issues, enjoy the video above (via CSNWashington.com) in which Bryce Harper talks about the state of DC sports with the assembled media in Viera today. He got chills: "People out there at our games, all the support we have in DC, you saw it in the postseason last year, you saw...
Adding 10 pounds of muscle in the offseason, Washington wunderkind Bryce Harper is determined to dominate the diamond and help lead the Nationals to the "World Series" this autumn. "There are [personal] goals in my head, but I'm not going … Continue reading →
Normally in spring training the only things that fall from the sky are fly balls; however, the Washington Nationals witnessed the unusual…..a falling fish. Apparently, a hungry bird made an error, dropping the fish onto the ball field. Practice was interrupted as the bird continued to circle as center fielder Denard Span worried about being [...]
Is this Mike Trout sending a message to second-year compatriot Bryce Harper, ala mob bosses of old? Or are the ospreys in Florida unhappy about the way the Nationals finished last season? Motive is hard to judge in this case, but at least this much is known: A bird flying over the Washington Nationals' spring training practice Thursday in Viera, Fla., dropped a fish onto the field...
From 2009-2011, Ian Desmond hit 22 homers in 1,302 plate appearances. In 2012 he hit 25 in just 547. What changed? For starters, Desmond's fly ball rate corrected a two-year slide, rebounding to 34.5%, and he made those fly balls count, muscling 18.2% of them over the fence. It'll be interesting to see what he can do for an encore.Contributing to Desmond's breakout from borderline...
 They called him The Chief.  Chad Cordero was the first star of the Washington Nationals.  2005, the Nats inaugural season in the Nations' Capitol, saw him lead the National League with 47 saves, buoyed by a 0.969 WHIP.  However, by 2007, arm troubles beset the likable reliever, and by age 28, his career was over. Nearing his 31 birthday, Cordero, according to Los...
In baseball, they say you can never have too much pitching. The Yankees seem to be taking that to heart. According to George King of the New York Post, the New York plans on sending scouts to watch Chien Ming Wang pitch for Taiwan in the World Baseball Classic. Billy Connors, who used to serve as a vital part in developing pitching within the organization for the last 20 plus...
MLB News

Delivered to your inbox

You'll also receive Yardbarker's daily Top 10, featuring the best sports stories from around the web. Customize your newsletter to get articles on your favorite sports and teams. And the best part? It's free!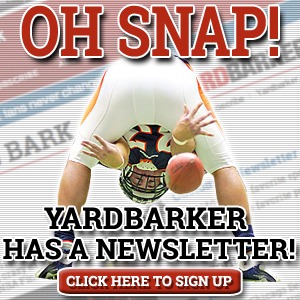 Latest Rumors
Best of Yardbarker

Today's Best Stuff

For Bloggers

Join the Yardbarker Network for more promotion, traffic, and money.

Company Info

Help

What is Yardbarker?

Yardbarker is the largest network of sports blogs and pro athlete blogs on the web. This site is the hub of the Yardbarker Network, where our editors and algorithms curate the best sports content from our network and beyond.