Found April 05, 2013 on Nationals Enquirer:
So Bryce Harper had a fairly nasty collision with Marlins catcher Rob Brantly in the first inning on Thursday in the process of scoring on a double by Ryan Zimmerman  (video here). Screen cap of the aftermath above, via MASN. It sort of looked like Brantly threw an elbow to Harper's chin: Anyway, a day after Gio Gonzalez delivered an early candidate for quote of the year, Jayson Werth followed up with another candidate. Here's Werth on the collision, via Amanda Comak of the Washington Times: "I actually didn't think it was that bad, but the way he reacted, I thought he got shot or something. So I wanted to make sure the little guy was all right." (Jayson Werth, via Washington Times, 4/5/2013) Davey Johnson said in his postgame presser he wasn't concerned at all because there wasn't any blood. [Insert your own Harper hitting himself in the head with his bat joke here.] (Screen caps via MASN/TV) Befriend Nats Enquirer on Facebook. Foll...
Original Story:
http://feedproxy.google.com/~r/typepa...
THE BACKYARD
BEST OF MAXIM
RELATED ARTICLES
CHALLENGE ME TO A DUEL?
It's pretty safe to say that Bryce Harper is a breakout star, right?  I mean, the Washington Nationals wunderkind broke out in a huge way last season and, so far this season, doesn't appear to want to quit. But, it's his older brother Bryan, a pitcher with the Nats Class A affiliate Hagerstown, that's turning heads...but it has nothing to do with his pitching skills...
TAKE A BOW
In the top of the seventh inning of the Nationals-Reds game, Washington right fielder Jayson Werth hit a solo homer off of Sam LeCure, his second of the season. That's not the real story of this play. The homer, hit to right center field at the Great American Ballpark, was caught by a fan using his left hand, while cradling his child in his right arm. We've seen this happen...
And so, in addition to Zeppelin's 'Dazed and Confused',  Jayson Werth is now using Warren Zevon's 'Werewolves of London' as one of his walkup songs for 2013. There's not much else to say about this development, beyond saying that it is perfect and fabulous and amazing. Video above via reader @andrewtabs. Thanks also to @dannyo1084, who posted another...
So Jayson Werth appears to be locked in early on...crushed his second home run of the season in the 7th inning of Saturday's 11 inning, 7-6 win. Even more impressive than Werth's blast? The ball was caught one-handed by a guy holding a baby. Befriend Nats Enquirer on Facebook. Follow on Twitter.
The Nats took care of business today, sweeping the Marlins on the strength of yet another strong start, scoreless relief and the longball. That's three wins in a row to start the season, and, thankfully, they didn't lose baseball's most exciting player to a broken jaw either (via DC Sports Nexus): Now, I'm not sure how bad that looks to you, because the GIF is clipped pretty...
Your browser does not support iframes. A fan made an impressive catch of Washington Nationals outfielder Jayson Werth's home run during the seventh inning of Saturday's game at Great American Ball Park in Cincinnati, as the fan caught it barehanded with his left hand while carrying his young son in his right hand. Very impressive. The Reds might want to sign this guy...
While Bryce Harper is tearing up the MLB, his older brother Bryan and his unbelievable mustache are dominating at life.
Washington Nationals outfielder Jayson Werth has one of the most recognizable beards in sports. If he ever signed a contract with the New York Yankees and had to shave, the amount of people who are able to identify Werth would probably decrease by at least 75%. That's why the at-bat music he has been using during the Nats' opening series of the year against the Miami Marlins...
Bryce Harper may or may not be ready to be the MVP for the Washington Nationals, but one thing is certain: He's already living the MVP lifestyle.  Fresh off of tearing up Spring Training and homering not once but twice on Opening Day, a 2-0 Nats victory, Harper was on the guest list for a pre-screening of '42' at the White House on Tuesday night, hosted by Mrs. Michelle...
For Nats phenom Bryce Harper, life is sweet. He's young, rich, adored by millions, and, best of all, has a lifetime supply of burritos from Chipotle Mexican Grill. In Washington's first game of the season Harper smacked a pair of dingers against the Marlins, a taste of what's to come for the 2013 season. Harper's latest adventure living the good life had him at the White...
It's always been on my sports bucket list to see Bryce Harper hit a home run live while I was at the park. Just 144 career games and 25 home runs into his big league career, I can cross it off my list. It never would have been made possible without the help of Mike Leake. Mike, we salute you. Also, some scout somewhere should be fired for giving Reds his blessing to draft this...
Think back 10 years. What do you remember about the MLB? I remember stars all over the place. Bonds, Sosa, McGwire, Nomar, Clemens, and A-Rod just to name a few. Albert Pujols was beginning his 3rd season. Miguel Cabrera was about to splash on the scene as a skinny leftfielder for the Marlins. But just a few years later, something happened and these stars were gone. Bonds, Sosa,...
Nationals News

Delivered to your inbox

You'll also receive Yardbarker's daily Top 10, featuring the best sports stories from around the web. Customize your newsletter to get articles on your favorite sports and teams. And the best part? It's free!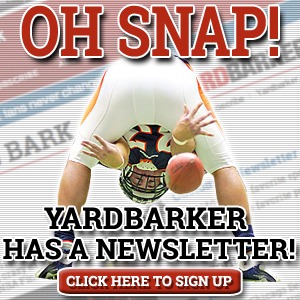 Latest Rumors
Best of Yardbarker

Today's Best Stuff

For Bloggers

Join the Yardbarker Network for more promotion, traffic, and money.

Company Info

Help

What is Yardbarker?

Yardbarker is the largest network of sports blogs and pro athlete blogs on the web. This site is the hub of the Yardbarker Network, where our editors and algorithms curate the best sports content from our network and beyond.