Found May 21, 2012 on Bronx Pinstripes:
PLAYERS:
Dellin Betances
,
CC Sabathia
,
Phil Hughes
,
Ivan Nova
,
David Phelps
,
Manny Banuelos
,
Adam Warren
,
D.J. Mitchell
,
Hiroki Kuroda
,
Andy Pettitte
,
Cole Hamels
,
Zack Greinke
,
Joba Chamberlain
TEAMS:
New York Yankees
,
Philadelphia Phillies
,
Milwaukee Brewers
  <a href="http://NYYUniverse.com/wp-content/plugins/wordpress-feed-statistics/feed-statistics.php?url=aHR0cDovL05ZWVVuaXZlcnNlLmNvbS9taW5vci1sZWFndWVzL3doYXQtdG8tZG8td2l0aC1kZWxsaW4tYmV0YW5jZXMvYXR0YWNobWVudC9kZWxsaW4tYmV0YW5jZXMtNTQweDM2MC8=" rel=\"attachment wp-att-6645\">Dellin Betances' command problems may have him ticketed for the bullpen someday (Photo: Bronx Baseball Daily) Not long ago, Dellin Betances was considered to be one of the two best pitching prospects in the Yankees system, and perhaps even one of the best in all of baseball. He earned a September call-up with the Yankees last season, making two appearances, including one start. Despite a decent ERA (3.70) and batting average against under .220 between Trenton and Scranton/Wilkes-Barre in 2011, some of the more advanced statistical numbers should have shown warning signs ahead – warning signs that are now very, very evident even to the casual fan that has seen Betances pitch. After a lights-out 2010 campaign, Betances solidified himself as a top prospect in the Yankees organization. He appeared to continue that dominance throughout 21 starts at Trenton, but a deeper look into his numbers suggests he wasn't as great as he seemed. Opponents hit just .219 off him, and he struck out more than a hitter an inning. However, Betances also averaged over two and a half walks per start, and his WHIP wound up at 1.34. The lack of control may have been a concern, but Betances was still promoted in mid-August to Scranton/Wilkes-Barre. In four starts there, Betances struggled to say the least, going 0-3 with a 5.14 ERA. Opponents were limited to hitting just .208 against him, but again his WHIP was high, this time coming in at 1.47 as he walked almost four batters per start. Despite his struggles in Scranton, Betances earned a September call-up for the Yankees to see what their star prospect could do. In his two appearances, Betances' struggles with his control were more than noticeable. His big league debut was horrendous to say the least, walking four batters and throwing 20 of his 27 pitches for balls in just two-thirds of an inning. His second appearance, and first major league start, was a little better – Betances went two innings allowing a hit and two walks, but the control problems persisted. Many thought Betances would be able to challenge for a bullpen spot this season, but that wasn't going to be in the cards after the control issues shown at the big league level. As he entered 2012, Betances surely knew that he had to work to improve his control. At 6'8, 260 pounds, there is certainly a lot of moving parts contributing to his pitching motion that are harder to control, a problem which many taller pitchers have struggled with during their careers (see Brackman, Andrew). I think many expected there to be at least some improvement on the control front, but unfortunately, it just hasn't been there. Through nine starts for Scranton/Wilkes-Barre this season, Betances has been wild to say the least. After losing on Sunday, he's now 2-4 with a 5.24 ERA, and has allowed 39 hits in 44.2 innings pitched. But the real damning number is that Betances is now up to 38 walks – almost a walk per inning. His WHIP is now sitting at 1.72, and he leads the International League in walks. Betances is working on some mechanical tweaks with pitching coach Scott Aldred, but is it enough to save his future as a starter? Right now, the Yankees have C.C. Sabathia, Phil Hughes, Ivan Nova, and David Phelps all under contract for next season. They have Manny Banuelos sitting in Triple-A putting the finishing touches on his arsenal, but he should be ready to enter the rotation next season. They have Adam Warren and D.J. Mitchell – older than a typical prospect, but a pair of very good starters for Triple-A. And that doesn't even encompass impending free agents Hiroki Kuroda and Andy Pettitte, or potential free agents Cole Hamels or Zack Greinke. So for the 24-year old Betances, the road to the Yankees rotation could become very difficult, to say the least. At this point, one has to wonder if the Yankees wouldn't be wise to consider a move to the bullpen for him, to see how he sticks as a reliever. With his electric stuff, Betances would likely transition well to the bullpen. Either way, considering the potential logjam for a rotation spot and the control problems that have plagued him, the Yankees might be wise to make the shift to the bullpen happen now. And if they do make the shift, they would be wise to commit to it completely, not bounce Betances back and forth, a la Joba Chamberlain – we've already seen how that show plays out.
Original Story:
http://NYYUniverse.com/minor-leagues/...
THE BACKYARD
BEST OF MAXIM
RELATED ARTICLES
Donnie Collins of the Scranton Times-Tribune tweeted a few minutes ago that the Scranton/Wilkes-Barre Yankees have placed both Manny Banuelos and Eduardo Nunez on the disabled list. For Banuelos, the move is retroactive to Saturday, while Nunez's move is retroactive to Sunday. Nunez has been dealing with a thumb issue. The reason for Banuelos hitting the DL is unknown, though it...
<a href="http://NYYUniverse.com/wp-content/plugins/wordpress-feed-statistics/feed-statistics.php?url=aHR0cDovL05ZWVVuaXZlcnNlLmNvbS9taW5vci1sZWFndWVzL21pbm9ycy13cmFwLXVwLXNlZ2VkaW4tZXh0ZW5kcy1oaXQtc3RyZWFrLXRvLW5pbmUtaW4tdGFtcGEtdmljdG9yeS9hdHRhY2htZW50L3NlZ2VkaW4tYmF0dGluZy8=" rel=\"attachment wp-att-6592\">Rob Segedin was able to extend his hitting streak...
Dropped as low as seventh in the batting order for the first time in eight years, Mark Teixeira didn't think it would make much a difference on what pitches he'll see. ''I'm still Mark Teixeira,'' the New York Yankees first baseman said. ''I still put up some pretty good numbers in my career, so I don't think they're going to just start...
OH YEAH, BROTHER!
A Hulk Hogan look-a-like attended Sunday's New York Yankees game against the Cincinnati Reds, enjoying himself by posing for pictures with the fans. Your browser does not support iframes. The fan did bear a resemblance to Hogan with the blond hair and mustache and wearing a similar yellow bandana, wristbands and tank top. However, he wasn't in quite as good shape as the...
<a href="http://NYYUniverse.com/wp-content/plugins/wordpress-feed-statistics/feed-statistics.php?url=aHR0cDovL05ZWVVuaXZlcnNlLmNvbS9nYW1lLWRheS95YW5rZWVzLWdhbWUtMzMtbGluZXVwLTA1MTIxMi9hdHRhY2htZW50L2h1Z2hlcy0zLw==" rel=\"attachment wp-att-6114\">The Yankees will send right-hander Phil Hughes to the mound tonight for game two of a three-game set vs. the Royals...
<a href="http://NYYUniverse.com/wp-content/plugins/wordpress-feed-statistics/feed-statistics.php?url=aHR0cDovL05ZWVVuaXZlcnNlLmNvbS9taW5vci1sZWFndWVzL21pbm9ycy13cmFwLXVwLW1vcmUtaW5qdXJpZXMtZm9yLXRyZW50b24vYXR0YWNobWVudC9kYW4tYnJld2VyLTc5NTQ3MC8=" rel=\"attachment wp-att-6760\">Dan Brewer was sent to the hospital after a nasty collision in tonight's game...
CC Sabathia was just denied his first 6-0 start. There's no denying how dominating the left-hander has been in the Bronx during interleague play since first putting on the New York Yankee pinstripes. Sabathia and Cincinnati Reds right-hander Johnny Cueto will each try to bounce back from their first losses of the season Sunday when this series concludes in New York. After...
Alex Rodriguez was out on the field early Tuesday afternoon, and although he went only 1-for-4 with a single against the Royals in the Yankees' 3-2 win, the third baseman felt he was inching closer to an offensive explosion. Rodriguez singled and stole second base in the fourth inning, though he struck out with the bases loaded in the fifth after the Royals intentionally walked...
The longtime head athletic trainer of the New York Yankees once wrote that Roger Clemens ''maintains complete confidence and respect'' for strength coach Brian McNamee. Gene Monahan, who retired last year, testified Wednesday in the perjury trial of the 11-time All-Star pitcher. In 2000, Monahan wrote a letter to the Yankees manager and general manager about Clemens...
Felipe Paulino blanked New York for the second time in a month, and Mike Moustakas and Jeff Francoeur hit two-run homers to lead the Kansas City Royals over the reeling Yankees 6-0 on Monday night. New York's bats fizzled once again, going 0 for 13 with runners in scoring position with five strikeouts and a foulout. Booed repeatedly by their increasingly impatient fans, the...
<a href="http://NYYUniverse.com/wp-content/plugins/wordpress-feed-statistics/feed-statistics.php?url=aHR0cDovL05ZWVVuaXZlcnNlLmNvbS9nYW1lLWRheS9nYW1lLTQzLWp1c3QtZW5vdWdoLXRvLXdpbi9hdHRhY2htZW50L2dtNDNmZWF0Lw==" rel=\"attachment wp-att-6753\"> Kansas City Royals 2 — New York Yankees 3   Timely hitting and inches played a huge factor in tonight's 3-2...
MLB News

Delivered to your inbox

You'll also receive Yardbarker's daily Top 10, featuring the best sports stories from around the web. Customize your newsletter to get articles on your favorite sports and teams. And the best part? It's free!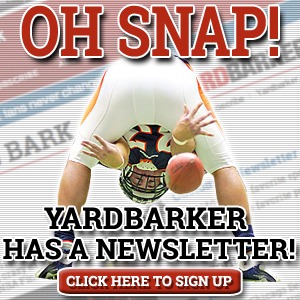 Latest Rumors
Best of Yardbarker

Today's Best Stuff

For Bloggers

Join the Yardbarker Network for more promotion, traffic, and money.

Company Info

Help

What is Yardbarker?

Yardbarker is the largest network of sports blogs and pro athlete blogs on the web. This site is the hub of the Yardbarker Network, where our editors and algorithms curate the best sports content from our network and beyond.