Found March 03, 2013 on World Series Dreaming:
Oh, Matt Garza…why can't you stay healthy? First it was the elbow issue, and now it's a lat problem.  Let's read the steady string of tweets before we begin… Jeff Samardzija named @cubs' #OpeningDay starter; Matt Garza will likely miss 1st month of season, reports @carriemuskat. — MLB (@MLB) March 3, 2013 Well that's fun, at least. Jeff Samardzija is a pretty cool guy and had a wonderful 2012 season (relative to what he's done in the past, but still) and deserves it. Too bad it had to be a "by default" kind of situation, but I'm sure he'll do fine. Garza felt a twinge again in his left Lat when he threw on Saturday. No time table now for return to mound . — Bruce Levine (@ESPNBruceLevine) March 3, 2013 This, boys and girls, is why stretching and proper conditioning is key. But you never know when your muscles are just going to crap out, so you can't really blame Matt for this. Just being cautious. Sveum says Garza did not have setback, just needs more time. #Cubs — Carrie Muskat (@CarrieMuskat) March 3, 2013 Garza (lat) shut down for another week. It's possible he won't join rotation until May. Samardzija named #Cubs Opening Day starter. — Patrick Mooney (@CSNMooney) March 3, 2013 It's nice that it's not a setback. It's good that they're taking precautions. It's bad that because both Garza and Scott Baker are not available for most of April, now we have… With Garza and Baker injured, Travis Wood and Carlos Villanueva now in #Cubs rotation — Carrie Muskat (@CarrieMuskat) March 3, 2013 Cue the obscenities! Now, I want folks to know that I am in favor of ensuring that Matt Garza is 100% healthy before they rush him back.  The Cubs are not projected to have a contending record and there's no reason to rush and risk hurting one of their few assets to squeeze out an extra win here and there.  That said, what will this say about Matt's future? Well, we've sort of talked about it before and I'm too lazy to dig up the blog, but there are a few options. They can still try to trade him at the July 31st non-waiver deadline and hope for best return possible.  That return is probably going to suck now that he's had several setbacks with injuries in his "walk" season.  Recall that Matt Garza is a free agent after 2012 season. They can give him the qualifying offer at the end of the season, after the World Series ends, and hope that some other team signs him and the Cubs can pocket a draft pick.  But that worked out for Kyle Lohse so far, didn't it? The Cubs can now look to lowball Garza on an extension.  A healthy Garza is still a solid, middle-of-the-rotation pitcher, and with his recent injury streak, this may have suppressed his free agent value a bit and the Cubs can make him a decent, fair offer that will set him up for life, while saving money because of the fortuitous (for lack of a better word) injury. If I were the Cubs, I'd hope that he comes back in May completely rehabbed, then see how he pitches and evaluate the options again.  My guess is that they watch a couple starts, see that he's "normal" Garza and then make an offer sometime in June to get him locked up before the July trade deadline.  Somewhere along the lines of what they paid for Edwin Jackson seems fair to me, but at some point I'm sure someone smarter than me will run the projections and get a better number.  It sucks that Matt Garza had to get injured again (I like Matt, he's a cool dude) but in a business, if you have a chance to save some dough, might as well take advantage of it.
Original Story:
http://worldseriesdreaming.com/2013/0...
THE BACKYARD
BEST OF MAXIM
RELATED ARTICLES
Being a Cubs fan is never easy, and the pain has begun already: starting pitcher Matt Garza has been shut down, and will likely miss the entire month of April. On Thursday, the news broke that Garza might start the year on the DL while battling a strained lat. Now, the news has grown even worse with Garza being shut down and missing more than just a start or two to kick the year...
Some of the questions about Chicago Cubs' starting pitcher Matt Garza's health have been answered. The Cubs have decided to shut Garza down until possibly the beginning of May. This would mean that Garza will miss the rest of Spring Training and the first month of the regular season. Garza strained the lat on his left side on February 17 while throwing batting practice...
Jeff Samardzija will be the opening-day starter for the Chicago Cubs, who said Matt Garza will start the season on the disabled list because of an injured muscle in his side that is preventing the right-hander from throwing. Cubs manager Dale Sveum said Sunday that Samardzija will start at Pittsburgh on April 1. He was 9-13 with a 3.81 ERA last season, when he had a 2.39 ERA in...
The injury bug seems to love biting the Chicago Cubs. Shortstop Starlin Castro came out of his team's Spring Training game on Wednesday, February 27, after straining his left hamstring while running out a ground ball. When Castro still felt some stiffness on Friday morning, the Cubs sent him for an MRI. The results came in Saturday. The MRI showed minor inflammation...
It's almost here Chicago Cubs fans. Another season of complete and utter futility. After crossing the century mark for losses last season, finishing with 101 losses, the 2013 campaign brings about more of the same for the Cubs, as they continue their epic rebuild of nearly the entire franchise. Will 2013 be any easier to watch? Or will the Cubs continue to fall flat on their...
Continuing from this morning's season preview of the Chicago Cubs... Quite a few for a 101-loss team. But the big one is: will the Cubs keep or trade Alfonso Soriano? Soriano's status with the Cubs is one of the more contested points giong into the 2013 season. Chicago recieved some interest on Soriano this winter, and I'm sure they'd love to dump him off...
Today, the Chicago Cubs will be facing the San Fransisco Giants in a Spring Training game at 2:05 CST and yes, you can listen to the Game on WGN Radio. Here is today's lineup for your Chicago Cubs: David DeJesus CF Darwin Barney 2B Nate Schierholtz DH Alfonso Soriano LF Brian Bogusevic RF Dioner Navarro C Steve Clevenger 1B Edwin Maysonet SS Christian Villanueva 3B Carlos Villanueva...
For as long as I have been following the game of baseball, and likely for decades before that, the fans of the Chicago Cubs have made many comments for how stupid the team has been. Whether they accuse the team of being stupid for trading away one of their scrappy young stars, or failing to sign or re-sign one of the better hitters that are on the market, the fans wrath never ceases...
We're somehow halfway through our six week preview series, and today, we keep things rolling around with CUBS DAY. That's right...Cubs day will be kicking off the week highlighting the NL Central. I'm sure you know how things will be playing out by now. Friday was Yankees Day at TOC, and here's your recap. Yankees on TOC End of Season Postmortem 2013 Season...
In June of 2011, an 18 year kid named Daniel Vogelbach was selected by the Chicago Cubs in the second round of the MLB amateur draft. The high school first baseman was listed as 5'11″ 285. However, in the pics we saw of him, he looked easily three bills. But we thought hey Daniel Vogelbach he can hit a ton. The Cubs claimed right after the draft he dropped 40 pounds off what...
Taylor Green singled, doubled, drove-in a run, and scored another, Carlos Gomez crushed a tape-measure home run, and Marco Estrada tossed four innings of one-hit shutout ball and combined with five relievers to throw a two-hitter, as the Milwaukee Brewers edged a Cubs split squad 4-3 in Cactus League action this afternoon at Dwight Patterson Field at HoHoKam Park in Mesa, AZ ...
MLB News

Delivered to your inbox

You'll also receive Yardbarker's daily Top 10, featuring the best sports stories from around the web. Customize your newsletter to get articles on your favorite sports and teams. And the best part? It's free!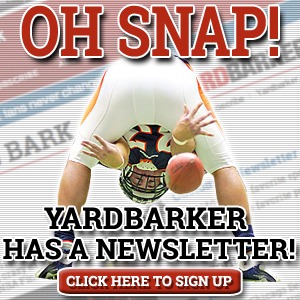 Latest Rumors
Best of Yardbarker

Today's Best Stuff

For Bloggers

Join the Yardbarker Network for more promotion, traffic, and money.

Company Info

Help

What is Yardbarker?

Yardbarker is the largest network of sports blogs and pro athlete blogs on the web. This site is the hub of the Yardbarker Network, where our editors and algorithms curate the best sports content from our network and beyond.