Found March 20, 2012 on Mets360.com:
The Mets have very few positions up for grabs this Spring. The bullpen is one place where jobs were available and the situation only got more confusing with the injury to Tim Byrdak. Since then we have found out that the Mets consider C.J. Nitkowski, who hasn't pitched in the majors since 2005, as a candidate to get LHB out in the majors but that Danny Herrera, who has a lifetime .588 OPS against lefties, is not. Further complicating the issue is that a couple of relievers have contracts that will help them make the team to start the 2012 season. D.J. Carrasco and Jon Rauch – I'm looking at the two of you. To be fair, Carrasco may not be on the Opening Day roster, even with his contract. But there are 1.2 million reasons why he is still in the discussion. Plus, we have the ghost of Blaine Boyer hanging over everything. Last year the Mets decided to open the year with Boyer on their roster due mainly to his impressive 11 IP in Spring Training. Of course it was the same B...
Original Story:
http://feedproxy.google.com/~r/Mets36...
THE BACKYARD
BEST OF MAXIM
RELATED ARTICLES
To say Jason Bay's tenure this far with the Mets is disappointing would be a huge understatement. When Bay was signed it was thought that he would be providing the much needed power to the Mets lineup. From 2004-2009 Bay averaged at least 21 home-runs, nobody could have predicted his drop-off would be so severe when he signed with the Mets. As a Met Jason Bay has hit just 18 home...
As most of you now know, Mets ownership and trustee Irving Picard reached a settlement for $162 million this morning, as was first reported by Richard Sandomir of the New York Times. In the light of this news we have also learned that the Mets will not pay anything for three years because their net obligation could end up being around $29 million after the total accounting for...
Without even knowing the extent of Andres Torres injury the organization seems in a tailspin over who could replace Torres if he were to be out for an extended period of time.  Manager Terry Collins has even suggested moving Jordany Valdespin to the position due to his athleticism, Valdespin has one winter league game in left field back in 2007.  Many are concerned that calling...
1999 UPPER DECK RETRO EDGARDO ALFONZO I'm about 60% Irish, which means that I feel about 60% guilty for letting St. Patrick's Day pass without acknowledging it in card form. So let this emerald-lidded shot of Edgardo Alfonzo on his 1999 Upper Deck Retro card serve that purpose. I got my own green Mets' hat a year before this card was released. My wife and I had brought a...
Mets ownership and trustee Irving Picard have reached a settlement for $162 million, according to Richard Sandomir of the New York Times. The Mets will not pay anything for three years. Jury selection had been set to begin today, but it never got that far. Both Fred Wilpon and Saul Katz, principal Mets owners, were in court when this settlement was announced. "Litigation is...
Yesterday it was reported that the Wilpons will only have to pay $162 million to victims of Bernie Madoff's ponzi scheme thanks to a settlement reached with trustee Irving Picard. Given that the Wilpons also count as victims of said scheme, they'll likely get some money back that will mitigate the loss further. While this is good news in part because fans will be able to focus...
Fred Wilpon and Saul Katz, owners of the New York Mets, have settled a suit brought against them by Madoff victim trustee Irving Picard for $162 million. The suit first alleged that Wilpon and Katz were "willfully blind" to the fact that Bernie Madoff, the Ponzi schemer who reportedly made the two men millions of dollars in profits, was ripping off other investors. That allegation...
The 1986 Starting Rotation MLB Network's show Prime 9 recently aired an episode ranking the top 9 pitching rotations of all time. The 1986 Mets starting rotation was ranked 8th best all time on the list. Listed below are the players and their stats from the greatest rotation in Mets history. The "AMAZINS" 1. Dwight Gooden 17-6, 2.84 ERA, 12 CG, 200 K's 2. Ron Darling 15-6...
((HT: MyFoxNY))The owners of the New York Mets and the trustee trying to recover as much money as they can for victims of Bernie Madoff's Ponzi scheme settled Monday for $162 million.The Mets owners will not pay anything for three years- considering they're not the most cash-rich at the moment...Irving Picard, the court-appointed trustee chasing after the cash, sued the Mets...
2011 Review: Let's look for positives…Jose Reyes won the batting title (even though he sat out the final game of the season to preserve his small lead). Jason Isringhausen got his 300th save. Not too much else positive to report though. On the other hand, the negative summed up the season. Ace Johan Santana didn't pitch at all. The Wilpons were tied to the Madoff ponzi scheme...
Johan Santana pitched six innings in his longest outing of spring training in the New York Mets' 2-1 loss to the St. Louis Cardinals on Wednesday. Cardinals starter Jake Westbrook also was effective, working six scoreless innings. Westbrook has allowed one earned run in 15 innings. Jon Jay hit a run-scoring single in the ninth off Garrett Olson. The Mets had tied it in the...
So the Mets have to pay $162 million to Irving Picard's trustee after settling in court today. And somehow, this is good news. It's good news for the Wilpons, it's good news for the trustees, everybody is freakin' happy. Except me, of course. Partly because I'm never happy. Partly because it is pretty much going to keep the Wilpons entrenched in that ownership...
MLB News

Delivered to your inbox

You'll also receive Yardbarker's daily Top 10, featuring the best sports stories from around the web. Customize your newsletter to get articles on your favorite sports and teams. And the best part? It's free!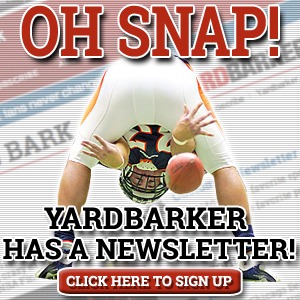 Latest Rumors
Best of Yardbarker

Today's Best Stuff

For Bloggers

Join the Yardbarker Network for more promotion, traffic, and money.

Company Info

Help

What is Yardbarker?

Yardbarker is the largest network of sports blogs and pro athlete blogs on the web. This site is the hub of the Yardbarker Network, where our editors and algorithms curate the best sports content from our network and beyond.